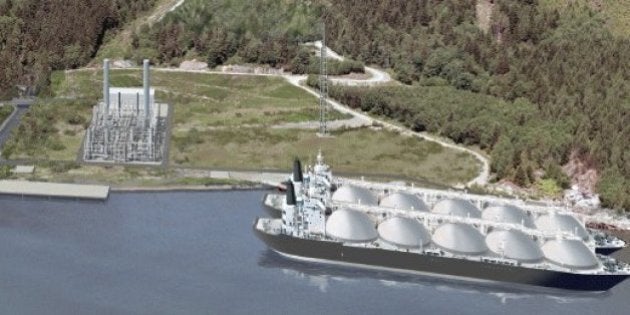 Timing is everything. Especially in politics. And unless you've been living in a cave up in the B.C. mountains these past few months, you would've heard about the proposed Woodfibre Liquefied Natural Gas (LNG) facility to be placed beside Squamish, plopped beside the ocean.
You should first understand that Premier Clark's massive LNG plan for the province starts with Squamish's Woodfibre LNG project. Seen from that narrow scope, for us in Squamish, it involves political and industry promises of making millions of dollars for the community in taxes (perhaps $2 million a year). Creating jobs. Perhaps 100.
Whatever appeal that might have (noting that the Squamish Valley Music Festival, over one weekend, is estimated to have brought $39 million into the province's economy), the Woodfibre LNG issue in Squamish also holds vast importance for the broader community, the province, the country, even the world at large. It's that big.
As we've dug into the proposal, we've discovered that Premier Clark's LNG aspirations for B.C. raise an abundance of alarming concerns.
Then, while trying to capture the released natural gas from the fracked shale rock, enough methane escapes into the atmosphere to remove any benefit that natural gas has over other fossil fuel alternatives, even coal.
As such, this misguided strategy for energy only juices climate change. That's the worry-connection for this project, on the scale of "world-wide."
Yet the LNG nightmare doesn't stop with the above worries. Bigger pipelines are wanted to get the natural gas to the LNG facility beside Squamish. Even going under our estuary.
More could be (sadly) added to this recipe. Yet, back to our town's municipal election.
Again, the timing thing. It turns out that, on November 15, we are facing municipal elections in Squamish and throughout B.C.
Seeing as though LNG is such an important issue for Squamish and our province, it should be seen as a litmus test for our municipal candidates.
Yes, the topic of LNG is somewhat complex. Probably less, however, than many of the other topics council members will face over their period of tenure.
Yes, the issue has become contentious, even dividing friendships. But while trying to forge our community's values and commitments, that's the nature of these topics. To move toward the ideal of democracy, much greater sacrifice has been offered by those who have gone before us.
We shouldn't complain about now doing our part.
So make no mistake. For those with political aspirations, with a desire to be a municipal leader in our Squamish community, there has been ample opportunity to get informed about what the Woodfibre LNG proposal -- and related worries -- are all about.
Given the massive importance this proposal has for the Squamish community, each municipal candidate should, by now, have an informed opinion about it.
On the flip side, however, those candidates lurking in the shadows whispering "Shhh.." -- or those who are, as they say, still waiting for more "facts and information" -- should put a dunce cap on and drop out of the running.
We aren't looking for crusty old-school, "business as usual" politicians. We sense a change, and we'll elect those who aren't afraid to stand up and argue for it.
If you can do it well on the Woodfibre LNG matter, you'll most likely be able to do it on other topics you'll face as mayor, as city councillors.
Yet there's more required for being on city council than this LNG litmus test. That's why, as important as this topic is for Squamish, we don't want our candidates to be one-trick ponies.
The list of those who wish to run for Squamish council and mayor is now complete. Many of those now running for municipal council and for mayor are not only informed about the very serious topic of Woodfibre LNG, but also have quickly shown they have a strong vision for the future of this town on a host of other issues we are now facing, and will continue to face in the coming years.
The timing is all coming together. Now it's up to us to do a little more reading and thinking, as we, along with other communities in B.C., prepare to make our very important vote on November 15.