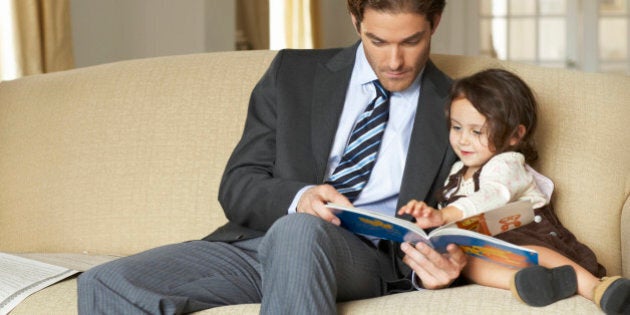 "Had to take this call. Can't leave. Will meet you there. Sorry."
It's Monday night -- soccer night in our house -- and I've received yet another frantic text from Frank. The soccer season started four weeks ago and every Monday since, Frank has sent a text not too dissimilar to this one.
Practice starts at 6 p.m. and Frank so very badly wants to cheer for his little girl on the sidelines. Plus, he knows it's not always possible or fair for me to drop my work to make sure she gets there on time.
But, like half of working dads, he's struggling to balance the competing demands of work and family life. That's because like 60 per cent of two-parent households, ours consists of a father and a mother that each work full time.
This has created a new family dynamic that has seen otherwise traditional dad and mom roles converge where dads have doubled their time spent doing household chores and nearly tripled time spent with children.
I've borne witness to his discomfort as colleagues made assumptions about his role as a dad, and mine as a wife and mom.
Despite this evolution, the stigma surrounding fully engaged fathers remains.
Over the years, Frank has told me about the double takes he's gotten from colleagues he's passed on the street as he pushed our daughters in their stroller to the daycare located a block from his office. Or how he deftly left a meeting at the bar to make it home in time for bedtime.
I've watched him agonize over his schedule, choosing lunch meetings over evening meals so he can limit the number of weeknights he'll miss dinner with his family. Together, we commiserated late into the evening over the fact that we haven't spent enough time with our girls that week. And I've borne witness to his discomfort as colleagues made assumptions about his role as a dad, and mine as a wife and mom.
With such pressures, what can a dad do?
Even as they take on more at home, working dads remain just as focused on their careers as past generations. And while they may want more flexibility in their schedules, half of working fathers feel that taking advantage of available flexible work arrangements could limit their career progression.
This pressure is leading many fathers who otherwise aspire to be more involved at home to choose work over family. With only 36 per cent of two-parent households sharing parenting responsibility equally, the majority of fathers have relegated their role in the family as "mother's helper" rather than co-parent.
It's time to bring working dads out of the shadows.
There are a number of ongoing efforts focused on lifting the stigma placed on working fathers. There are global campaigns like #LeanInTogther, and we are seeing a growing number of working dads advocate for their rights as they attempt to normalize the dual-role they play at work and at home.
We can also do more on an individual basis. Working fathers who are engaged with their families need to make their status known at work. Although Frank walks the tightrope between work and family, he openly and affectionately speaks about his daughters at work. I only know this because I've been surprised by a number of colleagues, both women and men, who recount a quirky anecdote he once shared with them.
At home, dads need to commit to take an active role in parenting from the start. And, they can do this despite not having access to paternity leave. Moms play a role in this equation, too. Yes, dads need to want to take on this role, and will have to develop the wits and patience just as mother have had to do. But dads will also need the support of a partner that won't enable them to succumb to social pressures.
Want to learn how dad can get involved in baby duty right from the start? Watch this video.
Lisa Durante helps working mothers prepare their homes and careers for life after baby. Find out more at www.lisadurante.com and follow her on Twitter @lisadurante.
Follow HuffPost Canada Blogs on Facebook