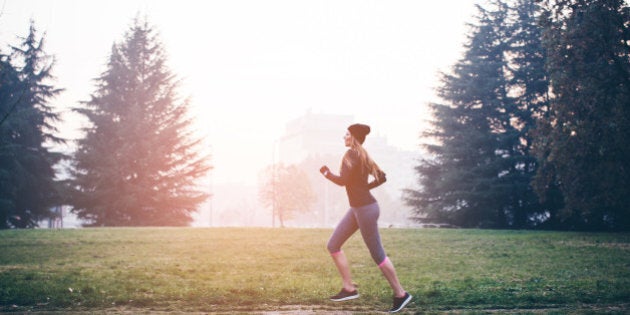 It is easy to get off track with your good eating habits, workouts or any other new habit that you have started. How do you stay motivated on those days when the couch looks better than the StairMaster? What happens when you get to your goal weight? How to stay motivated then?
Recently, I was fortunate enough to speak with Christine Suter, a Personal Trainer at C2Sky Multisport. Christine shared her top tips on how you can stay motivated and keep on track with your workouts.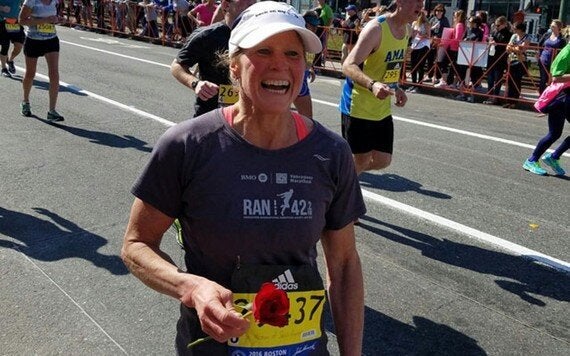 Christine running the Boston Marathon.
How to stay motivated with your workouts?
Have a variety of goals to achieve through-out the workout instead of focusing on the end goal of workout completion. Such goals might be to focus on changing to the tempo of some of your exercises, do hard cardio sets in between exercises focusing on reaching a perceived rate of exertion of 8/10. Challenge a friend to do the workout with you. Treat or reward yourself for completing all of your weekly workouts - read a book, take a bath, or say after so many workouts you will buy a new piece of workout wear!
What can you do on days you just don't feel like working out?
10 minute rule. Sharon Best, who won Ironman Canada back in the 1980's taught me this when I was living up in Nelson, BC. She said on days you don't feel like working out, put on your workout gear and go to the gym or start your workout. Give yourself 10 minutes to decide whether you really are tired and need a day off or were just playing tricks on yourself. I have used this for years and have found that 10 minutes usually leads to 20 minutes and me completing my workout!
How to plan long term goals?
Use the SMART acronym to help you decide on long term goals.
Specific - state a specific goal- be very specific, down to the fine details
Measurable - make sure you have a way to measure your goal
Attainable and Adjustable - make sure your goal is attainable for where you are right now with what you have, and that you can make adjustments as needed
Realistic - again is your goal realistic -working out 7 days a week is not realistic if you have certain days that you cannot workout, neither is losing a large amount of weight in a short amount of time
Timeline - make sure you goal has a time limit or a goal date.
Once you have a long term goal you can then break it down into smaller goals to help you achieve the big one if you feel it is slightly overwhelming.
How important is eating to long term success?
Very important. I don't think you can reach any of your fitness goals without healthy eating habits as part of your goal. It is fundamental to your success.
Any other tips for staying on track and achieving your fitness goal?
Keep a record of your workouts, either on a APP, writing it in a journal, or online diary, to record your accomplishments and observe the small successes along the way to your long term goal.
How does your mental and emotional well-being play a role in being fit?
What do you say to yourself: before you go to the gym or for a workout, when you are at the gym, when you look at a fitness magazine, or when you look at yourself in the mirror?
Do you believe that you can achieve the goal that you have set out for yourself?
Can you visualize you are being fitter and stronger, what does it look like, feel like and what are other people saying to you.
I am going to use these helpful tips that Christine provided, if you have any fitness questions, please let me know and I will do my best to find the answers for you.
Your suggestions are always welcome as I continue on my journey to enjoy life to the fullest. Let's have the very best 2017!