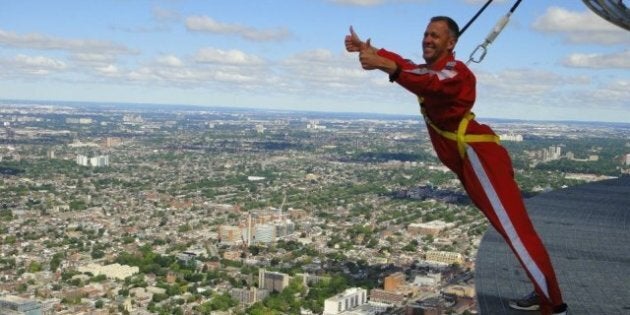 No, we haven't set the world record for the largest igloo or largest maple syrup collection just yet.
But when it comes to breaking records, Canada has a pretty good reputation in the industry, says Stuart Claxton, marketing director for Guinness World Records.
"Per capita, more records are broken in Canada than any other country in the world," he tells the Huffington Post Canada.
From the world's longest baby (a baby boy that measured in at 76 cm) to the record for the most people shaving their own heads simultaneously (57 people), Canada holds a well-rounded resume of talent and creativity.
On average, the office of the Guinness Book of World Records receives over 50,000 claims a year, Claxton says. Records like the world's oldest person for both men and women or the longest DJ marathon are broken or claimed the most often.
"As soon as the challenge is set down, it's almost human nature to step up to it," he says.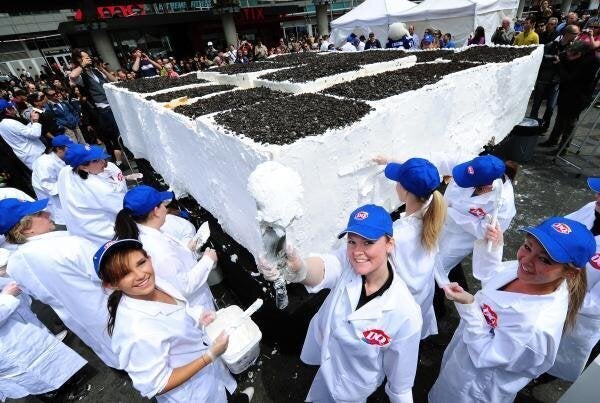 Guinness World Records In Canada
WHAT: The largest ice cream cake weighed 10.13 tonnes (22,333.6 lb) and was created by Dairy Queen Canada in Toronto, Ont.
Longest Drumming Marathon
WHAT: The longest drumming marathon by an individual is 121 hours and was set by Steve Gaul at the Burlington Music Centre in Burlington, Ont.
WHEN: August 5 to 10, 2011.
WHAT: The record for the most needles inserted into the head was 2,025 and was set by Mohanathas Sivanayagam in Toronto, Ont.
WHEN: The hot dog made its debut on January 23, 2012.
Fastest Half Marathon By A Mascot
WHAT: The fastest half marathon by a mascot is 1 hr 46 min 27 seconds and was set by David Hiddleston (dressed as Jefferson the Dog) at the 2011 Scotiabank Toronto Waterfront Marathon.
Highest External Walk On A Building
WHAT: The highest external walk on a building is called the EdgeWalk and is located 356 m above the ground, running full-circle around the top of the CN Tower's 360 restaurant.
WHEN: Opened August 1, 2011.
WHAT: The longest fruit snack, measured at 91.44 m (300 ft) and was prepared by Sun-Rype Products Ltd. at the Parkinson Recreation Centre in Kelowna, B.C.
WHO: The Toronto Argonauts have won a record 15 Grey Cups.
WHEN: 1914, 1921, 1933, 1937, 1938, 1945, 1947, 1950, 1952, 1983, 1991, 1996, 1997 and 2004.
Oldest Baseball Field Diamond
WHAT: The oldest baseball diamond sits in Labatt Park in London, Ont.
WHEN: In existence since 1877.
WHAT: The heaviest triplets at birth are Gabriel James, Lilliana Mary and Nathan Andrew Kupresak of Toronto, who had a combined weight of 17 lb 2.7 oz.
WHAT: The longest beard measures at 2.495 m and belongs to Sarwan Singh of Surrey, B.C.
Largest Santa Claus Memorabilia Collection
WHAT: Jean-Guy Laquerre has 25,104 different items of Santa Claus memorabilia.
WHEN: Laquerre has been collecting since 1988.
WHAT: The world's largest parking lot can hold 20,000 vehicles and sits at the world's largest mall — the West Edmonton Mall — in Edmonton, Alberta, Canada.
WHEN: The first phase of the mall was built in 1981, with Phase II and Phase III opened in 1983 and 1985 respectively.
Fastest Time Eating A Raw Onion
WHAT: The fastest time to eat a full raw onion is 43.53 seconds and was broken by Peter Czerwinski in Mississauga, Ont.
WHAT: The NHL world record for most regular-season career wins by a goaltender is 656 wins by Canadian Martin Brodeur.
WHEN: Brodeur has been playing since 1993/94 season, and reached his 600th win on April 6, 2010.
WHAT: The tallest female ever recorded was Anna Haining Bates, who stood at 2.41 m (7 ft 11 in) at the age of 15. Bates passed away in 1888.
WHAT: The most chainsaw juggling catches is 94 catches and was set by Ian Stewart in Windsor, Nova Scotia.
WHEN: September 25, 2011.
Most Disliked Canadian Video
WHAT: The most "disliked" Canadian video on YouTube is the music video for Justin Bieber's "Baby", with 2,563,872 "dislikes." Ouch.
WHEN: As of May 18, 2012.
WHAT: The slowest growing tree is a white cedar located near the Canadian Great Lakes. The tree grew to a height of less than 10.2 cm (4 in) after 155 years.