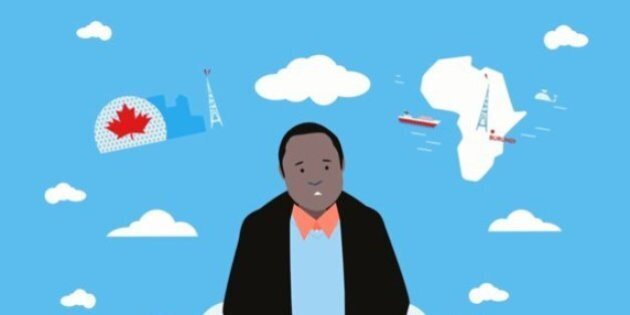 "Why don't you look for another job that pays better?" That's the question a friend of mine used to ask whenever I saw him. And I always gave him the same answer: "Because I'm happy where I am."
For many young people in Bujumbura, the capital of Burundi, a good job meant working for a foreign NGO or for the United Nations system. But neither of those was my dream. I couldn't picture myself sitting in an office all day long. Ever since I was a child, my three greatest passions had been teaching, basketball and radio, and I had achieved the objectives that I had set for myself then: I was teaching in the morning, coaching basketball in the afternoon, and hosting a radio show in the evening. That was my life, and I loved it.
It was the year 2000, and Burundi was going through one of the toughest periods in its history since the assassination of President Ndadaye in 1993. One aspect of human nature that I have never understood is how people get used to war. In Burundi, war had become normal for us: we heard the sound of gunshots every evening, spent sleepless nights and got up every morning and went on with life as usual. When you think about it, we were living through a tragedy, and for us, that was normal.
My friend Emmanuel always asks me how I managed to survive that time in my life. To tell you the truth, I don't know. Part of the answer might be that because I was living my dreams, I wasn't paying a lot of attention to the war, even though I was losing uncles, cousins and friends to it every day.
Leaving the country was something that other people did. I had travelled in many other African countries many times for my work, and I had even spent a week in France. But to my friends' great surprise, I always came home. Leaving Burundi was for other people. Being a refugee was for other people.
But then the year 2001 came, and it was not just a year like any other. The negotiations between the rebels and the government were proceeding haltingly, everyone was vying for advantage, and the violence was intensifying. The independent media, including my radio station, were often threatened, because they gave the rebels air time. My colleagues were often imprisoned and received threats. And for me, living my dreams was no longer so safe. But the thought of leaving Burundi never crossed my mind.
Then, on Thursday, April 19, 2001, the radios of the capital fell silent. A group of young military officers had taken over the headquarters of the national radio network, as well as the airport. Interrupting all programming, the leader of the coup d'état took to the airwaves and announced the suspension of the government and parliament and the closing of the country's borders and the airport.
But later that day, the coup seemed to have sputtered. In the absence of the country's president, who was on a trip to Gabon, the Minister of Defence organized a counter-offensive by loyalist troops who took up positions around the radio station in the late afternoon.
While all this was happening, I was busy coaching basketball. I had no idea of the news of the day. I finished coaching and rode my motorcycle to the radio station to do my show. But when I got there, to my great surprise, the building was surrounded by soldiers in uniform, rifles in hand. They asked to see my press pass before letting me in. I showed it to them right away.
That was when I learned about the attempted coup d'état. Our radio station was the only one still on the air, and the army was there to keep it from being taken hostage by the rebels. I had never been so scared in all my life. Suddenly, leaving Burundi, which I had always considered out of the question, was starting to look like an option.
Over the following months, the violence continued, and my passion for my work diminished. I no longer felt like doing anything. I even stopped watching the news on TV, or even listening to it on my own radio station. Everything looked hopeless.
In 2002, some Canadian journalists visited Burundi. If I were going to ask for help, it was now or never. Six months later, they invited me to visit Canada, and I jumped on the opportunity. The day before I left, I phoned my boss to tell him I was leaving. It was a moment I'll never forget. It was 4:00 in the afternoon. The conversation lasted about 10 minutes. He wished me good luck and told me goodbye. Ten minutes later, I heard gunshots not far from my home. I thought to myself that it was just life as usual in Burundi.
But later that evening, I learned that the shots had been aimed at my boss, who I had been talking to on the telephone just a few minutes before. He and his son had died instantly. Tears in my eyes, I decided to make Canada my new homeland. The next day, I boarded the plane for Montreal.
I arrived in Canada with $60 in my pocket -- my mother's life savings. I spent a week in Montreal, then decided to settle in Toronto. The Toronto Raptors were the main reason for my move. I was advised to look for a space in a home for refugees. But all the space was "sold out" -- a month earlier, Toronto had hosted World Youth Day, topped off with a visit by Pope John Paul II, and many of the young people who had come for the event had decided to stay in Canada. All the refugee centres were full.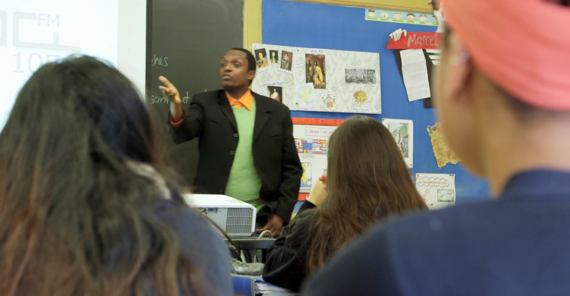 And that was how I wound up in a homeless shelter. I had been Superman in Burundi, and now I was becoming Clark Kent in Canada. But even though I was homeless, and even though I had no working papers, I never lost hope. I was in a country governed by the rule of law, and I knew that if I worked hard, I would once again get to live my dream. Six months later, I was hired as a project leader for the only French-language community radio station in Toronto. Clark Kent had become Superman again.
During my early days in Canada, I had some rough moments. I missed home, and I missed working, but my time with the homeless inspired me. I decided to become an entrepreneur and share my story. I thought that it would all be easy. In fact, I thought that within three years, I'd be a millionaire. Thirteen years later, I still haven't met my objective, but I still have hope.
In 2011, after more than nine years of hard work and constant studying, I founded a business along with some friends. It is called Unleashed Possibilities, and it is a platform for me to live my passion and share my story.
June 20 of every year is always a special day for me: it is World Refugee Day. And being a refugee, that is an experience that I know something about.
Patrick Bizindavyi is the President and Co-Founder of Unleashed Possibilities Inc., a company that helps individuals reach their peak potential by pursuing and achieving their dreams and goals. Patrick's mission is to influence tens of millions worldwide with his powerful messages as a speaker, author, trainer and coach. He also shares his message as a volunteer speaker with the Passages Canada program
Passages Canada is a national storytelling program of Historica Canada that invites newcomers and established Canadians to share their personal experiences of identity, heritage, and immigration with groups of all ages. More than 1,000 volunteers participate in this storytelling program that nurtures cross-cultural dialogue and strengthens our appreciation for one another in an open spirit that is genuinely Canadian. Passages Canada is generously funded by TD Bank Group and Citizenship and Immigration Canada.