As the last of the Canadian solders return from Afghanistan, personal stories from another war combined recently.
This is a story about war, and certain Canadians who fought in World War II.
Recent events have prompted a whole series of emotions for me, my family and people close to us -- regret, sorrow and sadness, in remembering sacrifices that Canadians made in World War II. Yet, some of those same recent events have created wonderful connections.
My father, Hugh Baldwin Hall, landed on D-Day June 6, 1944.
He was all of 22 years old, a Lieutenant with the Royal Canadian Corps of Signals, commanding a platoon of Stormont Dundas Glengarry Highlanders -- the "Glens." After surviving the landing in Normandy, they lived in trenches, in horrible conditions and under almost constant fire, for 56 days straight. They were the first Allied soldiers to enter Caen July 9, and they went on to liberate Holland.
But those who survived did so only after watching too many of their friends and colleagues die trying.
My father passed away over 20 years ago. He didn't talk much about the war. And the relationship that he had with his six children (of which I am one) was difficult. After he returned from the war, he became a successful businessman, but he also became an alcoholic, had a troubled marriage, and for many reasons our relationship was strained -- at best.
One unfortunate consequence was that we, his children, never really learned about his war experiences. We didn't ask, he didn't tell. He had been awarded the Military Cross by Field Marshall Montgomery -- there were vague stories about motorcycles full of bullet holes and signal lines kept open, but we never knew much about what had happened.
This is where a wonderful woman named Cathy Ruch comes in, and an extraordinary man by the name of Joe Sullivan. You see, Joe was in my dad's platoon. They both landed on Juno beach that day. (Joe was in the boat that you can see in the most famous photo of the Canadian landing at Juno beach, Dad was in a different one.) But we would never have known, or made the connection, without Cathy.
It is such a cliché, but it really is a small world. Cathy's grandfather Charles R. Dunk, also a member of the Glens, had also landed on D-Day. A few years ago, curious, she began research on her grandfather and what he had done in the War, though he had passed away some time before. That research connected her with Joe Sullivan and they struck up a friendship. Separately, I had published a blog that mentioned my Dad, which Cathy had seen. She made the connection and wrote to me about her work, and about Joe.
After multiple emails back and forth, one of my sisters and I finally met both Cathy and Joe in Peterborough, where Joe still lives.
Joe Sullivan is 93 (he admits with a grin). He walks with a spring in his step, is as sharp as a tack, is wonderfully articulate, and has a memory worth a dozen history books. Although we missed the opportunity to ask our own Dad about what happened, and what he went through, Joe Sullivan told us stories that helped us finally understand -- at least what one can without having been there.
It was awful. War is awful. The stories of the shelling, the shooting, the rain, the mud, the carnage, the dead and the maimed... Many, many people died. Good people lost good friends, sons, brothers, fathers, lovers. There was immeasurable suffering. But Joe also has stories of deep friendship and the kind of camaraderie you can only develop in times of common danger. Some of those friendships lasted only a brief time amid the fighting because of lives lost -- others have lasted whole lifetimes. It's amazing what happens when your lives depend on each other.
We learned more about our dad's wartime experience from Joe Sullivan than we had learned from Dad. We regret not asking more when we had the chance.
Three of my siblings and I will be visiting Normandy this coming June to participate in the 70th anniversary commemoration of D-Day. We do so out of respect for our father, for what he did, for what so many people sacrificed. We hope Dad will be watching and understands. And we hope that Joe and Cathy will join us.
We also hope that Canadians will always remember the sacrifices that too may men and women have made; we hope that, in remembering, we have learned from these awful experiences, and that we all work to prevent such damage from ever happening again.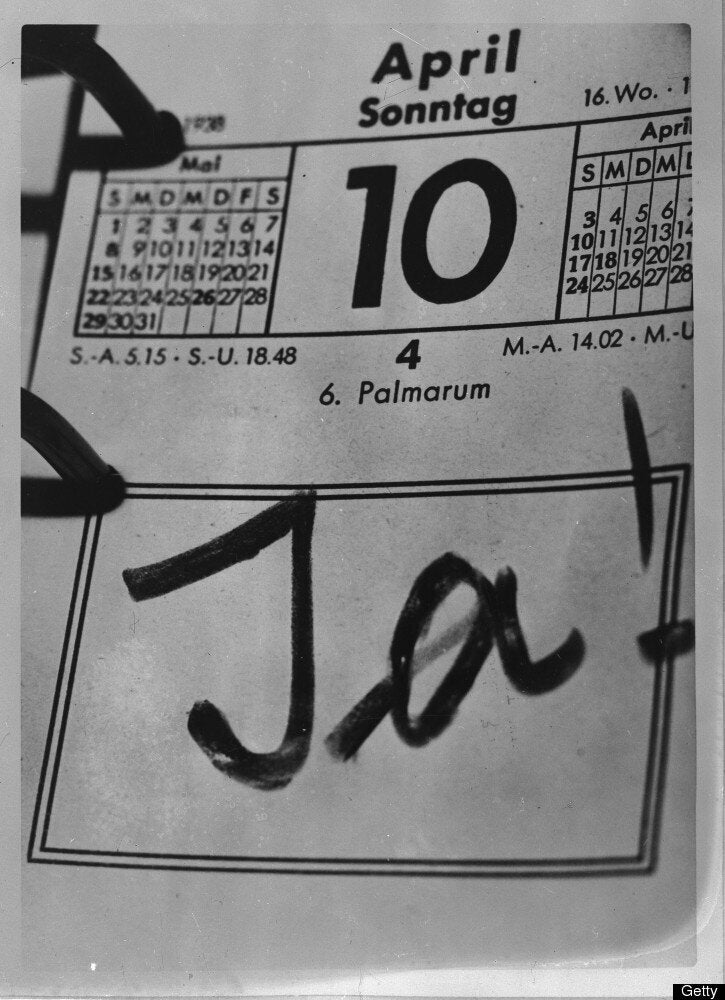 Archival Photos From World War II