Mothers and mother figures around the world share a common bond: the desire to see loved ones -- especially our children -- healthy and thriving in a safe environment regardless of our race, religion, socio-economic status, or where we call home. As a mom myself, I have always viewed Mother's Day as a time to honour women, motherhood, and the many women heroes like aunts, grandmothers, and teachers who play caregiving roles around the world.
But instead of cards and flowers this year, there's another way to show our appreciation for the women in our lives. A way that empowers women and their babies in developing countries -- with impacts that are truly life-changing.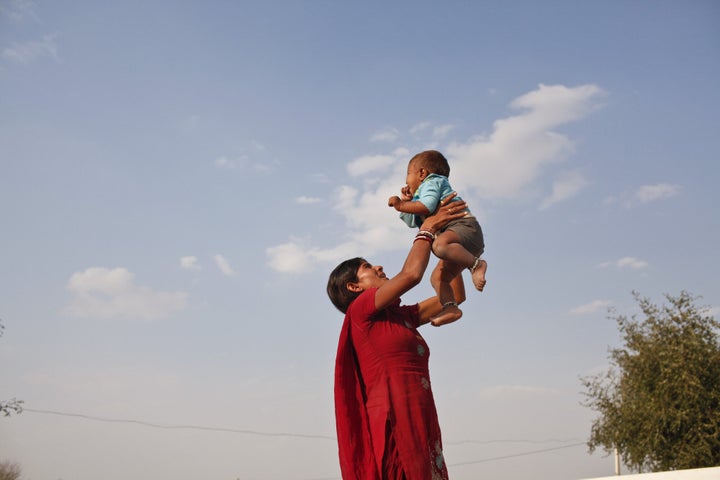 A woman plays with her child after a health information session in her village in India. (Photo credit: Plan International/Bernice Wong)
It's giving the right to maternal health, which means access to quality care and services before, during, and after childbirth. This includes training and mobilizing skilled health workers in obstetric and emergency care. On a broader scale, maternal health also means investments in sustainable solutions that reach those most in need, within the most marginalized communities.
And at the core of health care access for women, including mothers, it is imperative that we dismantle harmful stereotypes and prioritize gender equality so that we see more women thriving, not only surviving.
While concerted efforts have been made to reduce maternal mortality -- which has fallen by almost 50 per cent since 1990 -- the facts today are still heartbreakingly stark. There are more than 800 women dying from pregnancy and childbirth complications every day. Sadly, adolescent girls are particularly vulnerable and face a higher risk of complications and death during pregnancy and childbirth. And since maternal mortality is strongly interconnected with infant mortality, this has adverse effects on children. In 2015 alone, 5.9 million of them didn't survive past their fifth birthday.
The good news is that almost all pregnancy and birth-related deaths are preventable, with known effective treatments and interventions. By collectively recognizing the urgency to help change the story for women and their children around the world, we know lives can be transformed.
As you look to honour a woman in your life this Mother's Day, there are three projects that you can directly support to empower moms and babies in developing countries: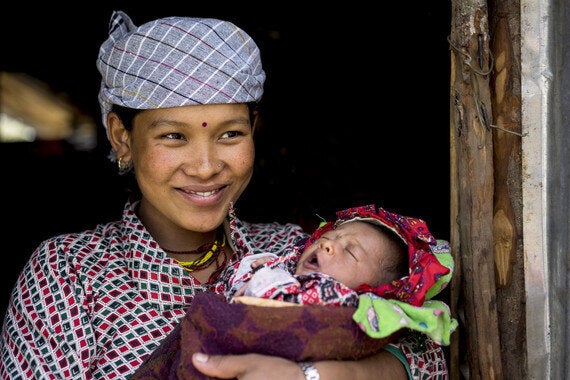 Minmaya from Nepal holds her newborn baby. She gave birth with the support of a skilled health care worker who provided treatment and care during and after delivery. (Photo: Plan International/Owen Raggett )
In Laos, giving birth at home without a skilled healthcare worker is a daily reality for many women in remote communities. Eighteen-year-old Jam had planned to have her baby at home, and she had never seen a doctor during her pregnancy. Visiting the nearest clinic required traveling a far distance through extremely challenging conditions. However, unexpected complications when Jam went into labour caused her to call a mobile midwife who rushed to her aid and helped deliver her baby safely.
Mobile health clinics like the one in Jam's community provide care during home visits as well as in emergency situations that can be life-threatening. Skilled birth attendants also provide medicine and supplies for moms and babies and administer critical newborn checkups to prevent deaths that occur during delivery or within the first few days of the baby's birth.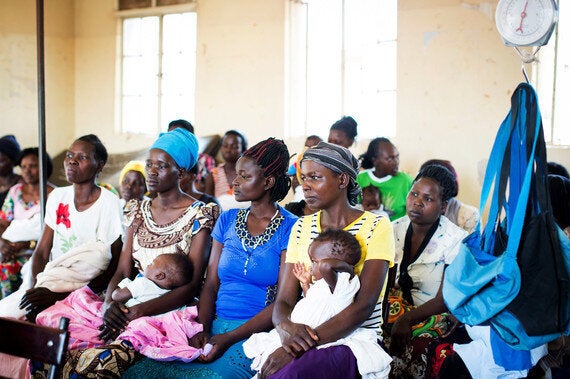 Mothers bring their babies for immunizations at a village health centre in Uganda. (Photo: Plan International/Anne Ackerman)
Avril, 16, is raising her daughter as a young single mother in northern Nicaragua. The country has the highest rate of teen pregnancy in Latin America and the Caribbean. Unfortunately, most adolescent mothers like Avril are forced to drop out of school and lose valuable opportunities.
Young women and girls are at heightened risk of pregnancy and childbirth-related complications, which are the second leading cause of death among 15- to 19-year-old girls globally. But with better access to adequate health services, along with prenatal care, hygiene essentials, and birthing supplies provided to expectant and new moms in mama kits, their capacity to survive increases. This also helps ensure newborns get the best start in life.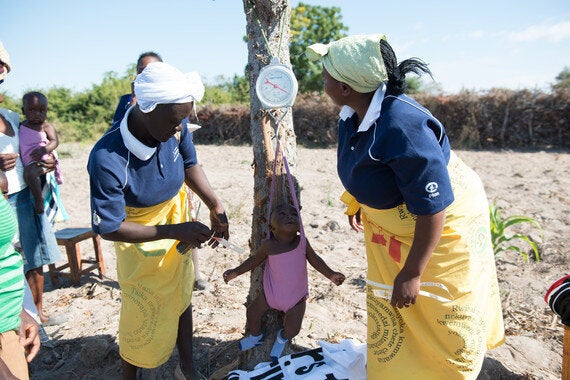 Healthcare workers in Zimbabwe monitor an infant's growth an using a weighing scale. (Photo: Plan International / Mortuza Sheikh)
In regions of Zimbabwe, some religious beliefs and practices deny people the right to use health facilities and services. Marita, a trained village health worker, set up a Plan International-supported clinic disguised as a garden when she realized that women and children in the neighbouring areas where she lived were dying during childbirth.
Community women and men travel long distances with their babies in tow to these types of clinics, which are sometimes in vegetable fields, to receive vital treatment. While deeply-rooted traditions don't change overnight, straightforward equipment such as weigh scales for babies can create immediate impact.
Honouring your loved ones on Mother's Day with Gifts of Hope may seem like a small act, but it's a significant step towards improving the health of women and their children. When a woman realizes her right to health, it leads to realizing her full potential -- for herself, her children, and her entire community.
Follow HuffPost Canada Blogs on Facebook