The cost of living in a city can change a lot when you take rent out of the equation.
That much is apparent from UBS' "Prices and Earnings 2015," an annual survey by the Swiss bank that looks at just how much it costs to live in certain cities around the world.
The survey examined 15 professions in 71 cities, including two Canadian ones: Toronto and Montreal. No other Canadian cities were part of the study.
The 20 most expensive cities in the world, according to UBS: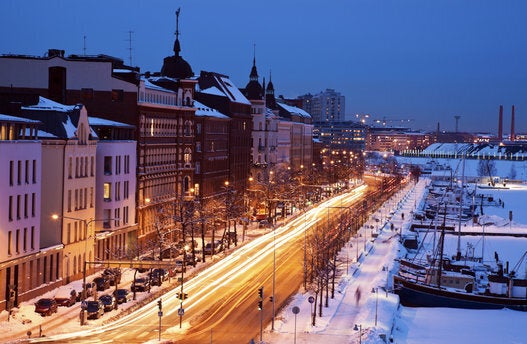 World's 20 Most Expensive Cities, According To UBS
Toronto and Montreal rank highly by almost every measure in the study, but they drop in the rankings if you include rent -- suggesting rent is more expensive in other, comparable cities.
UBS calculated price levels by looking at the cost of a "basket" of 122 goods and services that might be consumed in a month by a three-person European family.
Toronto ranked 12th in the world by this measure when it came to price levels, excluding rental costs. Including rent dropped the city to 19th place.
Montreal, meanwhile, ranked 15th without rental costs; including the metric dropped the city all the way down to 26th place.
Some cities get a lot more expensive when you include rent. Hong Kong, for instance, rises 13 places in the rankings when you include rent.
"Price levels including rents show how large an impact rents have on monthly spending," the study says. "Assuming similar incomes, residents of Hong Kong must allocate almost eight per cent more of their income to housing than those in New York City."
But prices weren't the only area in which Toronto and Montreal ranked highly on the list. Montreal was 10th in net wages and 11th in gross wages, while Toronto was 14th and 15th, respectively.
Montreal also sat in 11th place when it came to purchasing power, while Toronto came in at 16th place, when calculating for net annual income.
5 More Hours Of Work To Afford An iPhone In Toronto Versus Montreal
The bank also looked at how many hours a person would have to work in order to obtain certain products.
In Toronto, for example, it would take an average of 37.2 hours of work to afford an iPhone 6 with 16 GB of space, while in Montreal, it was 32.1 hours.
By way of comparison, in Zurich, the highest-net-earning city, it would take an average 20.6 hours to buy such a phone.
At the other end of the list, residents of Kiev, one of the lowest-net-earning cities, people would have to work an average of 527.2 hours.
Check out the study here:


Popular in the Community