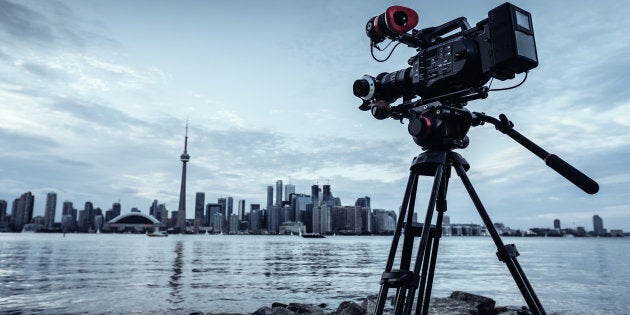 For decades, Canadian cities have been standing in for American ones in U.S. film and TV productions shot north of the border. Now it appears this has had an unexpected cultural payoff: Canada's largest cities are among the most-filmed locations in the world.
That's according to data compiled by researchers at insurance comparison site GoCompare. They used TV and movie listings from the Internet Movie Database (IMDb) that were shot on location, breaking down productions by filming locations. (The survey stripped out productions filmed only in studios.)
With 5,737 listings on IMDb, Toronto is the fourth most-filmed city, behind only Los Angeles, New York and London. Vancouver, with 4,110 listings, comes in fifth, while Montreal ranks 13th on the list.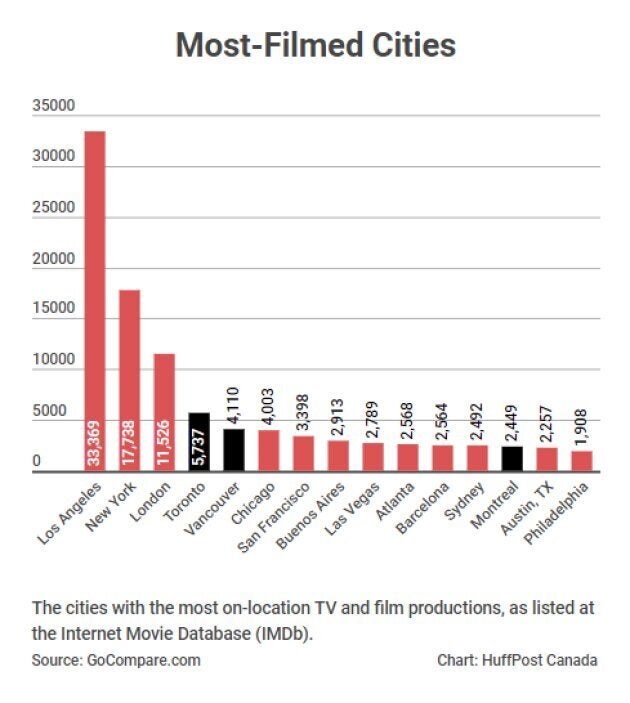 In fact, the data shows Canada is the third-most-filmed country in the IMDb database, behind only the U.S. and U.K.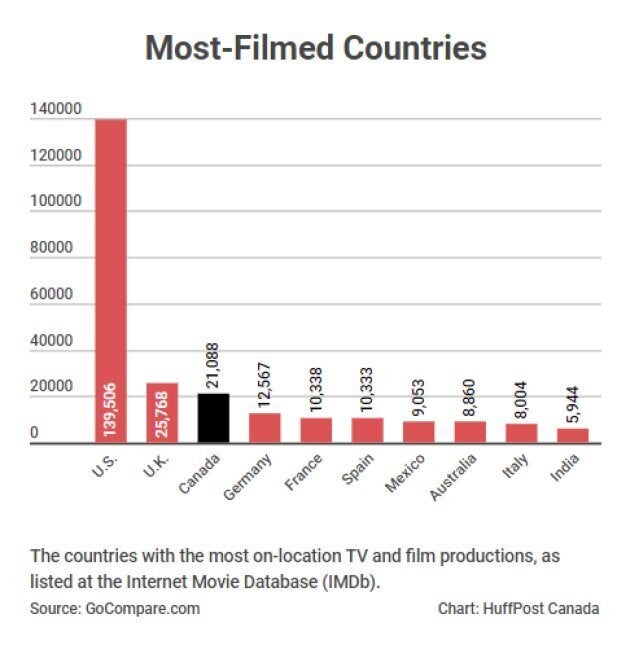 Researchers also broke the numbers down by specific filming locations, and found that the campus of the University of British Columbia is the ninth most-filmed location in the world.
New York's Central Park ranks as the most-filmed location, followed by Venice Beach in the Los Angeles area and New York's Greenwich Village.
One caveat about the data: It's only as good as IMDb is thorough. If there are parts of the world that are underrepresented in the database, that could skew the results.
But what makes Canadian cities such an attractive place for filming?
"It seems to be a combination of the incredible variety of landscapes and buildings, tax incentives and the cheaper Canadian dollar," a spokesperson for GoCompare told HuffPost Canada.
For decades, Canadian provinces have been offering tax incentives to bring Hollywood film and TV productions north of the border. In more recent years, many U.S. states have followed suit, offering similar financial incentives.
But that hasn't slowed the momentum in Canada's industry, which has seen very strong growth recently. The Canadian Media Producers Association says Canada clocked a record-high $8.38 billion in screen production in the 2016-2017 fiscal year.
Screen production in Vancouver increased by 35 per cent from the year before, helping make British Columbia the most popular place to film in Canada, beating Ontario for the first time. And Quebec recorded a 39-per-cent jump in foreign productions in 2017, according to the Quebec Film and Television Council.
The boom in Canada's industry has at least partly to do with the sudden explosion of content production in the U.S., thanks to aggressive expansion by streaming services like Netflix, Hulu and Amazon. (Hulu's award-winning "The Handmaid's Tale" was shot in Toronto, for example.)
According to the CMPA, the film and TV industry supported the equivalent of 171,000 full-time jobs in Canada in 2016-2017, and added $23.6 billion to the country's economy.