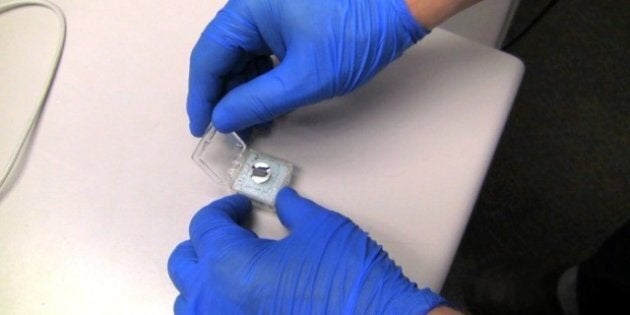 Vancouver-based artist Robert Chaplin and a B.C. university have made a big smash into the Guinness World Records with a tiny book about a teeny guy.
Written by Chaplin's brother, Malcolm Douglas, Teeny Ted from Turnip Town has officially been recognized as the world's smallest reproduction of a printed book.
The book was produced at Simon Fraser University in Burnaby in 2007 in the school's nano imaging facility, but it took until this year to connect with the world records. Chaplin was trained by lab manager Karen Kavanagh to use a focused gallium ion beam (FIB) to carve letters on to pieces of pure crystalline silicon.
"Once scribed into silicon the book will last for a million years or more," Chaplin said in a news release on Tuesday.
Measuring measures 70 micrometres by 100 micrometres, the book is so small, it can't be seen with the naked eye. To top it off, the world record feat was an accident.
"It wasn't his aim at the beginning, it turned out that way," Kavanagh told The Huffington Post B.C. "This turned out to be by accident, the smallest."
The project cost $15,000 and Chaplin has gone on to launch a campaign on a popular crowd-funding site, Kickstarter, to raise money to turn the nano book in to printed hard copies.
Check out the photos of this tiny world-record breaking book: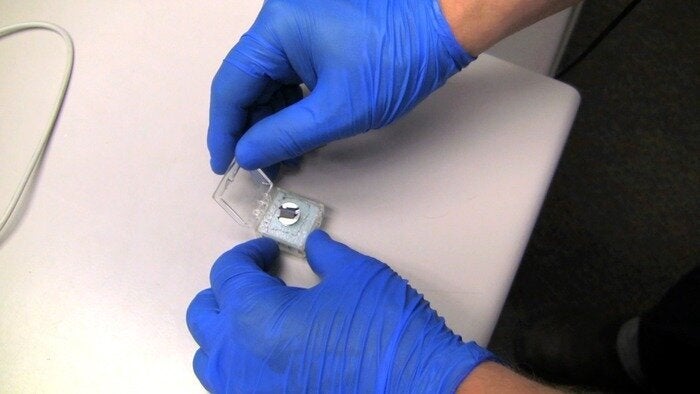 Teeny Ted From Turnip Town
Popular in the Community