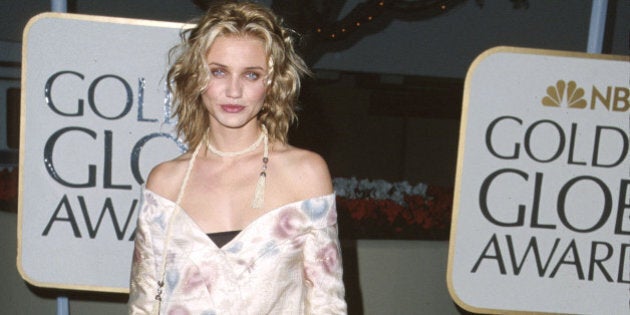 Here's the thing: Style is subjective, so even if you wouldn't wear a piece, that doesn't automatically make something "bad." Now, we know you know that, but with award season beginning on Sunday with the 2014 Golden Globes, we're going to be faced with more "best" and "worst" lists than we'll know what to do with.
So that's why we're writing this. A defence; a defence for all "bad" outfits worn to the Golden Globe Awards over time, because fashion is about what makes you feel awesome, not about doing it "right." And if these women felt awesome in their Golden Globes gowns, then who are any of us to say they were wrong?
Let's get defensive up in here.
Story continues below the slideshow: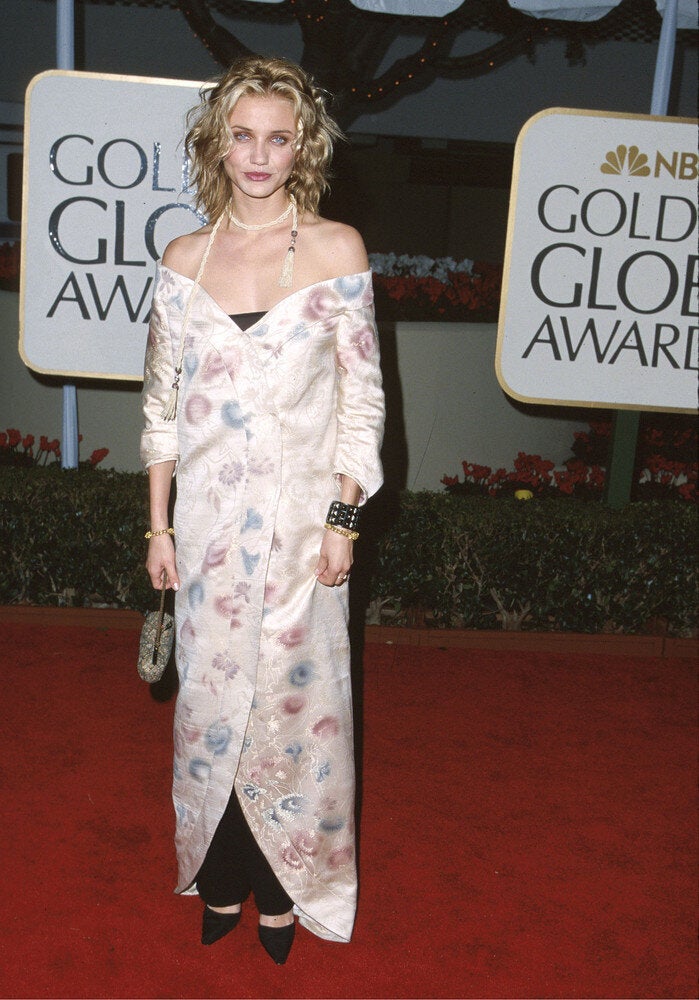 In Defence Of The 'Worst' Golden Globe Dresses
1. Cate Blanchett, 2002 Golden Globes
Acting is an art, and fashion is an art, so why wouldn't a master of both use the Golden Globes as an opportunity to wear something that challenges the style and gender conventions we've placed around award shows? A pinstripe suit would be a suitable option for a guy to wear, so why shouldn't Blanchett's unorthodox take be just as acceptable -- especially with her balloon sleeves adding a little more dimension to her navy pinstriped piece? (Added bonus: the colours also perfectly complement her hair colour and skin tone, so there you go, Fashion Police.)
2. Lara Flynn Boyle, 2002 Golden Globes
The last time we checked, acting is about playing pretend – so because Lara Flynn Boyle opted to use her imagination on the red carpet, critics condemned her. What? Was it the lace-up shoes, the tutu, or the colour? Either way, Boyle exercised her right to imagination (read: what she does for a living), and wore something that offered escapism on a night that gets notoriously serious. And don't we all do that when we decide what to be when we get dressed in the morning?
3. Diane Keaton, 2004 Golden Globes
Thanks to "Annie Hall," Diane Keaton helped cultivate androgynous and/or gentlemen-inspired wear, so we're technically never allowed to criticize her red carpet choices – especially if they go hand-in-hand with the very aesthetic we praise. Her dramatic White Witch-inspired look is one that's earned, and let's face it: no other actress would dare attempt white gloves with white pieces with white pearls. (Nor should they – overcoats would hardly exist without Keaton, anyway.)
4. Diane Kruger, 2005 Golden Globes
Yes, a lot has changed since Diane Kruger channeled her inner exhibitionist (you go, Kruger), but considering the actress was actually ahead of the 2010s cut-out trend, you could argue that this dress actually helped lead the pack. Besides, if you can confidently walk down the red carpet baring your midriff, then do it.
5. Renee Zellweger, 2009 Golden Globes
And the problem with Renee Zellweger's black, sheer, gothic-inspired gown was . . . what? Five years ago, these trends may not have been on the up and up, but in 2014, we're seeing an abundance of sheer, and an abundance of vintage-inspired silhouettes. The dress fits, it's a classic shade, and it's not like she's wearing nothing underneath. And sure, wearing a black bandeau may have worked better than a nude bra, but with gold accessories, she – like Ms. Kruger – was merely ahead of the 2014 curve.
6. Helena Bonham Carter, 2011 Golden Globes
At some point, fashion critics forgot that Helena Bonham Carter is not only a character actress, but a woman completely at ease with who she is and what she likes (much like her partner, director Tim Burton). So to her layered, printed, chiffon, and mismatched ensemble we say this: fantastic. "Dressing up" as kids didn't mean breaking or abiding by fashion rules, it meant breathing imagination into a special event. Thank goodness Carter is around to remind us of such.
7. Marisa Tomei, 2009 Golden Globes
Listen, we get it. How dare Marisa Tomei don a ruffled blouse, high-waisted black skirt, and an oversize belt? How dare her interpretation of black tie formalwear vary from that of everybody else? But here's the thing: early award shows saw a far more casual vibe than the red carpet ceremonies of today – and those actors and actresses still looked fantastic, and those looks are still timeless. Ultimately, we could all still wear Tomei's ensemble today – it's entirely '70s. But can the same be said of the "best-dressed" gowns of the early 2000s? Not so much.
8. Courtney Love, 2000 Golden Globes
Guys, let's be honest: if Courtney Love showed up at an award show and didn't look like a rock and roll legend, there'd be something terribly wrong. If she didn't flip the rulebook off, she wouldn't be Courtney Love in the first place.
9. Beyoncé, 2003 Golden Globes
While today you'd be kicked off the Internet for challenging Beyoncé's fashion choices (and rightfully so – her wardrobe is phenomenal), she didn't earn love in 2003 for her prom dress-inspired look. But here's the thing: In 2003, Beyoncé was only 22 years old. (Exactly: like the Taylor Swift song.) So at 22, she was merely dressing her age – again, like Taylor Swift tends to. The only difference being that 2003 saw a lot of prom dresses that looked that way.
10. Sarah Jessica Parker, 2003 Golden Globes
Evidently, Sarah Jessica Parker and Madonna look strikingly similar, so SJP used the 2003 Golden Globes as a chance to showcase that. However, thanks to the fashion legacy of "Sex and the City," Parker's gothic-inspired choice was seen as a failure – despite the fact that the actress' name is Sarah Jessica Parker, and not Carrie Bradshaw. Frankly, it takes guts to break from a safe persona, so she should've earned praise, not criticism, for beating to her own drum instead of that of a fictional character's.
11. Cameron Diaz, 1999 Golden Globes
Here's what all of us need to remember about the '90s: anything went -- anything at all. At one point, some of us were wearing chopsticks in our hair with Adidas pants (and sitting on inflatable furniture). Thus, Cameron Diaz's 1999 Golden Globes ensemble was merely indicative of the time: She mixed and matched certain trends to create a look that was uniquely hers. The '90s didn't exactly follow a rulebook – and thanks to the cyclical nature of fashion, we shouldn't be surprised if we see anything similar pop up in collections soon. (Here's hoping anyway – that jacket is major.)
12. Bjork, 2001 Golden Globes