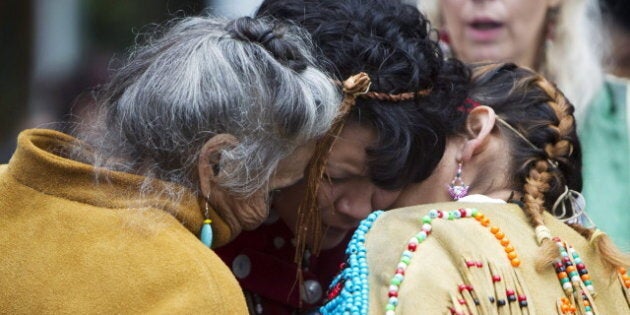 A scathing report to a B.C. inquiry looking into the years before the arrest of convicted killer Robert William Pickton recommends giving financial compensation to the children of Vancouver's missing women as well as decriminalizing the sex trade.
The report's title quote comes from a Vancouver police officer and refers to the attitude of some of her fellow officers as dozens of women disappeared from the Downtown Eastside (DTES).
Gratl's report is not binding but intended to persuade Wally Oppal, commissioner of the Missing Women's Inquiry "to incorporate the perspectives and interests of the Downtown Eastside into his more comprehensive Inquiry Report."
Gratl's 102-page report outlines how Pickton was able to prey on women from the DTES for years and how "discriminatory attitudes and beliefs" by law enforcement "contributed to the ongoing disappearances of survival sex workers."
Police rarely interviewed victims' friends or family during missing women investigations because of the discriminatory belief the sex workers didn't have friends or neighbours, Gratl told The Vancouver Sun.
Gratl's report found that Vancouver police management were not only opposed to a serial killer investigaton, but "went so far as to engage in deceptive practices throughout that investigation. They then engaged in a smear campaign against victims' families and police critics following Pickton's arrest," wrote Reive Doig, a blogger for the Huffington Post B.C., in a detailed entry on Thursday.
Chapter Three of Gratl's report is titled "Suppression of Recognition of a Serial Killer."
"It would appear, based on the evidence given by many of the police officers, that even today the VPD and RCMP have a blind spot for their own discriminatory attitudes and beliefs," Gratl told the Sun. "An outside independent audit of police practices and procedures scrutinizing for discriminatory conduct and policies is absolutely necessary to overcome this blind spot.
He also recommended not prosecuting or enforcing arrest warrants against DTES residents in order to facilitate them reporting crimes of physical or sexual violence.
Financial compensation for the children and grandchildren of the missing women. Money is no substitute for a mother's presence, love and

support, but financial compensation may assist the children of the missing women to build their lives and advance the interests of their own families.
Amending municipal bylaws to create zoning and licenses for sex work and brothels is also one of the recommendations.
"I never count myself an optimist. But even if one of those 37 recommendations gets picked up by the commissioner I will have done my job," Gratl told Doig.
Oppal is expected to table a final report by Oct. 31
Gratl was appointed Independent Counsel after the B.C. government denied funding to 13 groups representing aboriginal women, sex trade workers and residents in the Downtown Eastside. The province did help with legal costs of families of missing and murdered women who appeared at the inquiry.
Popular in the Community