Last week's sensational release of documents from the RCMP's Information to Obtain (ITO) production order in the ongoing Senate scandal created a political firestorm. This is not surprising, given it is now abundantly clear that the RCMP believes individuals in the Prime Minister's inner circle violated the Criminal Code.
But buried in the tsunami of evidence were documents which also shine a light on what the Conservative government really thinks about equitable funding for First Nations schools. This peek behind the scenes of the Conservatives' cynical political machine underscores why we cannot trust Minister Valcourt when he says we should just pass government legislation reforming First Nations education without any money attached and trust that "funding will follow."
We now know the Conservatives' refusal to fund First Nations students attending school on reserves at the same level as their provincial counterparts is coming straight from the top. An internal PMO memo released as part of the ITO suggested language to the Prime Minister to reprimand the Conservative Leader in the Senate for not having better control over Senators and the work of Senate Committees. The memo specifically uses a Senate report calling on the government to "invest heavily in Aboriginal education" as an example of a failure to ensure "Government messaging and direction are followed."
This is not just a shocking example of Stephen Harper's anti-democratic command and control style of government, but clearly demonstrates that the Prime Minister callously refuses to provide First Nations students with the equality of opportunity they deserve. The federal government only provides half to two-thirds of the per-student funding for First Nation schools compared to provincial schools and only one third of First Nations students are graduating high school. Rather than fixing the funding gaps highlighted by First Nations, the Auditor General and numerous other reports, the response of the Prime Minister is to simply clamp down on Parliamentarians trying to highlight the issue. Whether it is First Nations water systems, housing or education, the Conservative answer is to ignore funding shortfalls and download further responsibilities onto already underfunded First Nations with no additional resources.
When the Conservative government quietly released its unilateral proposal for First Nations education late in the evening on October 22, it quickly received a failing grade from coast to coast to coast. Given what those ITO documents show, it is not surprising that First Nations have highlighted the fact that the proposal ignores the core problem of equitable funding and imposes new requirements on First Nations communities without new resources.
Even before the release of their top down, one-size-fits-all government proposal, Minister Valcourt made it clear that he will not even discuss funding until his 'reforms' are passed. However, if the Conservatives do push through their made in Ottawa First Nations education legislation, there is absolutely no reason to believe that additional resources will follow. In fact, the ITO documents show that this government is simply not willing to put any resources behind their promises and are dismissive of the idea of investing further resources in Aboriginal education. They remind us that there is only one minister -- the Prime Minister -- who makes decisions in this government and his track record of refusing to deal with the outright discrimination that exists when funding First Nations students makes it extremely difficult to believe that equal funding will be part of any future education reform on his watch.
This week AFN National Chief Shawn Atleo issued an open letter flatly telling the government that "the current Federal Proposal for a Bill for First Nation Education is not acceptable to First Nations." He has also outlined the "absolute need for a funding guarantee for First Nation children to learn in a safe, secure environment nurtured within their languages and cultures."
Given the views expressed behind closed doors at PMO, and previously released government documents classifying Aboriginal Peoples as "adversaries," it is completely understandable why First Nations are not willing to take the government's word that issues like funding will be dealt with after they push through their paternalistic education legislation.
Last month, James Anaya, the UN Special Rapporteur on the Rights of Indigenous Peoples, gave this government very clear advice: push pause on this flawed, top-down strategy. The Conservative government needs to go back to the drawing board, sit down with First Nations communities and build a workable, fully funded plan that respects, supports and empowers First Nations to control their own education systems.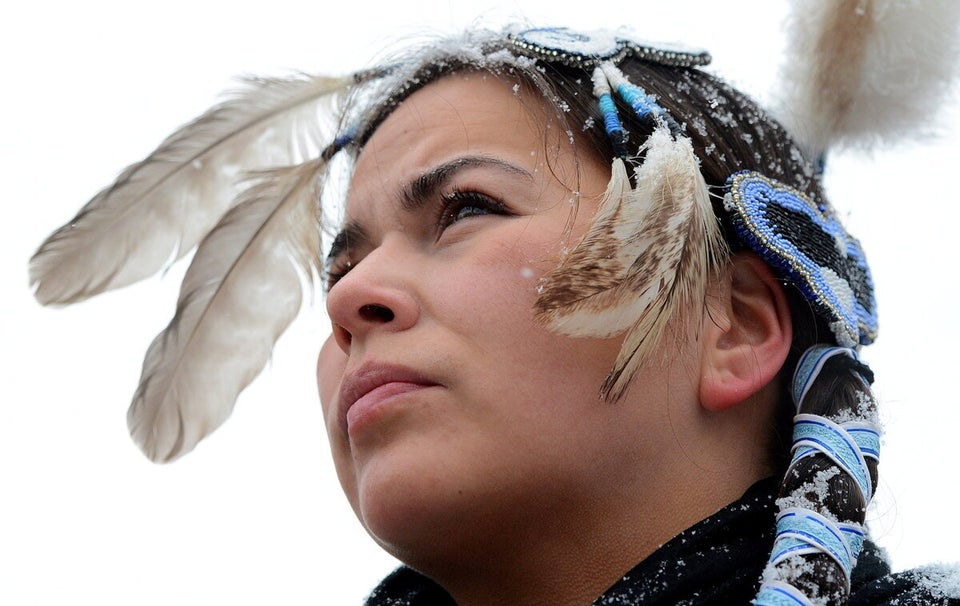 Idle No More: In Photos