The CBC had a hit with the recently wrapped "The Book Of Negroes," so will newcomer "X Company" be a phenomenon as well, ratings and otherwise? From far away, the two series couldn't be more different, but up close it's amazing how much they have in common. Canadians know little about one of the country's best-kept secrets -- Canada's role in the Allied victory -- and the exploration and celebration of the story is long overdue.
"X Company" has been percolating in the minds of creators Mark Ellis and Stephanie Morgenstern for over a dozen years. It started off as a short film called "Remembrance" and did well enough on the festival circuit that they began developing a feature script. Their dream project was put on hold when, around the same time, "Flashpoint" was picked up. Their experience during that show's successful five-year run made them realize "the best world for this idea was going to be in TV," shared Ellis. "So we've come to it now with fresh eyes and we're telling a different story, but a story that's been really close to our hearts for such a long time."
"X Company," an eight-part drama series set during the Second World War, looks at the origins of spycraft and follows five ordinary people trained in extraordinary things at Camp X, an ultra-secret training facility on the shores of Lake Ontario (between Whitby and Oshawa, Ontario). In fact, it was the first spy training facility in North America and where Canadian, American and British agents learned their skills before going behind enemy lines.
"Prime MInister William Lyon Mackenzie King didn't even know it existed and it was right in his own backyard," said Ellis. "People who worked there were sworn to secrecy and it wasn't even declassified until the 1980s."
Morgenstern added: "It's a source of real pride that this groundbreaking place existed 42 minutes away from [downtown Toronto]." That is, if anyone knew about it before this TV show. Raise your hands if you learned about Camp X in school. That's what I thought.
Holding down the camp on "X Company" are Duncan Sinclair (Hugh Dillon, "Flashpoint"), the brains behind the operation, and Krystina (Lara Jean Chorostecki, "Hannibal"), the young woman who oversees the all-female staff at the communications facility.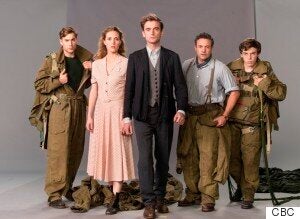 But it's the five agents who are the brawn of this endeavour. There's Aurora (Evelyne Brochu, "Orphan Black"), a half Jewish-German, half French-Canadian undercover specialist who speaks three languages; Neil (Warren Brown, "Luther"), a British ex-copper who specializes in weapons and close-quarter combat; Tom (Dustin Milligan, "90210"), an American who has turned his advertising skills into the art of propaganda; Harry (Connor Price, "Being Human"), the brilliant young idealist of the group who also happens to be their radio operator and explosives guy; and Alfred (Jack Laskey, "Hatfields & McCoys"), whom Ellis called "the very heart of the show." He has a condition called synesthesia, which fuses all his senses together, making him quite the asset as he has a near-perfect memory. They seem like superhero-like abilities, but the team can't help but be a bit wary, at least early on.
"We're told to take this guy on a mission and having seen his training and seeing how he reacts to certain things, we think he's a liability," said Brown.
Laskey chimed in about his character: "And he is a liability. He gets overwhelmed. His senses are overloaded, properly overwhelmed. So yeah, he's dangerous to put on the frontline."
"In terms of the dynamic of the team, Alfred's perceived as having almost a disability first," added Brown before conceding, "But further down the line he becomes a great tool that they use, and he flips their initial perceptions of his character. He's able to do things no one else can."
Perhaps not to the same powerful degree as the "Book Of Negroes" shoot -- which brought crew members of all colours from Canada, the U.S., the U.K., and South Africa together, working towards a common goal -- the stars of "X Company" spoke proudly of the "cross-cultural collaboration." Filming was done almost entirely in Hungary (with the exception of the bridge scene in the first episode, which Price revealed "was shot in Serbia" and Brochu compared that venture to "a school outing"). Aside from Hungarian talent, production also featured loads of Canadian, British, German and French cast and crew members, something Laskey said was "intrinsic to the idea and to our experience."
Each episode finds the team predominantly behind enemy lines, but they do return to Camp X every now and again to check in and tune up. Brochu likens them to "a band that's on tour that goes back home sometimes."
"[Director] David Frazee said that they're on such a rush of adrenaline, so even though they go back to the camp to settle back in, do a little training and prepare for the next mission, there's still something in them, in their energy, that's still over there."
Milligan concurred: "Especially at the end of the first episode when you see us in that celebratory mood but yet there's this underlying, violent, primal nature that's just starting to emerge and be developed and escape. It's a subtle touch that David brought. There were elements of it that were in the script, but that was something he really pushed in all of us to try and find, that animalistic desire for that adrenaline rush, that drug."
It's another Canadian story with brilliant storytelling, something the CBC excels at. If you're wondering whether a show set during the Second World War will appeal to today's audience, just ask Peggy Carter. Like the latest Marvel series, "X Company" isn't a period piece; rather, it's a show that will feel like it's happening in the present. And that's all thanks to Morgenstern and Ellis.
"I think it's important to tell these stories now because they're stories that we're losing," said Ellis. "We're not writing episodes that are about epic battles or air raids or extractions. It's about one-on-one encounters with people.
"What do you do in those little moments? Do you save a mother, or your best friend, or a fellow agent when their lives can actually save hundreds more?" asked Ellis. "It's those smaller, ethical questions that we think will resonate with today's audience."
"We're also losing the storytellers of that war," said Morgenstern. "Our grandfathers, our great-uncles, our great-grandmothers are all dying and it's important that we continue to share their stories on a very intimate, personal level with the next generation."
From the disturbing opening scene, which definitely sets the tone for the series, to the end of the first episode -- jubilant yet somehow still ominous -- "X Company" is another history lesson CBC is offering audiences, and it nails it once again.
"X Company" premieres Wednesday, Feb. 18 at 9 p.m. (9:30 NT) on CBC.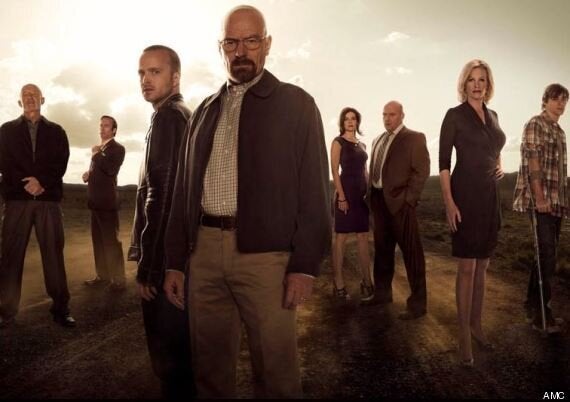 Best TV Shows To Binge-Watch