In Liberia, I used to work alongside a UN Police Officer from Yemen. Ali and I became friends over our coffee breaks, when he would tell me colourful stories about the beauty of his country. One day, I would have to come visit, he insisted.
After more than a year of training and building the capacity of the Liberia National Police, Ali's deployment with UN Peacekeeping was coming to an end. I remember the joy in his eyes when he spoke of returning home to see his wife and children again.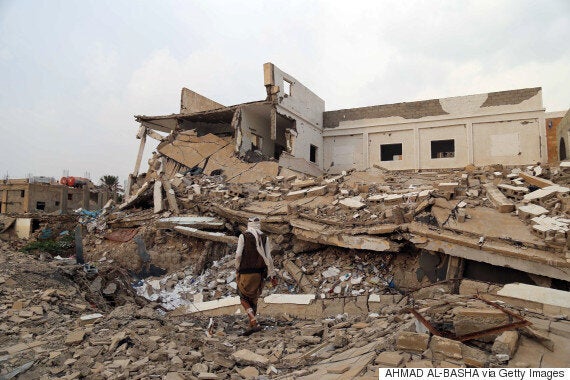 That joy turned into fear when he got word of fighting back home, and the closure of Yemen's main airport left him stranded. He couldn't get back into Sana'a, and the risk of flying into a neighbouring country (if they would even accept him) and crossing by land was too dangerous, he said. And so Ali waited desperately in Liberia. Each day praying that his family would be ok. And each day hoping it would be the day he could finally go home.
Last week marks two years since the current conflict in Yemen began, a war that has destroyed the economic and social fabric of the country. According to the Government, the GDP shrunk nearly 35 per cent when fighting erupted. Infrastructure collapsed. Public institutions continue to struggle to provide even basic services.
The beautiful country my friend once spoke of was fast becoming unrecognizable.
More than 14 million people are now food insecure, and more than three million people are internally displaced. Humanitarian organizations are crying the warning signs of famine, and almost 10 million children are in urgent need of aid. Already the poorest country in the region before the crisis, things have gone from bad to worse for the Yemeni people.
At the end of a mission to Yemen earlier this month, Under-Secretary-General for Humanitarian Affairs and Emergency Relief Coordinator Stephen O'Brien said if we act now, we could still avert a massive catastrophe. But it will require deeper pockets and greater commitment from all parties to the conflict to allow humanitarian access to those in need.
One hundred and twenty partner organizations have come together to launch a Humanitarian Response Plan, calling for $2.1 billion to provide life-saving support to 12 million people in need - almost half the country's entire population. This will go towards providing them with badly needed food and shelter, education and health services, and psychosocial support among other things. To date, just 8.3 per cent of that appeal has been funded, leaving a gap of $1.9 billion.
Despite the shortfall, humanitarian agencies are trying their best to stretch their resources as far as they can. Last year, they jointly provided emergency food assistance to nearly four million people, safe water to more than 1.2 million people, and treated more than 530,000 cases of acute malnutrition.
Ali did finally make it home, but it did little to dissipate his fears. He still wakes up each day praying that his family will be safe. Only this time, if anything happens, at least he'll be right there beside them.
Follow HuffPost Canada Blogs on Facebook
Popular in the Community