A new divide has just been sanctioned on Parliament Hill — there are the women who think "correctly" and then there are the non-women, those who don't toe the right line. On Sept. 26, 2017, in a show fit for a three-ring circus, some members of the Status of Women committee walked out when MP Rachael Harder was nominated as chair.
Why? Because Harder, the 30-year-old member of Parliament for Lethbridge, Alta., was cast as an abortion opponent. Chauvinism has a new face — and it lives at the Status of Women committee.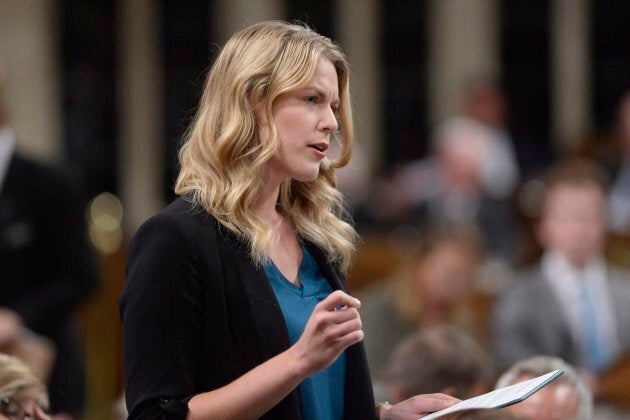 Being pro-life is, in reality, a feminist position. A woman-friendly world should be able to accommodate women's fertility, with things like flex work time for mothers, different work rules for pregnant women and having much higher expectations of fathers. (Incidentally, Planned Parenthood used to understand this, running an ad campaign in the '80s that showed a man with a pregnant belly. The caption read, "When your girlfriend gets pregnant, so do you.")
In the feminist pro-life world, pregnancy and children should not be a threat or an inconvenience — indeed, "women deserve better than abortion" is the slogan of Feminists for Life. It's a twisted definition of equality that asks women to give up their children by undergoing invasive surgery. Men don't have to do that, and neither should women.
It seems a majority of Canadian women understand this position. When Angus Reid Forum surveyed 1,025 Canadians in February 2017, asking "Can you be a feminist and pro-life?" six in 10 (57 per cent) Canadian women said yes.
This silencing of women at the Status of Women committee makes a farce of Status of Women.
That Harder is an MP at her age suggests drive and ambition; her bio says she wrote a business plan to run a dog kennel at age nine, and this business funded humanitarian travel to places like South Africa, as well as her education. She is the very picture of what feminists worked to achieve.
In fact, the only strike against her — as per pro-choice chauvinists — is her vote in favour of Cassie and Molly's law. A grieving, pro-choice father put forward this bill when his daughter, already named Molly, was murdered in utero along with the mother, Cassie, 10 weeks from birth. At that gestation, children are born, survive and thrive. Yet only the mother's murder is recognized in Canadian law, while the father was supposed to pretend baby Molly didn't exist. Voting in favour of such a bill shows compassion. Rachael Harder's vote for a bill that didn't pass simply does not constitute a threat.
But she does present a threat, apparently, to a bristling abortion-rights movement. They demand abortion acceptance — not as an unavoidable evil, but as a positive woman's right. Gone are the days of "safe, legal and rare," a more moderate proposition.
Canada has no abortion law, so any restrictions placed on the procedure are done within the medical community. The most recent data show a small number of late-term abortions. So not only must pro-life women accept the legal reality in Canada of abortion up to nine months gestation and pay for it with our tax dollars, we can't say anything negative about the choice. In general, as the Harder episode teaches — we aren't supposed to say anything at all.
This silencing of women at the Status of Women committee makes a farce of Status of Women. Not all women are happy to parrot this choice phrase (pardon the pun) of MP Sheila Malcolmson that "reproductive choice is at the foundation of women's equality."
The true foundation for women's equality is a woman's humanity, shared by all people on the globe, regardless of sex, race, religion or creed. (And, regardless of gestational age or size, when you are a pro-life woman, as I happen to be.) But when a strong woman's voice is stifled, when people walk out on another human being because she may think differently, when a woman like Harder is figuratively told to go sit at the back of the bus — that's when humanity is denied.
There are a host of infringements on women's rights across the globe that most everyone wants to rectify. There's genital mutilation, child brides, heck — women in Saudi Arabia have only just been allowed to drive. These are all issues that Status of Women could discuss. Instead, we see a brittle posture, that when faced with legitimate political diversity chooses to deny some women a voice. All women deserve a seat at the table and all women deserve a shot at leadership, too.
Follow HuffPost Canada Blogs on Facebook
Popular in the Community