This year's edition of Much Presents: The Big Jingle, which went down at Toronto's Air Canada Centre last Saturday night, was a star-studded affair featuring the likes of Fall Out Boy, Hedley, Icona Pop and Serena Ryder but, as far as the denizens of the media room were concerned, a couple of funny brothers from Norway – better known as Ylvis and perhaps best known as the What Does The Fox Say? guys – were the biggest idols of all.
The usually staid and jaded reporters who assembled backstage at the show to talk to all of The Big Jingle's performers turned positively giddy at the very mention of the musical comedy duo. Some even went so far as to instigate sing-alongs to "The Fox," the pair's straight-faced video and dance track about animal sounds that went viral this past fall. By the time Bard and Vegard Ylvisaker arrived backstage to talk to us, the atmosphere was positively giddy.
In fact, the only thing higher pitched and more squealing than the various journalists' and entourage members' giggling was the new, more realistic fox sound (which, they explained, "sounds like a woman screaming") that Vegard has learned since releasing the song and was happily demonstrating for anyone who would ask.
When the duo reached Huffington Post's headquarters, at least four or five fox screams later, I was genuinely concerned for the younger Ylvis sibling. Was his throat feeling all right after all of those fox impersonations? Will the pair's global domination be cut tragically short due to a vocal cord rupture of some sort?
"It doesn't hurt," Vegard assured me. "It's a very unique technique."
"It's taught in Norwegian elementary school," younger brother Bard explained.
"We're very good at warming up," Vegard added.
Bard agreed. "If we didn't warm up, we wouldn't be here."
Still, no amount of warming up could ever have prepared the Norwegian comedy veterans for the massive worldwide success of "The Fox." The pair fully expected and intended the song, which they worked on with the massively popular production and writing team Stargate and recorded in Jay-Z's studio, to be a failure.
The planned punchline for this whole adventure was to promote the latest season of their talk show back home. The storyline was supposed to be that the brothers had squandered the biggest opportunity of their careers on a dumb song about the sound that foxes make. Instead, "The Fox" became YouTube's top trending video of 2013.
"We obviously suck at our work," Bard deadpanned.
Now that they've been given an even bigger opportunity – one that includes international fame, television and festival appearances, a children's book and a major record deal – are they tempted to manufacture an even bigger and more elaborate failure?
"We have to," said Bard with only the slightest hint of irony. "But that comes naturally for us. We're always throwing all of these chances and we screw up all the time. Because this traveling, it does't work very well with having a family and so we have to screw this up somehow. This can't go on. Now we're just trying to avoid our next failure also becoming a big thing. We want to really, really ruin it. For real."
In the meantime, Ylvis are happy to take their makeshift fox costumes (one is actually a squirrel) across the world to perform "The Fox" for their newfound fans. They just hope that the Norwegian Film Institute doesn't ask for those costumes back. Apparently the brothers rented them, which they figure are from the thirties or forties, for the video this past summer and never got around to returning or outright buying them in the ensuing hoopla.
"We always bring this up when we are in these kind of situations," Vegard admits. "Our tactic is being quiet. Just not mentioning. Because we rented them for a few days and we never returned them and I think there's some kind of Norwegian film state rental thing going on."
"That might actually be the failure that stops this whole thing," Bard said.
"Yeah," Vegard agreed. "All of the income from this video will go to them."
Much Presents: The Big Jingle, a one-hour special of the concert, airs this Saturday, December14 at 6pm ET on Much.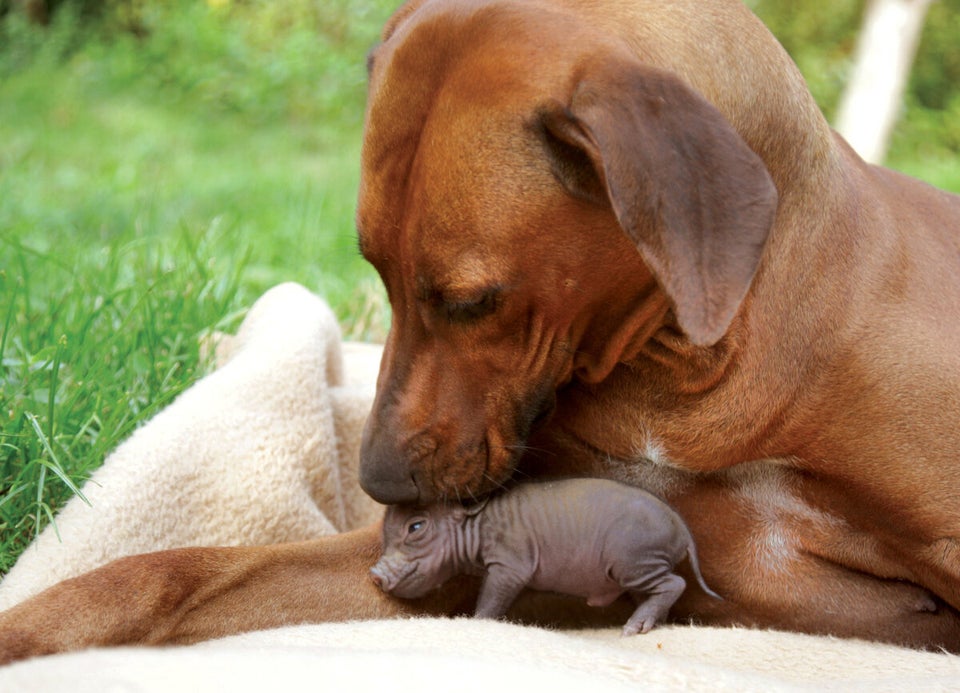 Unlikely Animal Friendships