It was December 2012, and John "Redbear" Terrance was thinking seriously about killing himself.
After a childhood marked by physical and sexual abuse, he became an introvert. He ate cheap, packaged foods and hid in his home on the Mohawk Nation at Akwesasne, on the border between New York state and Ontario.
He didn't see his family for 10 years. He became extremely unhealthy, and weighed 620 pounds.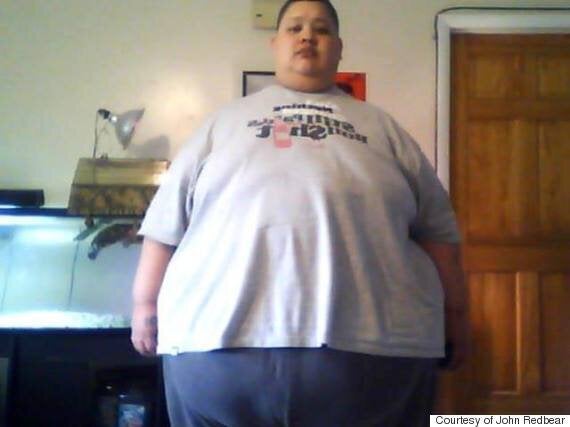 One night, "a spark went off" in his head. "I didn't have the courage to kill myself, but I didn't have the strength to live," Terrance told The Huffington Post Canada in an interview. "I thought 'OK, I need to do something about this.'"
Terrance was too heavy for gastric bypass surgery. So, he started doing long cardio workouts three times a week and lost 70 pounds in order to qualify. In 2013, he underwent the operation and began to change his life.
At one point, Terrance complained to a friend that his back was always sore. She suggested yoga.
Terrance learned the basics from an instructor he knew, and then developed his own routine to do at home. He made yoga a regular part of his workout routine, which by then he was doing six days a week.
It was tough at first, taking a toll on his knees and joints. But he stuck with it. And then, "the weight just melted off."
Terrance has now lost an unbelievable 380 pounds.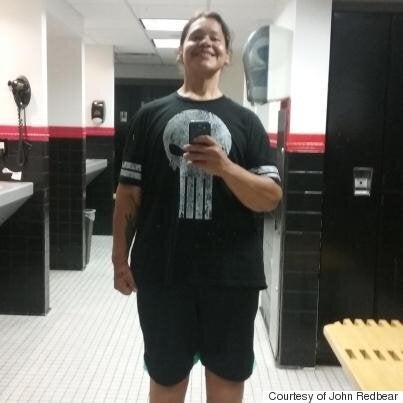 When many people think of medicine, they think of pills, cough syrup — the items easy to grab at a pharmacy.
But to Aboriginal communities, medicine has a completely different form and definition.
"What medicine means is something that makes you feel good," explained Mitch Baird, a communications manager for the Southern Ontario Aboriginal Diabetes Initiative (SOADI). "Going for a walk in the forest is a medicine, listening to music is a medicine.
"In native culture you look at the whole person, you don't compartmentalize their mental health and physical health," Baird said.
"What medicine means is something that makes you feel good."

— Mitch Baird
That holistic approach of assessing mental, physical, spiritual and emotional health as one mirrors much of what's practised in yoga. The ancient Indian discipline is "culturally appropriate" for native people, Baird said, and holds much promise for healing the illnesses plaguing them.
Diabetes, in particular, is three to five times more prevalent in Canada's Aboriginal communities than it is in the rest of the population, according to the Canadian Diabetes Association. In some First Nations communities, up to 26 per cent of people have the disease.
Diabetes was extremely rare among Aboriginal people before 1940, but diet, poverty, and poor living conditions all contribute to the problem, said the association.
Fragmented health-care options and high staff turnover rates on reservations make matters even worse.
'We need to go back to another way'
Elders have described diabetes as "the physical manifestation of the loss of a way of life," Baird said. In the past 100 years, Aboriginal peoples' habits and diets have been turned upside down by colonization, he said.
Rather than hunting and eating traditional meals — "what the Earth provides" — many people now only have access to highly processed foods.
"A lot of these communities are really far away from grocery stores, so their grocery store is usually the corner store," Baird pointed out. "Well, try eating healthy from there.
"Our bodies are saying, 'We need to go back to another way.'"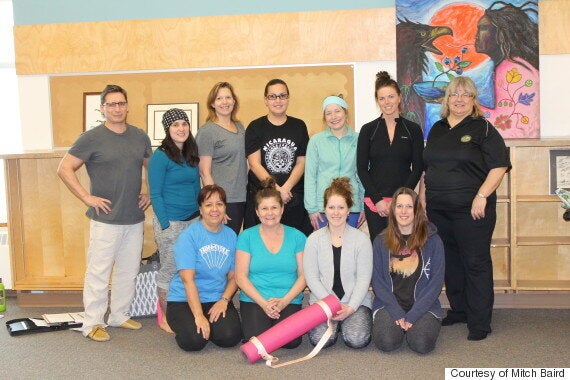 Two years ago, Baird started offering a course to train instructors after reading about the benefits of yoga for people with diabetes.
Studies have shown that yoga can decrease a patient's body mass index (BMI) and blood sugar levels, while increasing levels of vitamin C and glutathione, an important antioxidant.
To date, SOADI has certified 40 yoga teachers in remote First Nations communities in southern Ontario, and is now heading to northern parts of the province.
Yoga is ideal for remote communities because it doesn't require expensive equipment, Baird said. All you need is a mat.
"You don't see fancy 24-hour fitness gyms opening in Kashechewan," he said with a laugh.
Yoga is "a new way of returning to a traditional way of life," said Baird.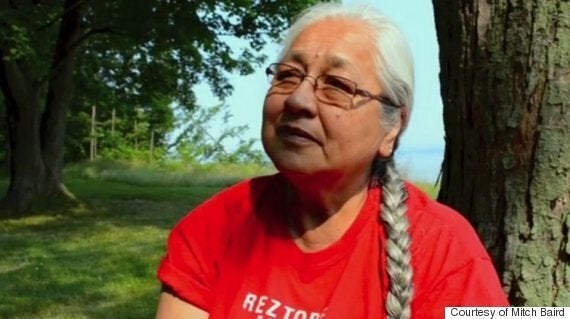 In fact, yoga's slow bends and stretches recall the feelings of gathering, harvesting, and paddling a canoe, said Renée Thomas-Hill, a respected elder of the Mohawk Nation Turtle Clan from the Six Nations of the Grand River Territory.
"It's a different word for body language," she explained in a video interview with Baird. "It's a language we all understood a long time ago."
If something feels good, it's good for you, she said. "We are taught that our bodies are sacred. Our bodies know what we're supposed to have."
After losing two nephews, Thomas-Hill said that yoga helped her move past grief. "Life came back into me," she said.
And it could do the same for others. Many of the communities Baird visits have been traumatized, and yoga could bring them "life: real, true life."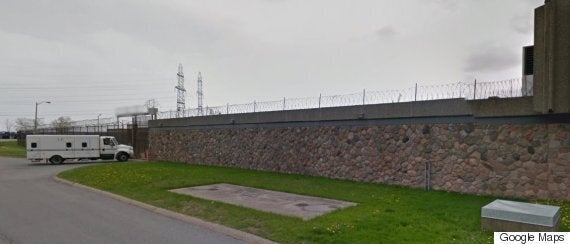 Every two weeks, Baird visits the maximum-security Niagara District Detention Centre in Thorold to teach yoga.
Thomas-Hill helped him create a document explaining how the philosophies of yoga line up with traditional Anishinaabe teachings. And Baird tailors his sessions to the men based on what nation they're from, adding phrases in their language rather than closing with the traditional Sanskrit "namaste."
Indigenous people are drastically overrepresented in prisons, a reality the national correctional investigator has called "disturbing."
While only 3.8 per cent of Canadians are First Nations, Métis, or Inuit, they make up more than 23 per cent of the inmate population. Indigenous Canadians are incarcerated at a rate 10 times higher than that of non-indigenous citizens.
"It's a language we all understood a long time ago."

— Renée Thomas-Hill, Elder
Some of the inmates in Baird's sessions combine yoga with rituals and ceremonies from their upbringing — making it a spiritual practice, and not just exercise.
The biggest success he hopes for is to see a man in prison find peace for 10 minutes, he said.
"To see them, for maybe once in a long time, calm down and chill out — that's the big one for me."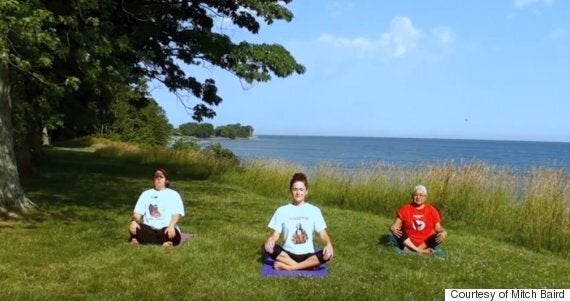 Yoga holds great promise for people struggling with grief and trauma — especially the young, said Brittany Biedermann, a community wellness clinician and counsellor with Moose Cree First Nation. "The things we do in counselling are almost the same as what yoga can accomplish."
Biedermann moved to Moose Factory, a reserve about 850 kilometres north of Toronto, in 2011 after the community experienced a rash of youth suicides and needed a new counsellor. Many people still carry deep sorrow from that time, Biedermann said.
"The things we do in counselling are almost the same as what yoga can accomplish."
It's difficult to get young people to open up to a counsellor, Biedermann said. They often struggle to trust health workers, especially in remote communities where they may not stick around for long.
Biedermann completed Baird's yoga training in January and it "ignited a passion."
"I can see yoga as being able to reach youth in ways that talk therapy can't," she said. "In my sessions, we talk about stress management and healthy ways of coping, self-care, how to redirect our thoughts and manage our emotions. And all this stuff can be learned through yoga."
Terrance, too, pointed to yoga's mental and spiritual benefits. Even though it helped him lose hundreds of pounds, Terrance's favourite thing about the practice is the resulting mindset.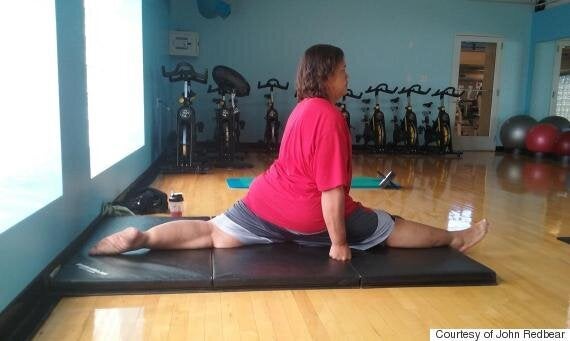 "It strengthens your focus, gives you more clarity, helps with remembering. There's so many benefits, I can't even list it all," he raved. "The most noticeable one is just feeling good."
Terrance practices at the fitness building on his reservation. Now when he goes to work out — which is six days a week — people are waiting for him. Between three to seven regulars follow along with his yoga routine. He even teaches private classes to a few elders, who want to improve their mobility or ease aches and pains.
"It strengthens your focus, gives you more clarity."
This fall, he is signed up to take Baird's course to become a certified instructor. Then, he hopes to start "a new journey" travelling across the United States and Canada, teaching yoga to other indigenous people.
Not only did yoga transform Terrance's body, it also altered his brain.
"My mind is clear, I have more confidence, I feel a spiritual connection," he said. Yoga teaches you to breathe and relax, Terrance added, even when your body is twisted into unnatural positions.
"I take that same mentality now into the outside world," he said. "Before I was an introvert, I was really insecure. But now when I go out, that courage is my yoga pose — it's holding an uncomfortable position."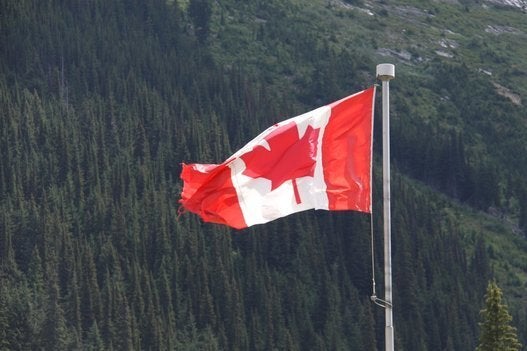 11 Facts About Canada's First Nations