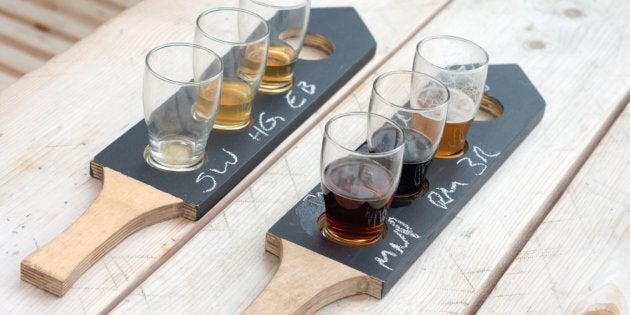 A burgeoning beverage scene exists less than an hour outside Toronto, and it's worth discovering. Cutting edge, award-winning craft breweries, cideries, distilleries and wineries abound in the York Durham Headwaters region.
Old Flame Brewing Co. set up shop in an old Ontario Carriage Works building, transforming the original structure into a beer-lover's paradise. Taste specialty bevvies on tap or take a behind-the-scenes tour to see how craft brew is made.
The Second Wedge Brewing Company is a brewery, tasting room, bottle shop and beer garden dedicated to crafting flavourful ales. This year, you can follow co-founder Joanne Richter on a beer and cheese tour through the region. Named "
," this experience is 90 minutes of pure bliss -- because nothing is better than beer and cheese.
Located in the picturesque, rolling hills of Caledon, Spirit Tree Estate Cidery is an award-winning cidery and so much more. Its bakery, bistro and farm shop make it a culinary destination to be savoured. It prides itself on its many environmentally friendly practices. And perhaps most uniquely, Spirit Tree's owners practice the centuries-old art of wassailing, a ceremony each winter in which the trees in the apple orchard are sung to in order to ensure a good harvest the following year.
Adamo Estate Winery is a labour of love for the Adamo family. They took a chance on an unchartered terroir, burying vines in the winter to protect them from the cold, hand-picking the fruit and bottling on site. Indeed remarkable that this young winery is already the recipient of multiple international wine awards. Tour the vineyards, sample at the tasting bar, and pair your visit with a stay at the winery's sister property, Hockley Valley Resort.
The newly opened Grand Spirits Distillery is the first legal purveyor of gin and whisky in the region. Grand Valley was the last wet town in Ontario during Prohibition, so the entrance of the region's first "resto-distillery" promises to "reignite Grand Valley's prohibition-era infamy," their website notes. Their handcrafted spirits are adapted from old regional recipes and use juniper, white oak and wild hickory to flavour their gin and whisky.
Located in a restored 1892 schoolhouse, the distillery has a Speakeasy-themed restaurant bar and a Victorian-themed tasting room.
This super-cool distillery is for the gin and whisky lover in all of us. Fulfilling their lifelong dream to open a micro-distillery, husband and wife team Don and Ana DiMonte develop each of their spirits from scratch. Dark Side of the Moonshine is a liquor that's aged for a year in an old Tennessee whisky barrel while Blackstrap Rum is a new take on an old classic. It's made from blackstrap molasses and packed with dark-toffee flavour. While you can find Dark Side of the Moonshine and Blackstrap Rum at the LCBO, you can only buy their vodka, gin and darker blends at their distilling workshop in Vaughan. Visit today to learn first-hand how these spirits are made.
These are but a few of the many flavourful locations to raise a glass and toast Ontario's York Durham Headwaters region. When touring the area, please drink responsibly. To learn more, follow what's happening in its ever-growing food and drink scene here.