RCMP members have a powerful message for people living with post-traumatic stress disorder (PTSD): "You are not alone."
A video posted to YouTube in late July shows a group of current and former RCMP officers speaking openly about their experiences with a mental illness that is caused by traumatic events.
The 13-minute video was uploaded by Vancouver-based mental health advocate Lori Wilson with the hope of "reaching new members who may not know the effects of PTSD, those who may be in the initial stages and do not know what is happening to them or senior members who have been suffering in silence for years."
Cst. Annabelle Dionne, an eight-year member, talked about how the murder of a colleague caused her PTSD.
"Many of my co-workers were also affected, but we were just not talking about it," she said. "So I think the isolation that followed helped my PTSD to grow."
She felt distressed and miserable, like her life "did not matter anymore."
Dionne said her greatest support has come from her dog, Oreo, who has given her comfort and helped her feel safe.
Another subject, retired corporal Lloyd Brownell, wore red serge as he talked about how his PTSD was caused by a number of "critical incidents."
"I dealt with death and destruction all the time," he said.
His PTSD manifested itself through symptoms such as "anger, anxiety, mood swings" and an inability to "cope with simple day-to-day decisions."
Symptoms include flashbacks, nightmares, or recollections of traumatic events that "seem to come from nowhere."
People living with the illness can feel anxious, have sleeping issues, or feel a strong sense of dread.
"They may feel like things around them aren't real, feel disconnected from their body or thoughts, or have a hard time feeling emotions," the CMHA said.
The association recommends counselling, medication and support groups as a few ways to deal with the illness.
It also advises sufferers' loved ones to learn more about PTSD, to be there to listen when they're ready, and to understand that its symptoms "are not about you. They are about the illness."
There are also private Facebook pages for officers and their families. Scroll to the end of the video to learn more.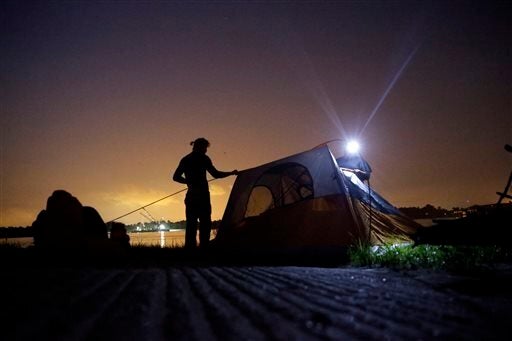 Former Marine Coping With PTSD Paddles Mississippi River