When you eat as many burgers as I do, you become thankful for the creativity and ingenuity of chefs across Canada.
Canadian restaurants are busy flipping the classic burger on its head. From coast to coast to coast, they take the art of burger making to the next level. As the host of You Gotta Eat Here!, my taste buds are consistently spoiled. How many people can say they've been able to sample everything from mac and cheese to chicken balls, chili to oysters and sausage to soft shell crab on top of their burgers? And that's just a small sampling of the mouth-watering menu options I've encountered.
Part of the giant burger's appeal is the spectacle of it. Some of them arrive at your table bigger than your head - like, there's no way you should try to finish it. But people like being challenged by a colossal burger and thinking, "Oh, I can do that." It's the caveman in us shouting out "Ooooh, me strong! Me eat burger! You give me free T-shirt!"
The funny thing is that I'm actually a very simple burger kind of guy. Left to my own devices, I'll always order a cheeseburger. I've just always loved its simplicity. But the burger craze across Canada is inspiring and the variety out there is truly staggering. How do you not try them?
We eat a lot of burgers in this country and every town seems to now have its own unique, gourmet burger place. They're popping up everywhere. I think chefs want to outdo themselves and "out create" other restaurants, too. The hyper-local food trend is also part of it; people don't mind paying that extra money for locally-sourced beef and homemade condiments.
I think Canadian multiculturalism and regional cuisine has also played a role in our eclectic burger scene. When you get into the middle of the country, where you find all that beautiful beef, it's basically super-fresh ground chuck. Essentially, the cow was around in the morning and now it's a burger - that's how fresh it is. That's pretty wild. And when you go out to the coasts and find all that fresh seafood, the chefs are combining it with traditional burgers in really interesting ways.
In Season Three we were treated to The Outlandish Oyster Burger at Mile One Eating House in Pemberton, BC. This burger is the best of BC on a bun. Chef Randy Jones takes three big, ocean-fresh oysters and breads them in panko before pan frying them and finishing them off in the oven. Once they're hot and golden, the oysters are loaded onto a fluffy potato bun smeared with smoky, creamy chipotle mayo and topped with crispy bacon, fresh tomato and lettuce.
The Surf and Turf Burger special at Little Louie's Burger Joint & Soupery in Cambridge, ON, is the owner Steve Allen's tribute to his hometown of Cape Breton, NS. In order to make his signature beef patties, he starts with ground beef and adds hoisin, soy sauce, garlic, Worcestershire sauce, Sriracha, eggs and diced onions. To build the burger, he spreads house made tartar sauce on a bun, then places the patty down and adds a generous helping of sweet cabbage before finishing with the deep fried lobster tail. For presentation, a beer-battered lobster claw is skewered on top. Little Louie's Canadian Chinese Food Burger - packed with chicken balls, cherry sauce and ginger, skewered with a freshly made spring roll -- is also one of a kind.
What makes an exceptionally good burger? It's all about flavour and texture. And it can even be done without the meat. I ate a vegan burger at Boon Burger in Winnipeg -- Canada's first all-vegan burger joint -- that was unforgettable. Shooting for Season Three, I worked with one chef who outdid himself in the number of burger toppings. Erv Salvador at Lucy's East Side Diner, Vancouver, BC, does an everything-but-the-kitchen-sink hamburger creation that features four, 5 oz. hamburger patties, each covered in melted thick-sliced Canadian cheddar and topped with crisp bacon, caramelized onions, and mushrooms. A thick, crispy onion ring is balanced on top of the mushrooms and the center is filled with homemade chili and topped with a fried egg. Finally, the chef adds a butterflied smoked sausage and a handful of ultra thin and crisp deep fried onions. The list of tasty treats we sampled goes on, whether it's the nachos-inspired, The Rebel, at Burger Revolution in Belleville, ON or the Country Road Pizza Burger at St. Joachim Diner in Belle River, ON.
For all the burgers I've tasted on my travels, lamb patties are one of my favourites. There's something about mint and garlic together that's ridiculously delicious. Avocado on a burger -- usually as a spread - has also become one of my go-to toppings. And it must be the Italian in me, but I do have a dream topping for any entrepreneurial chef out there: I'd like to see fried prosciutto on a burger instead of bacon. Wouldn't that be delicious? You invent it and, who knows, I bet our cameras won't be far behind.
We live in a massive, diverse country, full of endless possibilities for travel and long road trips. It's nice to know that you can eat a burger at practically every step of the way and feel like you're eating something different each time you sit down for a meal. Keep up that kitchen creativity, Canada.
Season Three premiers April 4, 2014. You Gotta Eat Here! airs on Food Network Canada on Fridays at 9 p.m. ET/6 p.m. PT.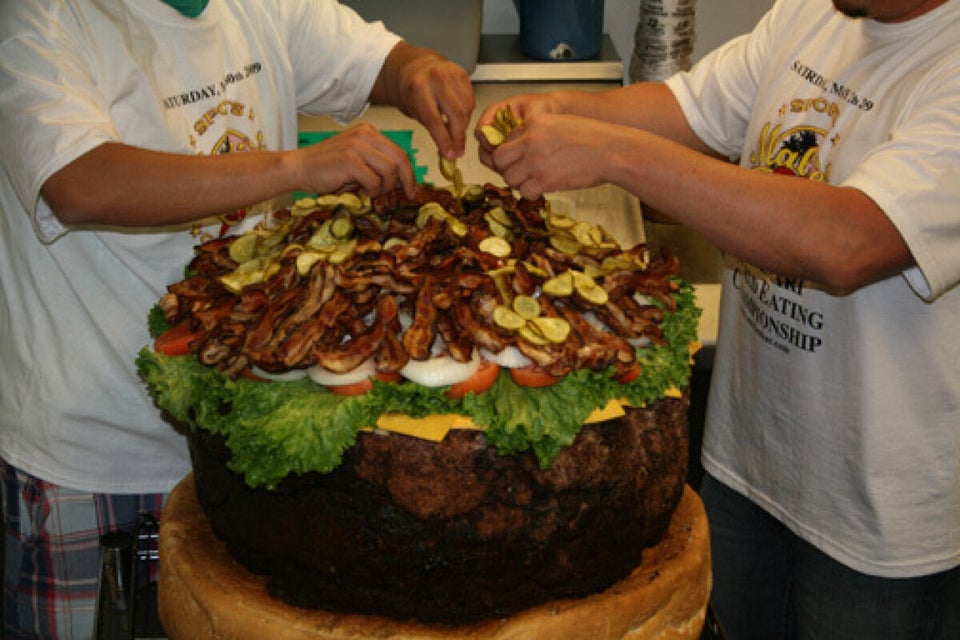 World's Most Expensive Hamburgers