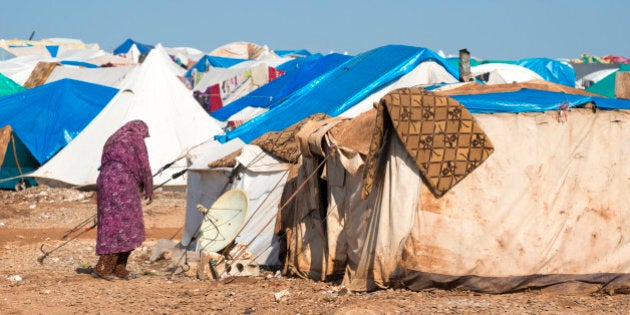 There are more than 50 million refugees around the world.
Surveys suggest that most Canadians believe we, and our government, are doing our best to help them. But a recent study of people working to resettle refugees suggests that these Canadians would be deceived.
In 2013, just over 12,000 refugees were accepted into Canada. Of these people, 6,623 were sponsored by private groups who assisted their resettlement in Canada. Many privately-sponsored refugees were assisted by faith groups, but community or ethnic organizations, and even individuals can also play this role. The federal government supports the remainder.
There are currently 85 Sponsorship Agreement Holder (SAH) groups (72 per cent of these being church-connected groups) that have signed accords with Citizenship and Immigration Canada (CIC). These groups are able to submit sponsorship applications to the government in return for guaranteeing thousands of dollars for refugee accommodation, furniture, groceries and other supports. Since this system started in 1978 with the arrival of thousands of "Boat People" fleeing the violence in Indochina, over 200,000 refugees have been assisted to resettle in Canada by private organizations and individuals.
A 2007 report from the CIC concluded that privately-sponsored refugees had higher employment income and became self-sufficient more quickly than their government-assisted counterparts. Logically, then, one could surmise that government would do everything possible to reduce their financial exposure for programs and maintain this well-functioning civic response.
Government policy increasingly problematic
The study, "Private Sponsorship and Public Policy," surveyed SAH groups was carried out this summer by Citizens for Public Justice and points to several tensions that recent government action has exacerbated for refugee settlement groups. Distributed through the SAH Association, it gives a clear picture, seldom seen in the public eye, of how refugee resettlement could be improved.
Long wait and processing times were identified by 100 per cent of church-connected respondents as a major cause of concern. Obviously, when Canadians hear of a dangerous refugee crisis, and quickly organize to respond, they hope their government is able to admit refugees in an expedited manner. Yet years can pass after submission of a refugee sponsorship application before a refugee family is admitted. Most sponsoring groups find it difficult, if not impossible, to maintain community interest, and justify successful fundraising efforts, while sitting on their hands that long.
All respondents of the survey also expressed deep concern about the federal government cuts of June 2012 to the Interim Federal Health (IFH) Program, which historically provided health care coverage to refugees and asylum seekers until they were eligible for provincial coverage. Privately sponsored refugees arrive in Canada as permanent residents, not refugee claimants - but still lost some health benefits such as vision care, emergency dental work, mobility devices and medication. Doctors have complained that while in a refugee camp overseas, a child with asthma can get a puffer; but under this new federal policy, when they arrive in Canada, they cannot. All provincial and territorial governments have denounced these cuts -- while some have decided to provide coverage and send the bill to Ottawa!
Forty per cent of church-connected SAHs reported that their sponsoring groups have had to pay medical expenses previously covered by the IFH. And almost one-third of them said that some of their sponsoring groups will no longer continue this work of resettling refugees as a result of the risk of added liability for health costs. Obviously, this short-sighted federal policy change will produce a consequence of reduced willingness for communities to take on refugee resettlement responsibilities.
Lack of government consultation
Nonetheless, the federal government's lack of consultation with SAHs was a concern of 92 per cent of the church-connected SAHs.
This problem arises most pointedly when the political side of government (as opposed, they made clear, to officials in the ministry) makes unilateral decisions that hurt the ability of volunteer groups to do their jobs. For example 88 per cent of SAHs expressed concern about this summer's government edict that changed the definition of a dependent child from age 21 to 18 and under.
Refugee families now find their 19 year old kids are no longer eligible to enter Canada with their parents, and although overwhelming opposition was expressed by SAHs, the policy is now in effect. Another surprise to many SAHs was the 2013 announcement by the Minister that Canada would accept up to 1,300 Syrian refugees by the end of 2014. But the Hon. Chris Alexander said his government would only be responsible for 200 of this number, however, and unilaterally allocated the other 1,100 to private sponsors. Many SAHs learned of the Minister's decision on the radio!
Partnership between the federal government and refugee sponsoring organizations is essential to this program's success. Commitment to this partnership, however, must be based on respect for the volunteers that put their own time and money on offer to better assist refugee resettlement. Most SAH groups do not publicly criticize government (only 8 per cent have written letters to the editor, for example) and yet Canadians know very little about the issues, needs and opportunities of community engagement with newcomers.
A responsive government needs to be aware of, and willing to resolve, those points of friction that create unnecessary suffering for refugees and the volunteers who serve them.
Popular in the Community