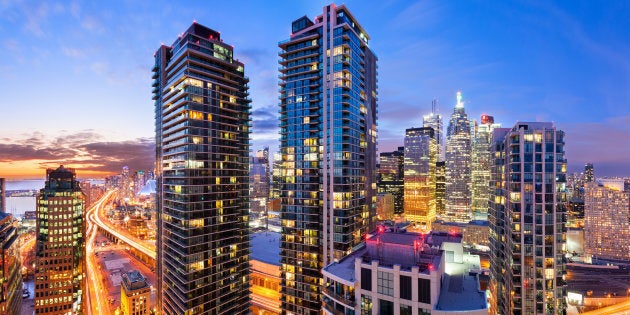 Condo rents up 10.7 per cent as fewer buy homes
One-third of would-be buyers have exited the market
Some relief ahead for homebuyers, Urbanation predicts
If this keeps up, home ownership in Toronto could soon be solely for the wealthy.
The income needed to qualify for a mortgage on an average Greater Toronto Area condo has soared by nearly a third over the past year, according to a new report, and it's due to both rising prices and tougher new mortgage rules.
Homebuyers needed an income of at least $100,000 to qualify for a mortgage on an average-priced condo in the first quarter of this year, according to numbers released Wednesday by real estate consultancy Urbanation.
As recently as a year ago, that figure was just $77,000, Urbanation noted, and two years ago, it was $64,000.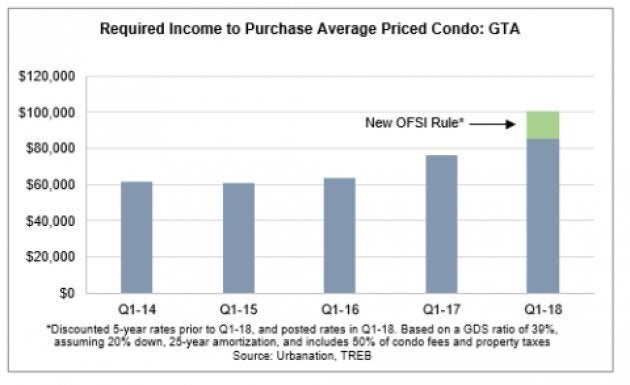 The new federal mortgage rules — which require buyers to qualify for a mortgage at a higher interest rate than the one being offered by the lender — also played a role, Urbanation said.
Without the new mortgage rules, qualifying income for a mortgage would have been $86,000, the report said.
Earlier on HuffPost: New Brunswick private island listed for less than a house in Toronto
Evidence is mounting that a great deal of would-be homebuyers have been priced out of the market. A study from realtor Re/Max, released this week, found one in three prospective buyers has simply given up on buying a home in the wake of new mortgage rules and higher prices, while another four in 10 have scaled back their home-buying ambitions.
That's having an impact on the housing market. The Toronto Real Estate Board reported that condo sales in the region were down 32.7 per cent in March, compared to a year earlier — though prices were still up by 6.1 per cent year over year.
But Urbanation senior vice president Shaun Hildebrand says homebuyers can expect at least some relief in the years to come.
"Close to 60,000 condos are under construction right now, and another 40,000 are pre-sold and awaiting construction," Hildebrand told HuffPost Canada. "So I would anticipate that supply is going to be better than what it is right now, and that will have a dampening effect on price growth over the next few years."
Condo rental prices soar 10.7%
With a growing number of would-be buyers priced out of the market and staying put in rental housing, pressure is growing on the rental market, Urbanation's data shows.
Average monthly condo rents jumped 10.7 per cent over the past year, to $2,206 for a typical 740-square-foot condo, the report found. (The numbers don't include the city's rental apartment stock, which is overall less expensive than the rental condo market.)
There's relief coming for tenants in the rental market as well, Urbanation says, albeit at a slower pace. It notes that the number of rental units under construction rose to a 25-year high of 7,937 in the fourth quarter of 2017, up from 5,832 units in the same period a year earlier.