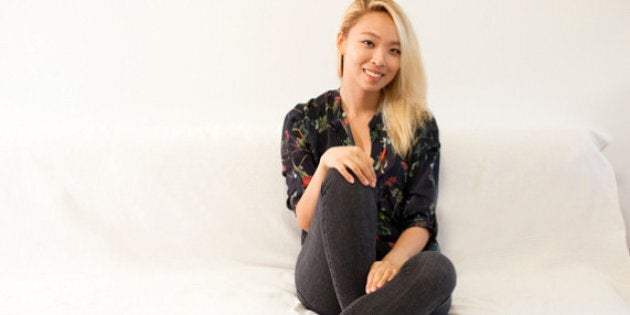 Digital nomadism has been rising in popularity over the past few years, yet it's still largely misunderstood. I've been a digital nomad for about two years, and family and friends continue to ask me, "do you ever work?"
Youjin Do, a digital nomad based in Miami, and Seoul and Jeju, Korea, wants to clear up many misconceptions--cue images of 20-year olds traveling and partying--to showcase what this lifestyle choice is really about and what it is becoming.
Over the past two years, Do, 27, has been creating a documentary, One Way Ticket, to talk to the people at the forefront of the movement from the founder of a co-working space in Bali, Indonesia, to Tim Ferriss, author of The 4-Hour Workweek.
Today Do talks about digital nomadism, creating her first documentary, and how she deals with stress:
Tell me about being a digital nomad.
I've been away from my home country for the last eight years. I was born in South Korea and grew up there. When I was 18, I had my first experience abroad; I studied in China. When I graduated, I did an internship at a startup in San Francisco. I kept working for companies abroad and travelling around the world. I had no idea what a digital nomad was. But me and everyone around me were just doing it because it seemed kind of obvious.
In the last few years, the term has become more popular with the rise of remote working. I've been blogging a lot about it in Korean because it's really not well known in Korea. Also, most Koreans don't read English media, so I feel responsible to spread the message in my country.
But, blogging seemed a bit too plain. I wanted to capture the real vivid image of people's lives, and how they've changed because of the experience. Last year I started making a documentary about it. Since then I've interviewed people like the creator of the biggest fully remote working company Automattic Matt Mullenweg, as well as the writers of influential books like Tim Ferriss, who wrote the 4-Hour Workweek.
What have you learned while making a documentary?
I learned that one of the biggest misconceptions is that digital nomads are only 20-something single people travelling from city-to-city every few days with their laptop, partying everywhere and being without any home base.
There's nothing wrong with that necessarily, but digital nomads appear on a full spectrum. There's a great variety of people doing this.
From backpackers who hardly make any money, to couples in their 50s who run an entire law firm remotely, to millionaire startup founders in their 30s with multiple home bases around the world, who love the freedom to go wherever they want. It's also not perpetual travellers necessarily; people can go wherever they want for a few weeks, months, or years.
And it's not even about travel particularly; it's mostly about having the freedom to lead your life in your own way. For example, one of the big reasons people quit their office jobs to work remotely for companies is so they can have the flexibility to spend more time with their spouse, children, friends, and family. And they can go on trips to different countries whenever they want.
What have you learned about yourself?
Ironically, another thing I learned about myself is that I do want to have a home base now. I'm 27. I've been away from my country for the majority of my 20s. And especially for this documentary I've moved from Asia to Europe to Latin America to the United States, all in less than one year. I loved seeing all the different places but it's also a bit exhausting. I feel disconnected from my friends in Korea and my own culture. As much as I love being abroad, I also love knowing where my roots are. And I think I need to balance both of those a bit. Having a home in Korea, and maybe a second home in another country would strike a nice balance for me.
This year I want to have a home base in Jeju, a South Korean island. The Korean government is trying to attract digital nomads, and they've opened up a free co-working space there. Since it has super-fast internet, it makes for a good place to finish off my documentary.
How do you control stress?
All this organizing and travelling while making a documentary is a lot of stress. When my head becomes too full, I do a brain dump of my thoughts in Workflowy, which is like a very minimalistic hierarchical list app. Then from there I build a to-do list based on my thoughts in Trello. That helps clear my thoughts and then I know what's next.
I also do breathing exercises. I try to breathe very deeply in and out, like five times, and that helps significantly.
If I'm in Korea, I visit the Korean Spa called Jim-Jil-Bang, and that always relaxes me like crazy.
Who's had the biggest influence on your life and why?
I can't pick one person. I think the biggest influence is meeting all the people in the last eight years that I've been travelling around the world. Everyone I spoke to had a different story that I could listen to and made me think in new ways. It sounds cheesy, but it's true.
There's nothing like travel that makes it possible to meet such a wide range of people. It takes you out of the bubble of people you'd normally hang with, and that develops you as a person, a lot.
I'm raising money now to finish off the post-production of my documentary. It's non-profit and it costs a lot to hire professional editors, so every little bit helps a lot. You can donate at digitalnomaddocumentary.com.
Follow Do on Twitter. One Way Ticket will be shown at select film festivals and released for free online in early 2016.
I'm fascinated by creative women -- their passions, challenges, and contributions to society. If you know a creative woman to feature, please tweet @kmarano.
Popular in the Community