A young rhino is getting stronger by the day after poachers hacked off her horns and left her for dead earlier this month.
Nicknamed Hope, the four-year-old white rhino was found in South Africa's Lombardi Game Farm days after her mother was found dead.
Both rhinos were shot by large-calibre rifles. And both were found with their horns cut off.
By the time Hope was found, her mutilated face had become infested with maggots, her nasal passage and sinus cavities exposed to air.
A team of veterinarians with the group Saving The Survivors performed major surgery on May 18, cleaning the wound and removing dead and damaged tissue. A fibreglass cast was applied to her face.
Here are some photos the group shared about Hope's progress.
WARNING: This slideshow contains a graphic image.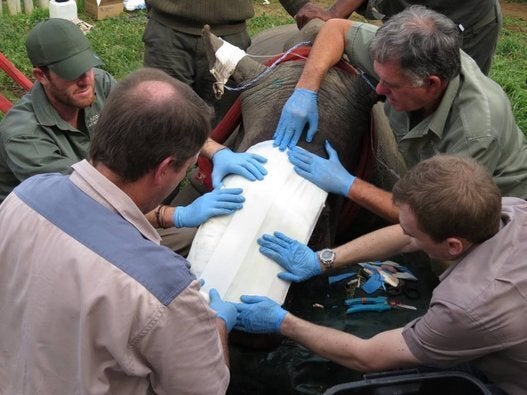 Rhino Named Hope Survives Poacher Attack
"She has got a long road ahead of her. We estimate it will take at least a year until the wound is actually healed," said Dr. Gerhard Steenkamp in an update about Hope's condition.
"If we can save Hope and she can go back and produce more offspring, then in her lifetime she would have contributed to the survival of the species," he told The Associated Press.
It's a crisis that's worsening compared to the number of rhinos killed by poachers between 2000 and 2007. In those years, an average of 21 rhinos were killed annually to mostly meet growing demand among the affluent in Asian countries for their horns.
Last year, poaching-related rhino deaths set a record in South Africa. The country is home to over 90 per cent of the world's remaining rhinos.
According to statistics collected from conservation group Save The Rhinos, 1,215 were killed in 2014 — one death every eight hours.
As for Hope, veterinarians are cautiously optimistic. Saving the Survivors has been sharing regular updates about the young rhino's condition on Facebook.
"One thing is for certain — she is a fighter, this one, and has a desire to survive second to none," said the group.


Popular in the Community