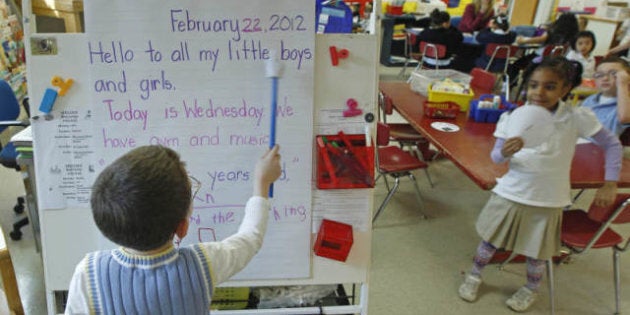 It's August, so inevitably just about everything, at every turn, is back to school-related. But some of us aren't sending our kids back to school -- we're sending them off to school for the first time. My first-born -- my baby boy who's actually four-years-old and no longer resembles a baby in any way except in my mind -- starts junior kindergarten in less than a month.
I promised myself in June that we would start preparing him for the realities of full-day kindergarten in July. But life goes on -- ob-la-di, ob-la-da -- and we're starting now. The biggest issue for us is the butt-wiping. While it's exceedingly common for boys to take longer to master this skill than girls, I have three weeks to teach him how to independently wipe after a good ol' No. 2. (Yes, yes, I know. In your day children wiped their own bums the first time they ever sat on a potty. Got it -- no need to comment.) Yet I know I'm not alone here. Surely, I won't be the only parent sending her child to school with a pack of flushable wet wipes in her kid's new Spider-man backpack. Right?
I guess I sort of took it for granted that a zipper's a zipper. Not so. A lunch bag with a zipper that goes in a straight line from A to B is much easier for little hands to manage. Built NY makes some of the best reusable lunch bags out there and has a super-cute kids' line. That said, we're not giving up on the zippers that require two right turns, mostly because:
(1) it's a good fine-motor skill to practise and
(2) I've got two adorable lunch bags waiting in the wings.
Now, on to food and drink containers. If your kid's been going to day care or a full-day preschool, maybe you don't need to practise as much as we do. Every day, from now until junior kindergarten starts, we're loading and unloading my son's lunch bag -- fitting sandwich containers and drink bottles together like Tetris pieces. Like wiping, I'm not sure how much help he's going to get in the lunch room. After experimenting with many different options, I've discovered that having a sandwich container with a lid that doesn't fully detach is important -- it'll probably be lost on day one otherwise. Better still? A zip-closure sandwich bag like the one from Itzy Ritzy. So far, my son finds this the easiest to open and it takes up very little space in his lunch bag.
Speaking of sandwiches, I've also started making my son's beloved PB&J with a nut-free alternative. It mimics peanut butter in every way -- you can even get a crunchy version! -- but is made with soy. So far, so good.
We're not a juice box kind of house, so I'll be packing water or milk in school lunches. My kid has made it pretty clear that he's not yet ready for a twist-off bottle cap (oh, he can twist it off alright, but he ends up looking like he's part of a wet T-shirt contest). A cup with a spout or straw is easiest for the junior kindergarten set. We've narrowed the field to a few favourites, with the KidBasix SafeSporter in the lead. Now it all comes down to getting it in and out of that lunch bag with ease.
Although I would love nothing more than to send my kiddo off to school in his usual fashion-forward duds, the thought of him emerging from the washroom with his pants around his ankles because he can't do up the button, snap, or belt was enough to send me shopping for elastic-waist trousers. We have enough to work on without adding hook-and-eye closures to the mix.
Have you ordered labels yet? My plan is to label EVERYTHING. We'll buy some of those no-iron clothing labels and put the dishwasher-safe container labels on every single item that goes to school. I'm not going to the lost and found without a good fight.
After a summer of slipping on Crocs, my little guy needs to start putting on real shoes again. This goes without saying: Velcro is your friend. The trick is to find a pair that's school-worthy and easy to get on and off; I'm loving Kai's fall line right now, with the Charles boots on my Covet List. If you're like me, though, you also stupidly bought shoes with laces because you got a great deal down in Buffalo two years ago, and thought by four years old kids can tie shoelaces. Ha!
Thankfully, I was wandering through a kids' store a couple of months ago and noticed these neat shoelace helpers called QuickSnap (which were featured on Dragon's Den). Since some of the coolest kids' shoes have laces, I've enlisted its help. We're not quite there yet. But we're going to practise, practise, practise.
We're also spending a lot of time talking about the bus ride. I've explained to my son that I'm going to drive him to and from junior kindergarten on his first day, but after that, he's going to ride the big yellow school bus with the other kids. I'm not sure who's more nervous about this.
Ultimately, I really feel like I'm preparing myself as much for junior kindergarten as I'm preparing my kid. It's new for both of us. It's exciting for both of us. It's scary for both of us. But we'll be fine. We just need a little practise.
Popular in the Community