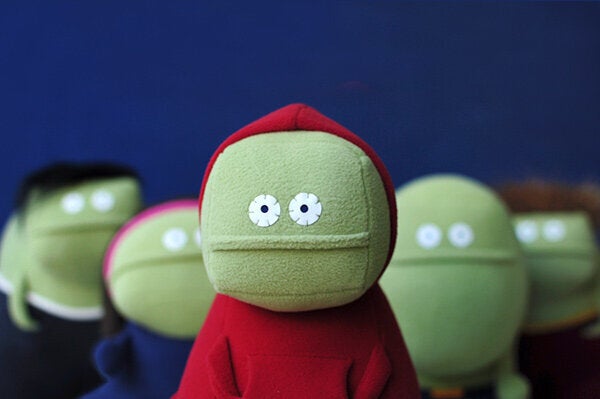 This week I spoke with a group of seemingly unlikely entrepreneurs who have struck it big in the world of plush monsters. Adam Dunn and Rhya Tamasauskas of Monster Factory spoke to me recently about making a profitable company out of fabric, fibre fill, and a sewing machine.
If you've been to Toronto's One of a Kind Show and Sale, you have undoubtedly seen these curious characters stuffed into square cubbies waiting for a home. They're weird, they're cute, and most importantly, they are found in thousands of toy chests across North America and beyond, and on the shelf at your local Indigo.
Yet, Adam and Rhya did not set out originally to build monsters. They were both attending University in different disciplines when the idea for Monster Factory together.
Karen: How did the idea for monster factory first come about?
Adam: We actually came into being rather by accident. Years ago I worked with my now-business-partner, Rhya, on a short animation. The animation featured a small cast of monsters -- though not the monsters of Monster Factory. During this time she was working in textile arts, and while she was prototyping a soft sculpture for an upcoming art show she ended up with a stuffed form that resembled one of my illustrated characters. She put eyes and teeth on it and the first monster was born.
She followed this up with several other early monsters which she showed in local art galleries. Meanwhile, as a birthday present for a friend I tried my hand in sewing a similar plush monster -- with middling results -- and then followed that up by making some new characters. Rhya and I both enjoyed the design process of making these toys, so once we though we had something worth pursuing (as a project, at least) we asked the third Monster Factory founder, Bliss Man, to join in and show us how to make things properly. She has a background in fashion design which was vital to the development of our style.
Karen: When did you think you had a potential business?
Adam: Probably at the first One of a Kind show we attended. The response was great -- we had pretty much sold out by the fourth day of the 11-day show. At that time we really felt like there was potential for the monsters to be quite popular. We weren't necessarily looking to start a full time business at that point, so it took a couple of years to make Monster Factory more than a part time endeavour, but the seed was firmly planted.
Karen: Did you bootstrap the company yourself? What did the early days look like?
Adam: We did. Our initial investment was a whopping $2,500. From there we slowly grew along with the sales.
The early days were about as modest as you can imagine. We made our first monster prototypes in Rhya's dining room on her domestic sewing machine. We continued to work from our homes throughout the time that Monster Factory was a part time project for us. Eventually, once we decided to focus on building the company we moved into a small studio on King Street West, then a bigger one in that building, then a bigger one still, here on Richmond Street West. It's still a small operation (there are just eight of us in the studio today) which is nice because it fosters the same team spirit that we had when we got started.
Karen: When you decided to make a go of it, how did you go about gaining initial traction? Would you recommend things you did to others?
Adam: We more or less eased into 'making a go of it.' Because Monster Factory evolved from a very part time endeavour we didn't really make a big 'push' during the first few years. In retrospect, we probably should have. We would have been much better off to have raised money or found a partner to help us accelerate the process of broadening our market, but we were all new to business and probably more tentative than we should have been. What we did do right was to focus on the product, making sure we had a high standard for our designs and manufacturing. I think the creative aspects of our company have opened a number of doors for us because people really appreciate the monsters' designs and character.
For instance, we designed a mascot for the lollipop company, Chupa Chups. That project really helped fund our operations for a couple of years and only came about because of our exposure in the design world. To this day, the majority of our opportunities come from people or companies that really have a fondness for our characters.
Karen: You have been one of the most successful booths at the One Of A Kind show. Do you do any other shows? Describe your experiences between your first show and now.
Adam: Our first show was at the Distillery District here in Toronto. It was outdoors on a cold and damp weekend. Our tent display was decidedly homemade and the monsters themselves were... not up to our current standards. The show was fun and the response was encouraging enough to get us to do another one, so all-in-all it was a success. These days we are still at the One of Kind though it's getting harder to find the time for that show with everything else we've got going on. We still keep it on our schedule because it allows us to interact so directly with our customers.
As for other shows, this year upcoming we'll be seen at most of the major toy and gift trade shows in North America, distributing a new line of 12 mini monsters to retail stores. We're really excited about this. We will attend Toy Fair in New York, The Atlanta International Gift & Home Furnishings Market, the New York International Gift Fair, amongst others.
Karen: You scored a big commission with Indigo, a national retailer. Describe how that deal came together. Did you feel like you "arrived"?
Adam: The placement came through the efforts of a great partner of ours at the time, and the product was supplied through a U.S.-based licensee we were working with in 2010. It was certainly a kick a have our monsters in a retailer like Indigo, if for no other reason, we're all regular shoppers there ourselves. It wasn't exactly a "we've arrived" moment because it felt like just another step in a series of small steps forward. I think we had a greater feeling of making a big leap forward when we began working with our current business partner 9 Story Entertainment.
As of September, 2011, Monster Factory has been run as a join venture between it's founders and 9 Story Entertainment which is leading independent producer and distributor of television for young audiences. That's been a real success to this point as both companies have been able to bring complimentary skills to the venture. It's also been great for the Monster Factory team to learn from the experience of 9 Story's founders, Vince Commisso and Steven Jarosz, whom we work closely with.
Karen: You use social media quite a bit to great effect. Would you describe your average customer as belonging to your "tribe?" How had social media helped your sales?
Adam: Well, thinking of it as a 'tribe' might be a little optimistic, but we do really relish the ability to have the kinds of conversations with our customers that social media enables. The feedback is fantastic. And the creativity of our fans has been really inspirational to the direction in which our brand is developing. When we work on new characters or marketing ideas we are always focused on 'character, collectability, creativity and quality' and that focus is a direct reflection of what we're seeing as the most important aspects of our company in the eyes of our consumers.
It's also just really fun to see our characters as halloween costumes, or appearing in globetrotting photo essays, or as a young kid's favourite toy. Having our social media feedback is very rewarding, since we get to see people really enjoying our characters and having fun with them. Hopefully those monster fans that take part in our social conversations get a chance to engage with the brand in the same, rewarding way as we get to engage with them.
Karen: Did you make any mistakes along the way? Describe those experiences.
Adam: Yes. Many. We haven't had any major blunders, but in retrospect there are any number of little things that we would do differently now that we have the experience of building a company. First off, when starting a business it's probably not the best idea to have three partners with near identical experience and skill sets -- which is exactly what we did. We also moved too slowly at times for want of experience, and that experience was something we should have sought out from advisors or consultants.
We also started with nearly no capital. That's a mistake, as (believe it or not!) money is rather vital to the growth of a business -- who knew? Conversely, there were also times where we followed very sensible plans, for instance seeking out larger partners to help us grow in new ways, and those plans have not always worked due to factors beyond our control. At the same time there have likely been times when we made mistakes but everything worked out fine regardless. There's a real challenge in fully understanding the causes and effects of business success.
That's where experience comes in handy, but as a start up business experience wasn't always in great supply in our younger days. Since then we've made strides to shore up our team and have really adopted an attitude of accepting that mistakes will always happen, but that's not really a problem so long as you recognize them early and move on quickly. In the words of our partner, Vince Commisso, we're trying to 'make mistakes faster,' these days.
Karen: Did you have bumps in the road scaling?
Adam: The biggest bump we experienced was the transition from making a product locally to one that could be widely distributed. We've been fortunate that e-commerce and direct sales have allowed to us to make our Studio Edition monsters (which are still made here in Toronto) available at a reasonable price. But to sell through retailers we can't compete with the margins on overseas-made toys. Getting our new line of mini monsters (launching in spring of next year) was a challenge because the whole process was new to us and we couldn't afford to make mistakes. Again, it was something that came down to lack of experience, but we were able to get the right people in place to make this happen.
Given our high quality standards we've also found it difficult to work with other companies at times. It's a little tricky when you're asking someone to work to a standard that is different from the norm. That's caused a bump or two, but we're better focused now on ensuring that the companies we work with are like-minded in their priorities.
Karen: Was there anything you learned about your business you didn't know going in?
Adam: Yes. Pretty much everything. It's funny, when you start a business you get advice from everyone. It seems like there are armchair business people everywhere you go. And there's a reason for that: the broad strokes of running a business are fairly straightforward. And in that sense we haven't learned a great deal about what to do to run a successful company. But the 'what' of business is not the challenge. It's the 'how.' It's all the little details of how things work together: how your timing effects your numbers; how your competition effects your product line; how regional legislation effects your material costs; and how the different choices you make impact all the other aspects of the company. The entirety of running a business is a complex puzzle and the nuances of how it all comes together are what we've really learned over the years.
Karen: Do you have any advice for people just starting their own business?
Adam: Yes. Start with a balanced team. If you need to raise capital, do so. Know your numbers. Know how to close your sales. Find experienced people to work with or get advice from. Chart a very clear path as to how your company becomes profitable and do not stray from it, etc.
The advice I give is usually pretty straightforward. The trick is very clearly understanding where you want to go, what all the elements you need to get there are, and then putting it all together as efficiently as possible. Oh, and remember that the key to success usually lies in distribution. Without a distribution strategy you can't go anywhere. Figure this out first.