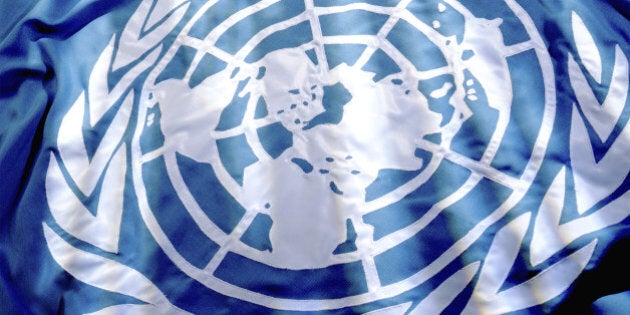 There is a lot to consider as we approach October's federal election.
Many Canadians are concerned about the legacy of residential schools and the deplorable conditions in First Nations communities. We're alarmed by the disconnect between the severity of the Syrian refugee crisis and the scale of Canada's response. We're angered by the individualism and self-righteousness that pervades official responses to gnawing poverty, hunger and homelessness. But most of all, we're frightened about the potential devastation of the Earth itself.
This federal election is especially important because Canada's next Prime Minister will represent us at the 21st UN Framework on Climate Change Conference of Parties (COP21) in Paris at the end of this year -- barely one month after our new government is chosen.
World leaders have been charged with forging an agreement to prevent catastrophic climate change.
The deadline for this agreement is December 2015 in Paris.
Whether or not Canada plays a constructive role in these talks -- and how efficaciously we contribute to reducing global greenhouse gas emissions -- will be determined by the decisions we, as citizens, make at the polls.
Canada's four major parties have all stated their intentions relating to COP21. These targets involve greenhouse gas (GHG) emission reductions that range from 14 to 32 megatonnes per year.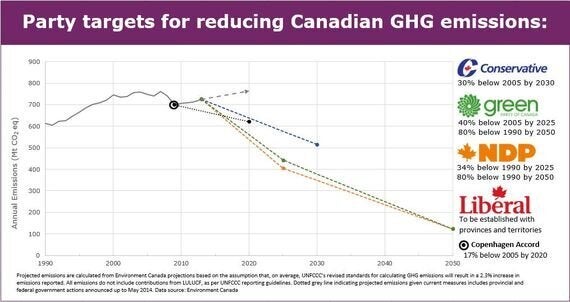 Of course, to assess these intentions we must consider both the ambitiousness of the target and the quality of the corresponding plan.
The Conservative Party has long held that the best way to reduce GHGs -- without interfering with the economy -- is through sector-by-sector regulation of emitting industries. Some tentative steps have been taken in recent years, but they have stopped firmly short of regulating oil and gas.
The centrepiece of the NDP climate change plan is a national cap-and-trade carbon market to set a Canada-side price on carbon. Income from this plan would be invested in the green energy sector (wind, solar, geo-thermal, hydro-electric), an approach that is expected to both generate jobs and reduce emissions. The NDP is also on record in support of the elimination of fossil fuel subsidies and revisiting recent changes to the National Energy Board review process.
The Liberals stand alone as the only party not to have identified specific targets for COP21, saying instead they will "partner with provinces and territories to establish national emissions-reduction targets, and ensure they have... federal funding and the flexibility to design... their own carbon pricing policies." They have pledged support to a Canadian Energy Strategy (led by the provinces and territories) with an emphasis on energy security, energy conservation and renewable energy.
Finally, the Green Party's carbon pricing mechanism of choice is a national carbon fee and dividend plan applicable to all GHG emissions. Like the NDP and Liberals, the Greens too have committed to end subsidies to the oil and gas industry. They would also invest in an infrastructure that promotes renewable energy and act to transition to a renewables-based economy. Their plans also include specific goals and incentives regarding electricity storage technologies, wind and ocean power, solar, biomass and micro hydro energy, geothermal energy.
On the question of which of our prime ministerial hopefuls has the right combination of climate action ambition; firm and demonstrated commitment; and appropriate plans, well, I leave that to you to decide.
As you make that decision, however, I urge you to do so not just as an individual, part of a family, or even as a citizen. I urge you to reflect and to respond as an inhabitant of this glorious planet Earth.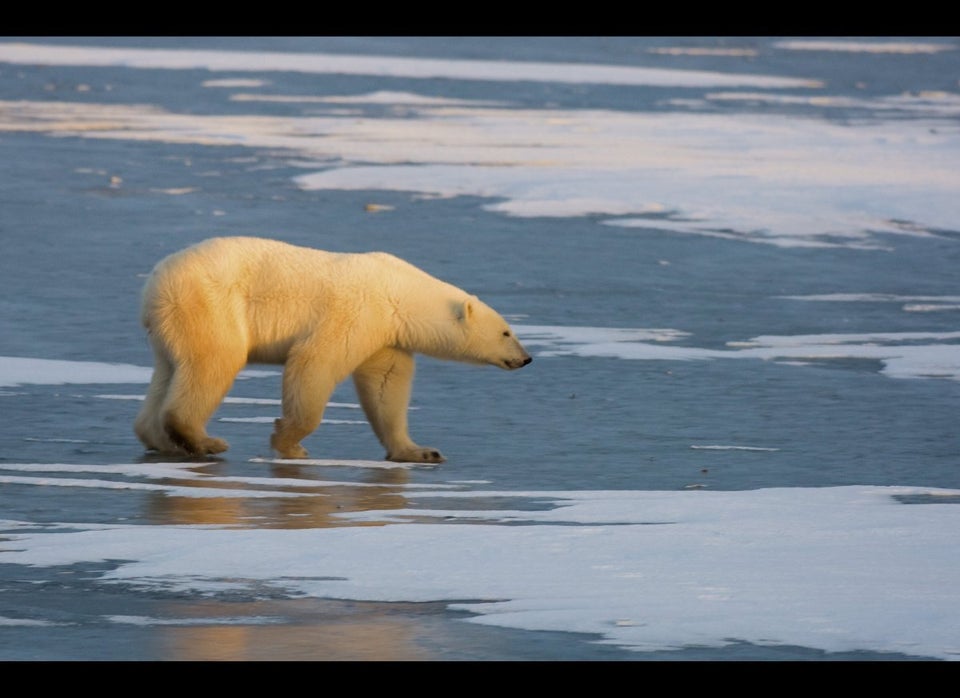 POSSIBLE CLIMATE CHANGE IMPACTS ON CANADA:
Popular in the Community