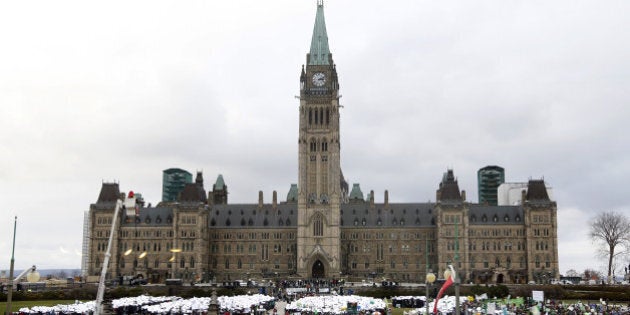 First, there's the obvious fact that there is perhaps no more clear and pressing danger to young people than climate change's promise of adulthood in a hellish dystopian future. Second, civil disobedience is a powerful way for youth to counter the immense lobbying power the fossil fuel industry is bringing to bear on Justin Trudeau's government.
To date, the Canadian Association of Petroleum Producers - the same organization directly linked to the gutting of Canada's environmental protection regime - has recorded more than 70 meetings with the Liberal government. Kinder Morgan has met with the government 35 times and Enbridge has recorded 86 meetings, something raising more than just eyebrows as Justin Trudeau seems to be walking back his commitments to a tanker ban on the BC coast and pipeline review overhauls.
It doesn't stop there. The Canadian Energy Pipeline Association has recorded 57 lobby meetings. TransCanada has logged 45. Imperial Oil, the Canadian name for Exxon - currently under fraud investigation for lying to public about climate change - recorded 57 meetings with this government. To put that into perspective, that's more than a meeting a week during this government's first year in office.
Of course, it could be entirely possible that this government has been sitting down with these lobbyists, having coffee and plainly explaining to them that their expansion plans don't fit with the science of climate change. But, when you look at the policy progression that has followed this string of lobbying, it tells a different story.
During the 2015 election campaign, Trudeau's government made a suite of promises on climate change and Indigenous rights. It included overhauling the National Energy Board and redoing pipelines reviews, implementing a tanker ban on BC's North Coast, developing new, more ambitious climate targets for Canada and adopting the United Nations Declaration on the Rights of Indigenous Peoples.
Since taking power they have adopted Stephen Harper's climate targets, targets that Trudeau described as reflecting a government with "no desire to actually be responsible on the environment". They have persisted with the NEB reviews of both the Kinder Morgan and Energy East pipelines, albeit with some cosmetic changes. They have described the implementation of UNDRIP as "unworkable" and "a political distraction", and ducked questions on their plans to implement a tanker ban on BC's north coast.
On their promise to renew a nation to nation relationship with Indigenous Peoples, this government has approved two major energy projects in BC opposed by Indigenous peoples -- the Pacific Northwest LNG project and the Site C dam. Credit where it's due, they announced plans to implement a carbon price, albeit one that alone will do little to bring Canada in line with the Paris climate commitment.
The world only has so much carbon left to burn if we are committed to the 2ºC target the world agreed to in Paris. There is even less left if we are to hit the 1.5ºC target that Canada pushed the world to strive for in that same agreement. If Justin Trudeau approves the Kinder Morgan pipeline, he'll be putting Canada on track to burn up to ¼ of that remaining carbon. For a country that makes up .005% of the world's population, that would, frankly, be kind of a dick move.
That's why 99 youth were arrested yesterday in Ottawa, for what was one of the largest acts of climate civil disobedience in Canadian history. Because, the world needs Canada to actually lead on climate, and climate leaders don't build pipelines.
Climate leaders take bold action to keep fossil fuels in the ground and harness the immense potential of renewable energy that exists from coast to coast to coast in Canada.
Climate leaders listen to the science and those whose generation will inherit the mistakes of current leaders, they don't listen to the same fossil fuel companies who knew about climate change in the 1970s and lied to the world about it. Bottom line, a real climate leader will reject the Kinder Morgan pipeline come December.
Follow HuffPost Canada Blogs on Facebook