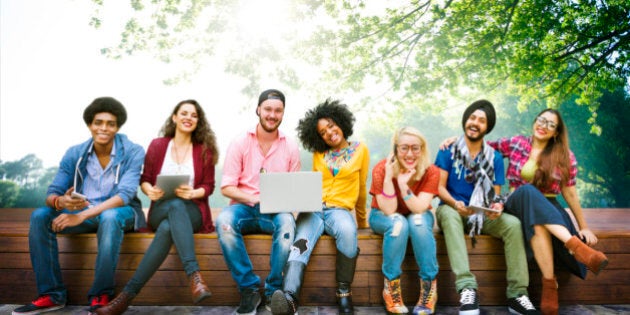 Sharon Wood, President and CEO, Kids Help Phone (on behalf of National Youth Serving Agencies)
Canada's youth are the biggest winners from Tuesday's federal budget, but not in the way you'd expect. Buried deep inside the budget, well below the commendable financial commitments to First Nations, families and young children, is a potential game-changer for young people -- plans to create the first ever Prime Minister's Youth Council.
This is a momentous opportunity for Canada's youth -- but only if we get it right.
Young people in our country face significant challenges -- high unemployment rates, barriers to education and job training, declining physical and mental health, a lack of affordable housing and social programs that often fail them. These problems are multiplied for aboriginal youth.
Canada's young people face these huge challenges without a unified voice and without a clear plan to take them forward. It's little wonder youth are often mistakenly characterized as being disengaged and disinterested.
The Prime Minister's Youth Council offers an opportunity for youth to directly influence decisions at the highest level.
Thankfully, there is widespread support in Canada to listen to youth voices more.
This February, a national Abacus Data survey commissioned by the National Youth Service Agencies (NYSA) -- a self-formed group of youth-serving registered charities from across Canada -- found that 69 per cent of Canadians support the creation of an advisory council. Their support is not surprising -- 67 per cent of respondents also said that young people have too little influence on public policy.
The Prime Minister's Youth Council offers an opportunity for youth to directly influence decisions at the highest level. It signals to young people in Canada that they do not face these challenges alone. For it to be effective, we need to carefully craft its priorities, its membership, its processes and its supports.
So first things first -- who should be on the Youth Council? The first priority must be to involve some youth who do not yet have the right to vote. Engaging and involving young people early encourages them towards civic participation in adulthood and will begin to equip them with the tools they'll need for their early adult years.
The Council must be diverse and socially inclusive, giving voice to all Canadian youth including the underrepresented populations that are frequently over-represented in every challenge facing youth. Young women, aboriginal youth, LGBTQ2S youth, and young people with lived-experiences of poverty and homelessness, care environments and mental health issues should all have a strong voice on the Youth Council.
What issues should the Youth Council prioritize? When asked in the Abacus Data survey, Canada's youth aged 18-29 said that youth employment (66 per cent), post-secondary education and job training (63 per cent), mental health (55 per cent) and health care (50 per cent) were the issues the Council should focus on. The Prime Minister's Office should consult widely with Canada's youth, key ministerial staff and youth-serving agencies to make a comprehensive mandate and strategic action plan from the Council's outset.
What supports will Youth Council members have? As a collection of Canada's most prominent youth serving agencies, we know from experience that each young person is an individual, and each will react differently to their new role. It's critical that Youth Council members receive ongoing emotional and professional support so they can manage the pressure and scrutiny of their new high-profile roles, such as access to support, media training, and skill-building opportunities.
Today we congratulate the Government for taking a bold and innovative step towards a brighter future for all young people in Canada. Let's seize this opportunity to create a Youth Council that we can all be proud of.
National Youth Serving Agencies (NYSA) is a self-formed group of youth-serving registered charities from across Canada who reach 5.6 million children and youth. Group members include 4-H Canada, Best Buddies Canada, Big Brothers Big Sisters of Canada, Boys and Girls Clubs of Canada, Cadets Canada, Canadian Red Cross Society, The Duke of Edinburgh Awards, Frontier College, Girl Guides of Canada, Junior Achievement Canada, Kids Help Phone, Meal Exchange, National Association of Friendship Centres, National Youth in Care Network, Salvation Army, Pathways to Education, Save the Children, Scouts Canada, St. John Ambulance, The Navy League of Canada, The Students Commission of Canada, The United Nations Association in Canada, YMCA Canada, YOUCAN! and YWCA Canada.
Follow HuffPost Canada Blogs on Facebook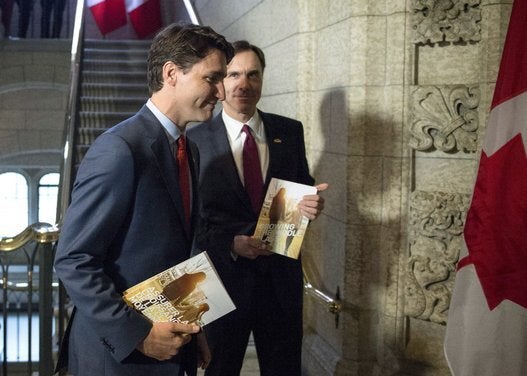 Federal Budget 2016 Highlights