I have lived and worked in York Region for decades and just two years ago, I got a glimpse of an important issue that often flies under the radar, especially for those who live in this so-called affluent community.
Each year, 360⁰kids -- an organization that provides a range of services to York Region's homeless youth -- encourages local community members to experience homelessness, just for one night a year. Last March, our group made it through some bone-chilling temperatures. I will do it again this year. It's a choice for me, but not for many of our kids who feel unsafe and unwelcome in the places they should call home. For those keeping tabs, that's three nights in my life, experienced as a homeless youth.
For more than 300 youth in a region that's home to large detached homes and flourishing businesses, they've lost count of how many nights they've been homeless. It's an issue that doesn't get enough attention. We live in the suburbs with limited resources for young people spread throughout the region. But it's the goal of the community leaders who have spent the night of a homeless youth to raise awareness (and funds) so we can give our youth a safe roof over their heads.
The first time I participated, my partner for the night was David West, a Councillor in Richmond Hill. We were given a scenario in which we had to put ourselves in the shoes of a young single mom with a toddler seeking a place to stay. There is only one family shelter in the region and it was more than 25 km from our starting point in Richmond Hill. With only $5 and a single bus ticket (sometimes what homeless youth have on them), we made our way north on a bus, with a lot of assistance along the way for directions. The transit system got us part of the way there. We had to walk the final stretch on a road that was pitch black with a speed limit of 80 km/h, which likely meant 100 km/h for the cars.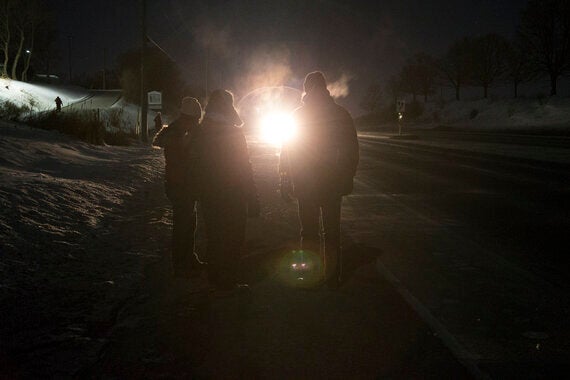 After some nerve-wracking moments and vehicles zooming by, we got to Leeder House to find it was full for the night. We were greeted by the amazing Anne and Ingrid, who spent an hour talking to us about an issue we didn't know much about. They have room for 60 people each night, but turned away 6,000 people in 2013. On that night, we met a family of four -- mom, dad and two teenage boys -- trying to get back on their feet and staying there so the boys can stay in their school. There was another family of three -- dad, mom and a two-day-old child -- and yes, the baby looked like newborn. They were staying at the shelter when mom went into labour -- she had the baby and then returned to the shelter.
I just couldn't believe it. Those images stick with me.
Fast forward to March 2015 with temperatures peaking at negative double digits. I'm partnered with Amanda, a young lady and success story of 360⁰kids programming. We had to make our way from Richmond Hill to the "Out of the Cold" shelter located in Vaughan with two bus tickets each and $3 to last the night. Luckily, Amanda knew the transit system that got us within a kilometre walk of the shelter.
We were met by volunteers and Rehana, the Executive Director of Mosaic Interfaith Out of the Cold, which runs 10 facilities in the region and is staffed by hundreds of volunteers through the cold seasons. She explained that the shelter was only about 80 per cent occupied that night largely because it was early in the month and people had just received assistance cheques. She indicated that they would be full by the end of the weekend. This shelter can provide 50 meals and 30 beds each night and the Out of the Cold program runs from November 1 to March 31 each year. It's an excellent program although when we consider the number of kids on the street each and every night, it is not meeting the need, in addition to the homeless adults out there.
We had to make our way back to the meeting point, but buses weren't running at that time, so we stopped at a Tim Horton's to rest. We were asked to leave by multiple people as we approached closing time. We remembered there was a 24-hour Tim Horton's close by, but according to our phone's GPS, it was 6 km away. Parts of the major thoroughfare didn't have sidewalks, so we were on the shoulder as cars passed us going above the designated 70 km/h limit.
When we arrived at the 24-hour Tim's, the staff were definitely more accommodating and friendly than the previous shop. We warmed up with coffee and Timbits and decided that if we can walk this far, we can walk the rest of the way back and give our bus tickets to kids who need them. With another hour of walking in temperatures approaching -30, we arrive back to Home Base. It's closed, but sleeping bags are left for us. We lay a tarp down for what feels like only a few moments of rest while battling the cold elements of the frozen ground.
Unlike many kids, we had a phone with us. We tracked our walking distance and trekked more than 21 km in the bitter cold that night. I won't forget that numbness in my bones.
But I will do it again this year. I choose to do it because no kid should ever have to spend a single night like this, let alone a daily occurrence before having to go to school the next day.
Bill Snowball is the former Chief of Markham Fire and Emergency services. He is now retired and living in Markham.
Follow HuffPost Canada Blogs on Facebook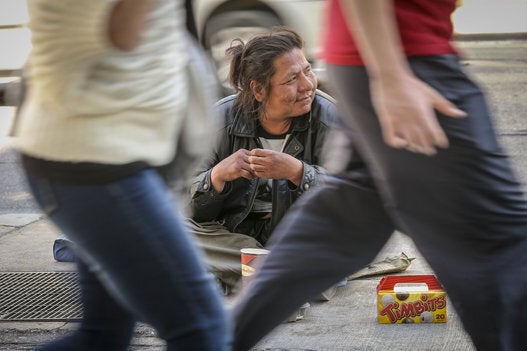 Canada's Homeless