A Whitehorse, Yukon, hot spring is hosting a competition to find out who has the coolest hair — literally.
Visitors to the Takhini Hot Pools are invited to submit photos of their frozen hair in the hopes of winning $750.
The hot springs have some tips for entering the contest, which takes place every winter.
"The most important part of this contest is having hair. Lots of it. Then it's only a small exercise in patience before you have a nice frozen hairdo," the company writes on its website.
The best day for a freeze is when the air temperature is -20 C or colder (the hot springs are a balmy 36 to 42 C). Visitors are advised to dip their head in the hot springs, then take it out. The cold will freeze hair, eyebrows and even eyelashes.
People with long hair can lay it on the side of the pool — the company says that later, hair can prop it up and it will freeze straight up.
The trickiest part is keeping ears warm. The trick is to dip one ear in the water at a time, without getting it wet.
Yukoners have found a pretty great way to keep themselves amused through the winter (it can get boring when the sun sets around 6:00 p.m.)
Here's a look at 2015's winners: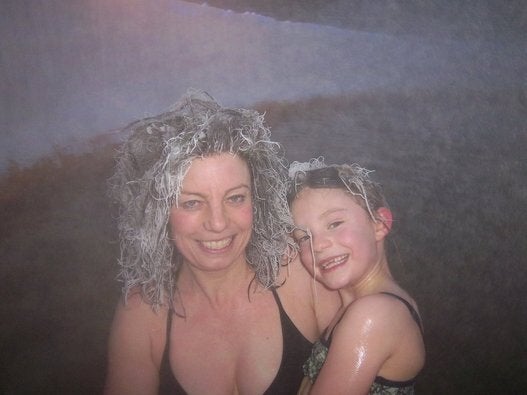 Frozen Hair at Takhini Hot Pools in the Yukon