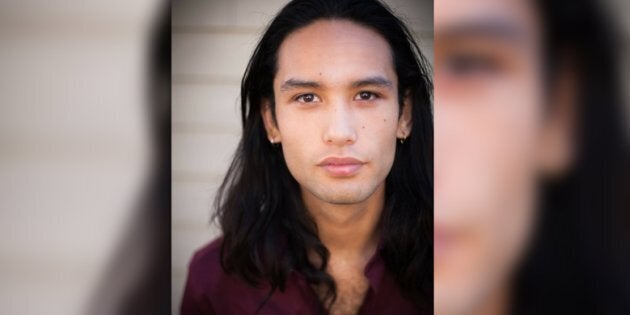 While he was waiting for his food, a couple came out of the washrooms and started talking about a news story that was playing on a restaurant TV. The report was about how charges had been dropped against a rural Alberta homeowner who had been accused of shooting a suspected thief in the arm.
Running Coyote said he heard the man in McDonald's say: "This is a victory for Canada. If somebody comes onto my property, I'll f**king shoot him dead."
Running Coyote said he responded by shaking his head.
According to the actor, the couple walked over to the counter to order their meals and the man said, loudly enough for everyone in the restaurant to hear, "That little f**king Indian know-it-all better mind his own business."
Running Coyote said he got up to confront the other customer.
"If you're gonna call me a f**king Indian, say it to my face," he told the man.
'I'm sick of your f**king people'
The two continued arguing until the couple left the restaurant. Running Coyote said he followed them outside and yelled across the parking lot: "Hey dude, thanks for your opinion, it means a lot to me, that really helps me in my life."
Now in his vehicle, the other man drove up and replied, "I'm sick of your f**king people mooching off my tax dollars, living off welfare."
The actor, who is on contract with Bard on Bower, replied that he doesn't live on welfare, has a job and pays taxes. The man responded by calling him a "poor-ass f**king squaw" and drove away mocking a war cry, according to Running Coyote.
Manager asked him to leave
About a dozen people, including customers and staff, witnessed the whole thing, Running Coyote told HuffPost Canada on Monday.
When he returned inside to finish his meal, the restaurant's manager asked him to leave because he "tried to start a fight."
"It was insulting," Running Coyote said.
He filed a complaint online with the Red Deer McDonald's.
The restaurant's owner, Bob Carpenter, told HuffPost Canada that managers are directed to ask all parties involved to leave during an aggressive or violent situation.
"While the situation is obviously disappointing on many levels, we have spoken with Zach over the weekend and let him know that he is certainly welcome in my restaurants," Carpenter said in an emailed statement. "I am using this situation to re-iterate to all my restaurant managers and crew the importance of maintaining a safe and welcoming environment."
I want the good people of Canada to hear this.
Running Coyote shared his experience on Facebook on Friday. "I hate Canada for teaching people to treat me this way," he wrote.
After a night of angry comments, Running Coyote then posted a video giving more detail into what happened that night in McDonald's.
"There is good within Canada, but Canada as a system has not helped my people," he said in a phone interview. "So I want the good people of Canada to hear this and say, 'I want to change Canada.'"
While many of the comments are supportive, some people responded that the issue is not about race, but about protecting private property.
Running Coyote — who was raised by his adoptive white parents in Rosebud, Alta. — disagrees.
"He made it about my race," he said of the stranger. "He immediately connects native people to shooting people on farms. He draws that line right away."
Running Coyote said he's feared for his own safety since a jury acquitted Gerald Stanley, a white farmer in Saskatchewan, of second-degree murder in the shooting of Colten Boushie, a 22-year-old Cree man, on his farm.
"I am the same age as Colten Boushie was when he got killed," he said. "People die for the simple reason of being a young native man."
Running Coyote said he stands by his decision to confront the stranger in McDonald's.
"I needed to speak out because I'm alive. Colten Boushie is not alive."