In a country as small as Montenegro, news of one's own demise travels fast.
Last July, Zdravko Cimbaljevic was more than a little surprised to read his own obituary in the local newspaper.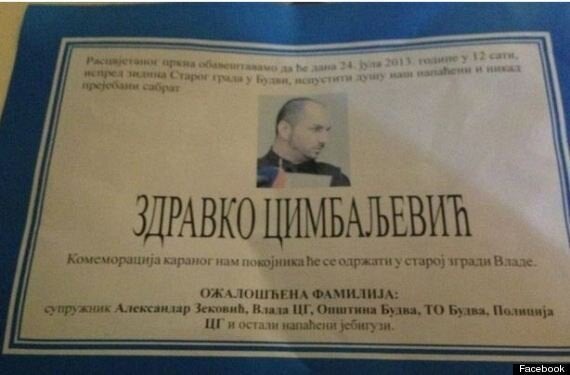 Published a day before the country's first Pride event ever, here's a rough translation. And a WARNING, the following contains obscene language:
'With his blown-out ass, we announce that on the day of July 24 2013 in 12 a.m., in front of the Walls of The Old Town Budva, his soul will depart in death, our afflicted and never overfucked brother … ZDRAVKO CIMBALJEVIC. Commemoration of the dearly screwed deceased will be held in former Government building.'
Cimbaljevic, the Balkan nation's first openly gay man, was preparing for a very precarious Pride indeed -- a march in the seaside city of Budva on July 24.
"But for me, I would be dead tomorrow," the 30-year-old tells the Huffington Post. "On the day of Pride."
"I was shocked. I didn't know that someone could go this far to do this kind of thing. I had gotten death threats, but for someone to prepare this for a newspaper and then print it and put it in the streets of Budva... it's insane to me."
The question would haunt him. Would he march in Pride? Would he keep that grim appointment?
"As an LGBT activist, as a gay man in public, who represents the community, I couldn't show my fear. I said to the community, they shouldnt be afraid because of this. We should go out on the streets tomorrow and protest and have Pride."
The next day, Cimbaljevic stepped outside and marched in the country's first Pride event, chanting alongside some 120 activists, 'Kiss the gays."
The mobs attended too. Their chant?
And they came in far, far greater numbers.
The march turned into a run -- a desperate flight from raging hordes. The battered group was driven into the sea, where, finally, they were evacuated by boats.
"They had actually blocked the roads. They were throwing all the furniture they could lift -- glasses, bottles, bricks, everything."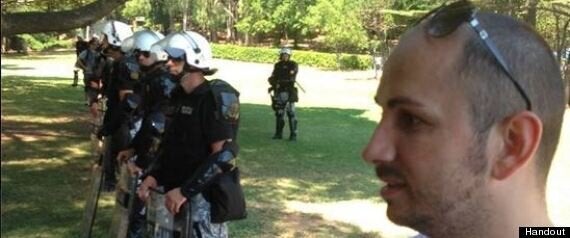 To say Montenegro tolerates gays would be painfully generous.
It wasn't any easier last weekend, when undaunted gay rights supporters hazarded another march this time in the capital city of Podgorica. About 60 people were injured, after firebombs entered the mix.
The reaction was perhaps not surprising in a country where a survey from Ipsos Research found more than two-thirds of the population liken homosexuality to a disease -- and 80 per cent saying it should be neither seen nor heard in public.
Just ask the organizer of that first tiny, battered Pride march in Budva how much that law is worth.
In 2010, even before coming out as a gay man, Cimbaljevic was brutally attacked by a neighbour while walking his dog -- screaming hate. And showering him with kicks.
Then came an invitation from Canada. Would he attend Vancouver's Pride Parade in September and serve as its international grand marshal?
Cimbaljevic didn't hesitate.
'I wanted to share my experience with people here, especially young people who sometimes forget what kind of society they live in," he explains. "There are societies where we can't even fight for our basic rights."
Indeed, imagine taking a walk in Cimbaljevic's shoes, in Niksic, the academic town at the foot of Montenegro's Mount Trebjesa, where he was born.
He returned there in 2010.
"I literally walked 100 metres and I couldn't walk any more," he recalls. "People were coming out of the bars with glass ashtrays, everything -- to hit me."
Police officers had to intervene, putting him in a car and driving him back to the capital of Podgorica. Away from Niksic, the city "where I was born, grew up, where my family lives."
He found little quarter from family, his father having cut him off completely years earlier. Then there was his mother.
'After some time, my mother said, 'Even though I don't support what you do because of the danger you face, you're my son, I can't reject you.'
"That was the best thing to happen to me in these three years."
Story Continues After The Slideshow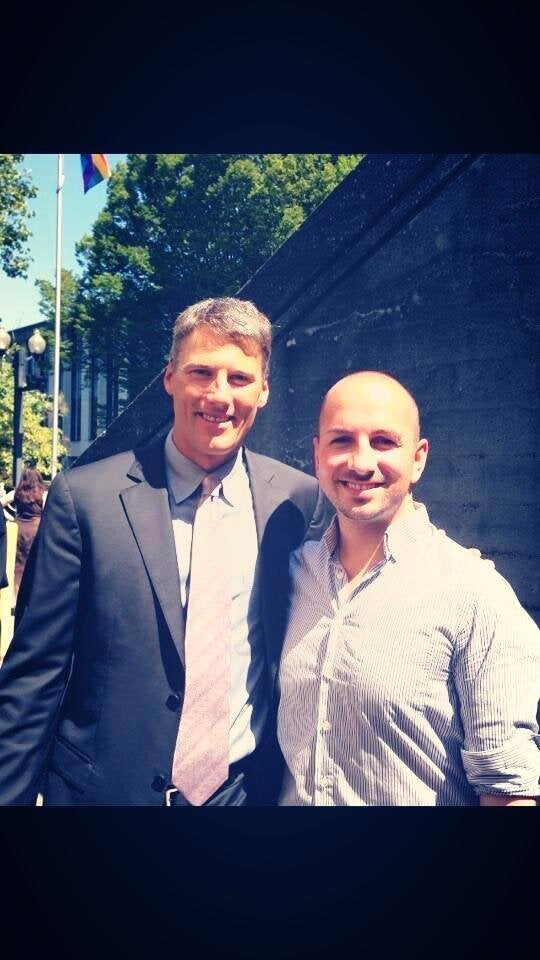 Zdravko Cimbaljevic
After an all-too-brief respite in Vancouver, Cimbaljevic returned to Montenegro -- and to his home, where people spat on him regularly, hurled rocks, even trained their dogs to attack him.
Cimbaljevic wanted to know if the prosecutor had charged anyone from the July attacks on Pride. Or even the neighbour who had attacked him years earlier.
The judicial system gave him nothing.
'It didn't matter for the prosecutor," he says. "If someone wants to kill us it's not a priority for them."
Cimbaljevic spent the next month and a half in his apartment, because he didn't want to provoke neighbours by stepping outside.
And he hoped against hope for news from the prosecutor.
Still, nothing. He had lost 15 kilograms already. It was time to go to Canada, as a refugee, "because i couldn't live there."
Today, he's living in Vancouver, awaiting a final decision on whether he will be accepted as a landed immigrant in Canada.
And feeling somewhat miserable about he left behind.
But then there was last weekend. Another Pride event on the streets of Podgorica. The same sad story -- tear gas, tears, hatred and hurt.
Organizers of the March say nearly 2,000 officers were dispatched to shield some 200 marchers -- and those officers didn't buckle, even when mobs tried to charge the line at various points. One even broke his leg. Dozens more officers -- and protesters -- were injured.
But there was also triumph.
"As of today, gay people are no longer invisible in Montenegro," organizer Danijel Kalezic told the Associated Press. "From today, these streets are ours as well."
And there was Zdravko Cimbaljevic. Alive, even if in exile. But beaming back to the marchers from a cell phone, via Skype. And inspiring a sense of Pride.
"People were seeing my face on the phone and they were running to the phone and saying, 'Oh my God, Zdravko is here."
They sent kisses and shouted his name.
"It was really emotional for me. I was crying a lot."
This is the image they saw. The sign he is holding reads, 'I am at Pride too.'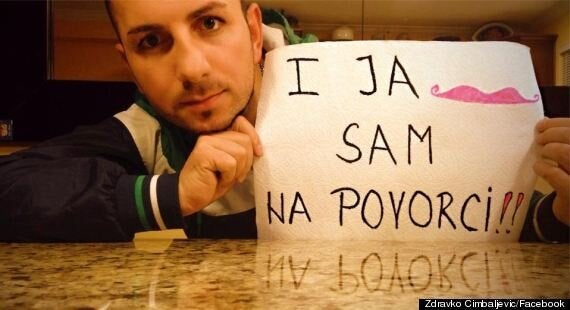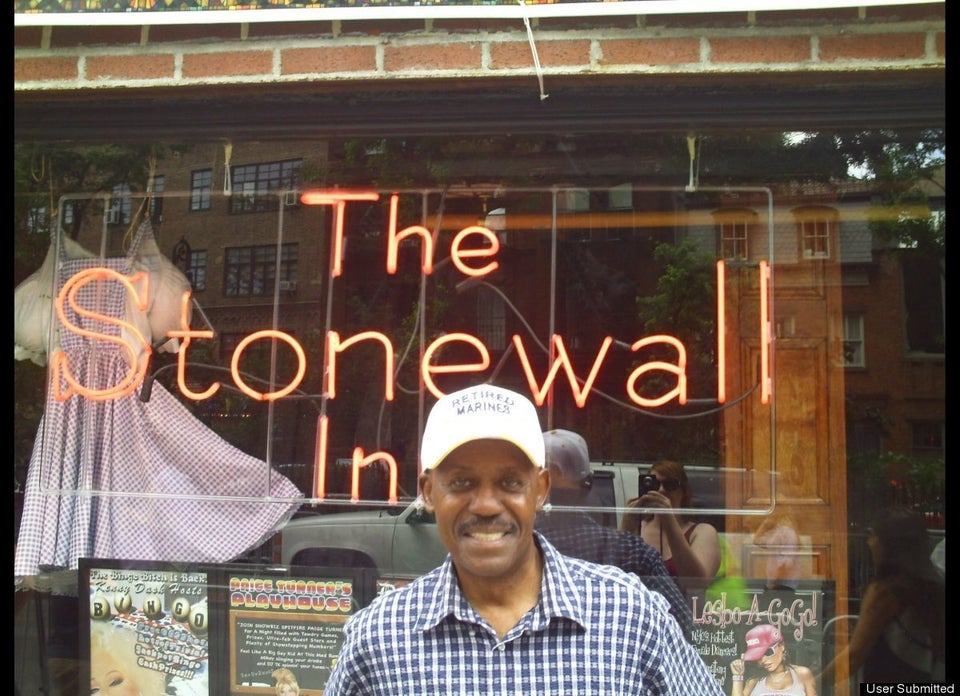 Gay Pride Around The World