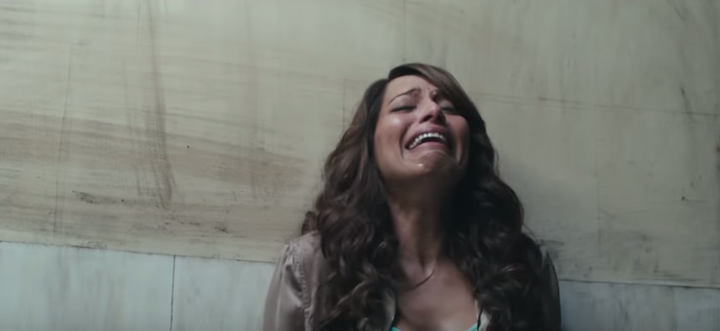 Hey, the year's almost over. Salman Khan is all set to make more money than your entire bloodline has by flexing his butt like it's an auto stumbling over potholes in Saki Naka. And going by the number of Akshay Kumar films that are basically BJP ads, you suspect that the next statue they make will be of him, on Bandra Talao. Housefull 100 (sure feels like 100, no?) has made a couple hundred crores. There is probably no Bollywood song left from your childhood to which Badshah hasn't added 'baby', 'lakkh' or 'party' so that it sounds like a drunk person shouting to get the bartender's attention in a crowded Hauz Khas Village pub.

If you are in your 30s, you also often wonder why your digestion has started to feel like it is a villain in an Ekta Kapoor serial — forever conspiring against your well-being. And question how quickly your 20s went, along with one whole decade.
Part of the reason our digestion malfunctioned, we feel, are all the Bollywood films we have had to stomach. I mean, the very mention of Grand Sasti , or Kya Fool Hai Hum, Raaz 75 and 'Murder no-A-lister-wants-to-star-in-it' immediately makes your stomach churn, right? And if you happen to be a woman, or anyone who cares about women and their agency, watching these films could feel a bit like being stuck in a Honey Singh song, with no escape.
So, to help you trace the trajectory of the demise of your intestines, we have listed the 10 most horrid sexist blockbusters Bollywood made in the past decade. We have left out everything that starred Tushar Kapoor or Fardeen Khan because those deserve a list, and a special place in hell, of their own.
10. COCKTAIL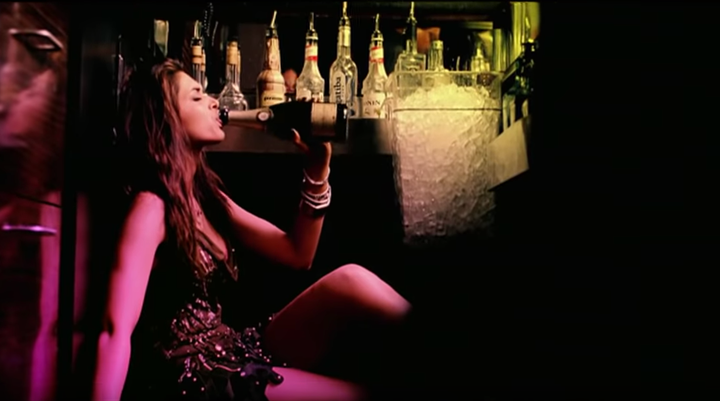 If the RSS ever wanted to make a Buzzfeed-style video — 5 Reasons RSS Is Dope AS ('As Sanskaar') — to recruit more women, Cocktail would probably be the end result.
The film has two women. One is Veronica (played by Deepika Padukone)—she drinks, parties, has a job, pursues men when she deems fit, gives shelter to fellow women who are in trouble and is an overall baller.
The other is Meera (played by Diana Penty). Her character brief was probably to "be the palak someone forgot in the back of his fridge". So, while Veronica is allowed to be a whole human being, Meera's only job is to be sad. She had some part-time engagements — putting clothes in the washing machine and praying in the hallway—but you know, sulking was her primary talent.
Enter Gautam, man. He immediately hooks up with Veronica, but also has an eye on Meera. An Indian man can forget a great many things, like this week in the country has proved — logic, reason, humanity, fairness, spellings if they are on Twitter — but they never lose sight of their ultimate goal in life i.e. finding someone to wash their dirty undies.
Therefore, Gautam uses Veronica as the Bigg Boss season he needs to land the Ekta Kapoor serial that is Meera. Later, Veronica trades her LBDs for salwar kurtas and picks up clothes to put in the washing machine, but she is not a natural. Gautam looks at her and flashes a scared, constipated smile that says, "Can she tell Vim Liquid from Surf Excel?" So, finally he goes back running to the woman he thinks, actually can. Moral of the story: the heart is where the chaddis are washed by someone else.
Considering most fundamentalist organisations want women to be washing machines who can sing, Cocktail is a perfect propaganda film for them.
9. RAANJHANAA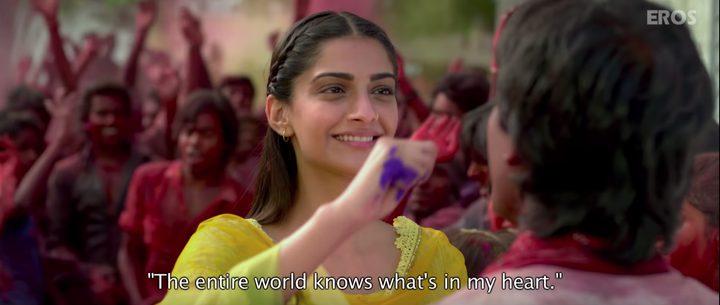 There was a particular sequence in Raanjhanaa where teenage Kundan (played by Dhanush) is shown stalking a teenage Zoya (played by Sonam Kapoor) in ways that would make Splitsvilla seem as staid as a trigonometry class.
Kundan turns up in front of Zoya every day, and she slaps him. She then giggles and walks away. This goes on until they fall in 'love'. And they have a child who they name Kabir Singh.
If the last sentence made sense to you, one, you are a perfectly logical person.
Two, Raanjhanaa is one of those dangerous films that tries to make stalking look 'cute'. At one point while watching it, I wondered if a character had dengue in the movie, would the director make him/her dance with a mosquito to an AR Rahman song?
Then there was Kundan's completely absurd relationship with Bindiya (played by Swara Bhaskar). Listen ladies, if your friendship with anyone involves him dragging you by the hair, pushing you, shouting at you and chasing you to beat you, the only friend you actually have can be reached on the number 1-0-0.
Kundan keeps doing these police complaint-worthy things, and then the narrative kind of begs you to sympathise with his broken heart and his flaws. And before you come at me shouting, "It's a film, it's supposed to have these characters", I'd like to remind you of what we are calling out here.
Not films with horrible men as characters, but movies sanitising and romanticising their horrible behaviour, and asking the audience to believe that it's all for love. Like giving you a dung cake and saying, "But this is actually biryani yaar, where are your kuch kuch hota hai hormones woman?"
Nope, not doing that anymore Bollywood.
8. DABANGG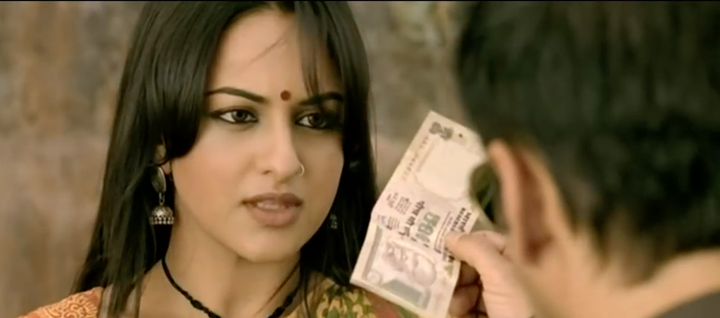 Dabangg is basically Salman Khan's Tinder profile. It is the film version of a Tinder bio that reads: #gymfreak #lover #respect4women #chillout #man #human #cool
And therefore, the place of women in the film is similar to that of sedated Thai tigers in the profile of a Tinder #man. Their only job is to be seen around the man — Salman Khan in this case — so that he looks #cool in a controlled environment. It was fairly evident from the film that Khan's belt had a bound script, but Sonakshi Sinha — a whole human — didn't have one. Sinha wafted in and out of the film less memorably than a software update prompt on your phone.
And the only time she actually made us sit up is when she whimpered, "Thappad se dar nahin lagta saab, pyaar se lagta hai" instead of whacking Chulbul Pandey when he 'lovingly' threatened to slap her. That statement — besides "Main toh tandoori murgi hoon yaar" — may go down as one of the most appalling lines for a woman to sit through in a film.
Khan's character treats Sonakshi Sinha's character pretty much like his personal human Instagram — he stalks her when he's bored, gawks at her and makes presumptuous, irritating comments on her life. Of course, Bollywood wisdom demands he be considered a creep with a heart of gold and the woman fall in love with him. Nearly a decade later, Dabangg is still spawning more Dabanngs and is a helpful reminder of the fact that our race is doomed.
7. PADMAAVAT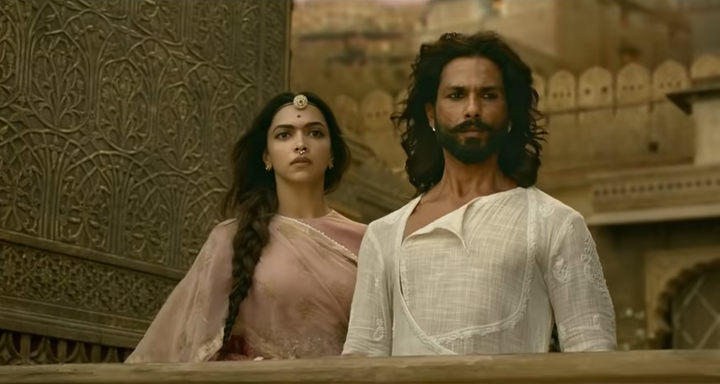 Pardon me if I don't have the stomach for haute couture suicide.
Without going into the merits of the original lore of Rani Padmavati—if you are going to make a film on women who felt compelled to jump into a fire due to any circumstance, at least do not make it look like a Sabyasachi bridal show, where they waft into a roaring pit of fire like it's the post-show cocktail party.
The most shattering aspect of Padmaavat was that — the glamourising of suicide at a time, and in a country, where women are set on fire for speaking up against rape.
In Padmaavat, women jump into fire and commit jauhar — the tale goes — to escape being imprisoned and raped by Muslim invaders. To re-tell that story in India, with the sole intention of making truckloads of money and without commenting on the monstrosity of associating a woman's 'honour' exclusively to her body is almost criminal.
The film also refrains from suggesting the sheer horror of the impending sexual violence that forced women to choose death.
Centuries after the lore came to life, Padmaavat's concluding scene shows women dressing up, feeding paan to each other and chilling like they are in a wedding photoshoot never mind that they are awaiting not the sacred marriage fire but an inferno of death.
6. SANJU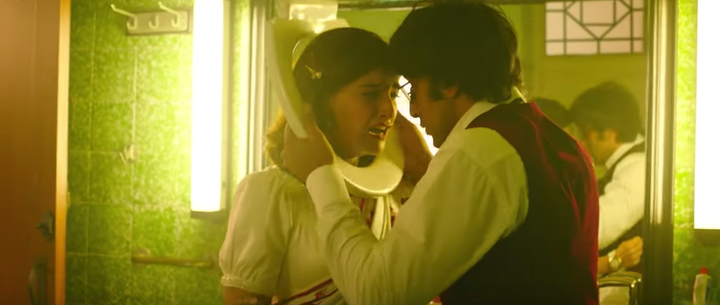 If Sanju was a PR email, it would go like this:
"You are cordially invited to the grand whitewashing of an average actor with a criminal record. You may not remember any worthwhile film he was in and could be questioning the merit of this event, but we would respectfully point out that you live in a country where Race is a valid film franchise, so kindly feel free to propel logic and reason up your posterior or wherever it is safely away from our scrutiny. The reason being, if they do reveal themselves in public, we will be compelled to mobilise an army of virtual crusaders with Ranbir Kapoor photos as their display images who will then accost you with hashtags such as #BiasedMediaHatesSanju, #SanjuProvesCriticsWrong, #SanjuManyHundredCrores.
"The event will commence with the tacit understanding that #SanjuBabaRoxxx, will proceed to establish that his douchebaggery is actually a very common affliction among able-bodied and minded adult men in India, where the only thing they are able to take full responsibility for, is their morning defecation routine. In this condition, they also expect people, especially women, to find their inability to act like adults adorable. Or romantically tortured, whichever approach will make them stay and not protest the man's behaviour. Towards the conclusion of the event, guests will be asked to take part in a fun game where they will be required to abandon intelligence, become refreshingly stupid and believe that the man at the centre of this event landed in jail for no actual reason, though evidence suggests otherwise.
"Finally, you will be served selected praise by a group of people famously known as spineless backscratchers, about how delectable the event was. You may have an opinion, but we will exhort you to propel it exactly where you have been asked to hide reason and logic.
"Kindly RSVP and confirm, that if you are a woman, you may occasionally feel less human than a paper napkin while the event unfolds, but in the interest of promoting toxic masculinity remember that you are less relevant to us than the bacteria in our star's boogers. The event will show the star and his male companions treat women reprehensibly, use a disturbing word called 'ghapa ghap' for sex and belittle the woman one of them has sexual relations with for the sake of bromance, but again, be patient because Delhi's air is cleaner than the society you live in.
If you feel enraged, we have a helpful tip. Remind yourself of your Instagram posts tagged #bff. See, cute, right? We are rich, so we made a whole fornicating film instead."
5. HOUSEFULL
The place of the Housefull movies in a woman's life is sort of next to the matrimonial ads that basically demand a white doormat with a vagina. And preferably boobs, if the groom has managed to get an MBA.
It's demeaning, annoying and somehow just won't go away.
The Housefull films need women—not as whole humans with functioning brains, but as body parts that fit into expensive, pretty clothes. In fact, if Madhur Bhandarkar ever made a film on the glitzy but dark lives of Housefull's women characters he could probably call it 'Toothbrush'. I mean, they basically exist to scrub evidence of how tired and gross the films are.
Really, next time anyone wants to make money out of Akshay Kumar looking bored and making funny faces, just have him interview Narendra Modi on pressing national issues like what would the Prime Minister do if he had Aladdin's lamp (that's an actual question he asked).
We suspect the PM's answer would be "make genie send Aladdin to a detention camp, unless he becomes a Hindu called Alok Dhingra", and pretty sure the BJP's IT Cell will include that interview for their troll training manual.
4. SAAHO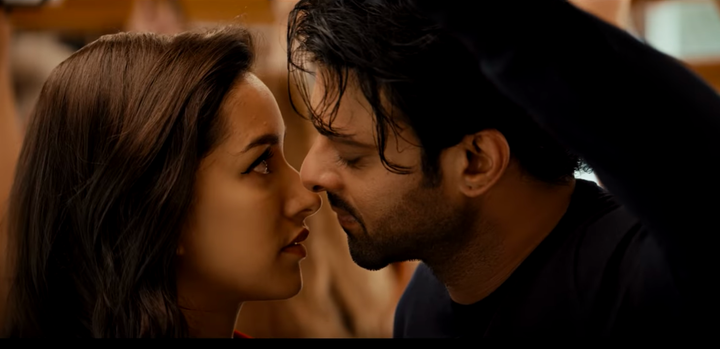 I will probably solve the dark and disturbing mystery of why Delhi eats momos with mayonnaise before I manage to unearth why Saaho came into existence.
Is it because Prabhas woke up one day and wondered what it would be like to give a human face to Instagram creeps whose handles are called 'HotBoy4Fun' or 'SaxyDude4MatureLedeez'? Or because Shraddha Kapoor got fed up of playing a woman and wanted to play a soap dispenser (a tear dispenser in Saaho's case) for a change? Or because, the film's director went drinking with friends, saw women having fun and men treating them like humans and got really alarmed. "Wait, we are not treating women like human wet wipes to clean up the trash men throw around?" he must have thought, and decided to fix that with Saaho.
3. PYAAR KA PUNCHNAMA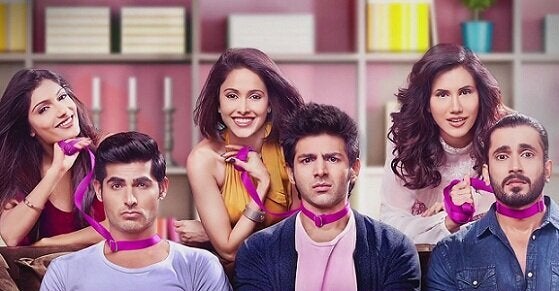 The Pyaar Ka Punchnama franchise is pretty much the 'Fair and Lovely' of Bollywood films. It's terrible for women's self-worth, it caricatures their lives, you have to stop yourself from throwing something at the laptop screen every time it appears on it and yet, somehow, it is still thriving.
It's as if a group of men — whose only achievement in life till then had been leaving "hie", "hi" and "hiiiii" in women's Facebook inboxes every day — decided they wanted to make a movie on their own lives.
So obviously, every woman character in the first film, and the assortment of nonsense it spawned later, are stupid, shallow, annoying, ignorant and scheming. I am kind of surprised that the film's director did not cast a bunch of cockroaches in Manish Malhotra lehengas instead of women — considering the whole point of the film is to scream "women are pests".
Kartik Aryan's stardom, unfortunately for him, probably commenced with that one monologue where he says he wants to stuff something in his girlfriend's mouth so that she shuts up, makes fun of effeminate men, says women have no interest in logic or reason and likens them to dogs. Every time I see a man share the clip saying, "So truuuu bro", I want to ask them why they don't date their dumbbells instead, since they find women so annoying?
2. BADRINATH KI DULHANIA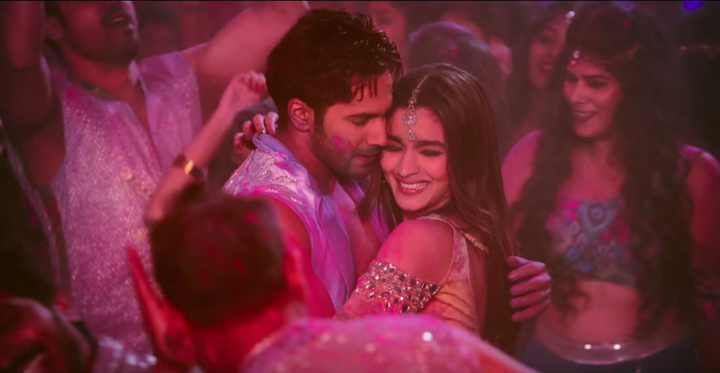 If the Badrinath of this film was to exist in the real world, the only dulhania he'd deserve would be an FIR.
Several film critics praised the film for packaging the 'aurat pe atyachar' conversation in small-town kitsch and Badshah rap so that it was palatable and entertaining. I can think of a dozen subjects that could be made to look fun and entertaining, but harassment — screw my ovaries — doesn't feel like it could be one of them. I get the praise for the film though. Considering our expectations of a Bollywood film to not show dangerous gender stereotypes is lower than Chennai's water table, the fact that Alia Bhatt's character — even if momentarily — dumps the harasser, may have seemed pathbreaking for some people.
When I say the film made entertainment out of harassment, I am reminded of watching a particular scene where Alia Bhatt's character is chastising Badrinath and threatening to lodge a police complaint against him for "molestation". Badrinath's friend, who is somehow in the same video call, finds the word to be a tongue twister and makes funny faces while trying to pronounce it. An entire auditorium in a south Delhi neighbourhood burst out laughing. Honestly, if I could have drowned in my bucket of popcorn then, I would have.
Badrinath, critics and fans of the film argued, is at least made to suffer for being a complete asshole, because in most other films, the men just sing a song to have the girl come running back into their arms.
Instead, Badrinath's character gets drunk and yells at his father, makes a scene, and weeps like a child denied pizza, and then the girl magically comes back to him. Never mind that those are classic markers of an abusive relationship. In any case, if a guy ever chucks you inside the trunk of his car and drives around while you scream in fear, if you by chance come out alive, do run to the closest police station and get him ARRESTED. If you want to have someone sing sappy songs to you later, just make an Arijit Singh playlist on your phone instead of dating a violent Johnny Bravo with the IQ of a radish.
1. KABIR SINGH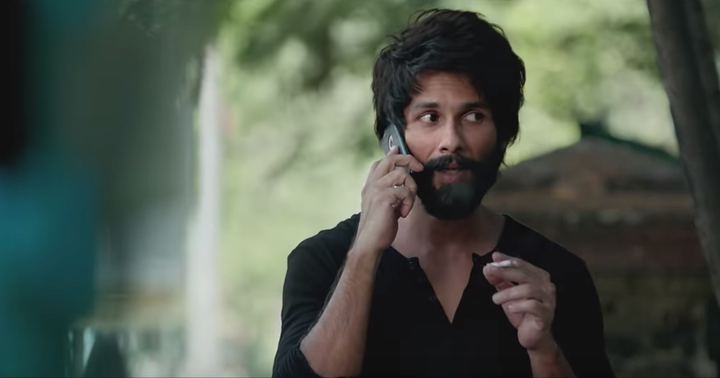 (This section will be updated once the writer is done throwing up.)