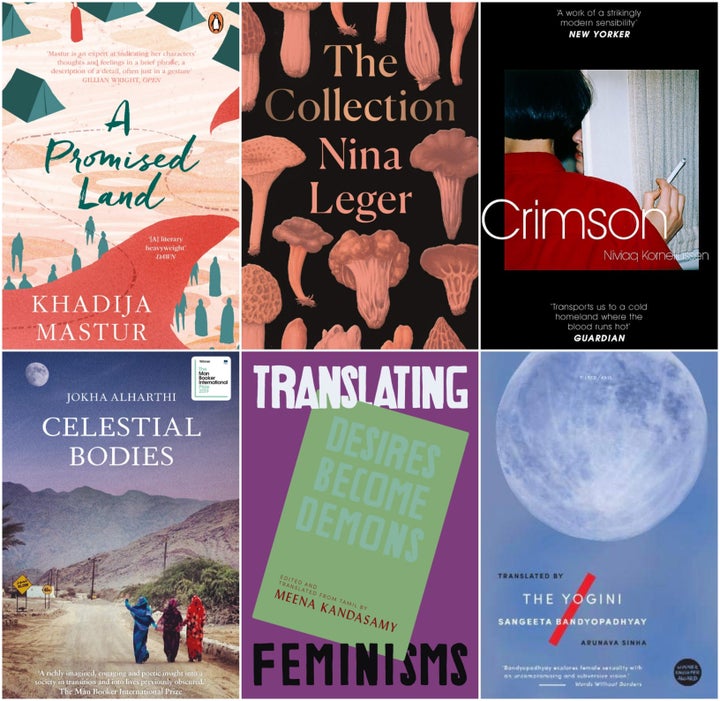 Happy Women in Translation Month! Started by book blogger Meytal Radzinski in 2014, the initiative aims to address gender disparity in translated literature. Radzinki noticed that only about 30% of books published in translation were by women, and began WIT Month with just two simple goals — increase the dialogue and discussion about women writers in translation and read more books by women in translation.
In its sixth year now, Radzinski's project has become hugely popular, with people tweeting their suggestions and reading lists using #WITMonth (see here, here and here).
To mark this month, HuffPost India has also compiled a list of 11 books, across several languages – from Urdu to Indonesian. These books feature stories of young and lost love, horror and humour, taboos and tragedies.
1. The Collection by Nina Leger, translated from French by Laura Francis (Granta Books)
Fair warning: expect a lot of sassiness, strangeness and sexiness in this Le Prix Anaïs Nin-winning novel, where Jeanne moves from room to room, lover to lover, and kink to kink. The heroine reminded me of Ottessa Moshfegh's "unlikeable" female protagonists and of Anne Serre's The Governesses. A study (and journey) of women's sexualities, desires, obsessions, traumas — old and new — the book was a wondrous and wild ride. If you like your female protagonists bold, defiant, cheeky and unashamedly unapologetic, Jeanne is your woman. And for those of you smitten by Lisa Taddeo's Three Women, this is the perfect – highly preferred – fictional companion.
2. Desires Become Demons: Four Tamil Poets edited and translated from Tamil by Meena Kandasamy (Tilted Axis Press)
It's a truth (universally) acknowledged that everything Meena Kandasamy touches turns to gold—and so it goes with her latest, part of Tilted Axis Press's 'Translating Feminisms' project, foregrounding collaborations and conversations between some of Asia's most exciting women writers and emerging-star translators. Co-translated with Lakshmi Holmström, it covers works by four Tamil poets: Malathi Maithri, Salma, Kutti Revathi and Sukirtharani. The introductory essay tackles "how, where and by whom feminist writing and female bodies are translated", before it introduces English-language readers to poetry beyond age-old oppressions and towards intersectional feminisms. I recommend that you keep this limited-edition chapbook by your bedside, to browse from time to time – and also gift it to everyone you know.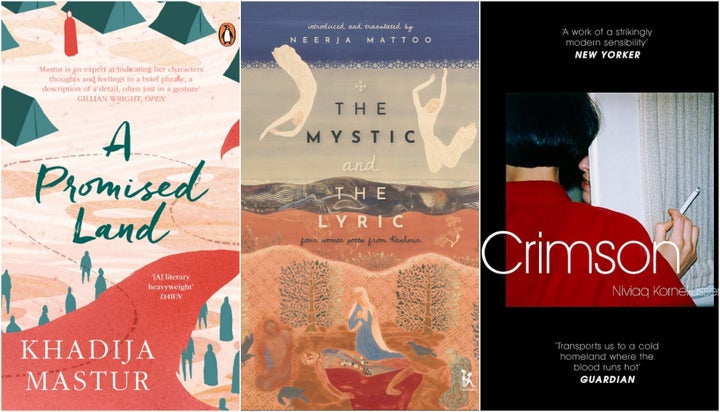 3. Crimson by Niviaq Korneliussen, translated from Danish by Anna Halager (Virago Books)
I picked this up from my bookshelf on a Saturday night—and suffice it to say I sacrificed my sleep to finish it. It was originally written and published in Greenlandic, which Korneliussen first translated into Danish herself. The journey Crimson – a story of Greenlandic youth culture – took me on was something to write home about. The novella explores and entwines modern and millenial concerns – restlessness, homesickness, loneliness – and love, queer and trans identities and experiences. Following five friends, formally inventive, and featuring SMS and Facebook posts – a style I'd slot under 'epistolary novel 2.0' – this cool, cool book is a single-sitting read if there ever was one.
4. The Mystic and the Lyric: Four Women Poets from Kashmir, translated from Kashmiri, and edited by Neerja Mattoo (Zubaan Books)
Lal Ded, Habba Khatun, Rupa Bhavani, Arnimal — four classic women poets, dating from different periods in Kashmir's lifetime, who are household names in the Valley, regardless of religious and ethnic groups. They also figure at the forefront of the land's living oral traditions. This volume introduces and invites them together – and into more households, more languages, more lands – this time in one book and two traditions: the mystic and the lyric. Their works – from quatrains to complaints to meditations – have travelled into wedding songs and annual celebrations. It goes without saying that this is required and recommended reading for our life and times – for what else but poetry can soothe the soul in the contemporary political climate – and I have been dipping in and out of it all week. What's more, each time I place it down, I know it's not just the lovely cover that adds beauty to my coffee table.
5. A Promised Land by Khadija Mastur, translated from Urdu by Daisy Rockwell (Penguin India)
Through Rockwell's translation, we are gifted with the award-winning Urdu writer's – well remembered for her novel Aangan (The Women's Courtyard) – refugee story (Walton refugee camp) set in the newly formed nation of Pakistan. In the book, Sajidah longs to be reunited with her beloved, Salahuddin. Featuring formidable, spirited women in the face of the powerful forces of partition and patriarchy in their works – the Mastur sisters were referred to as "the Brontes of Urdu literature". A Promised Land is a story of trials, tribulations and tragedy, but with hope on the horizon. And as borders are being carved, walls being built and migrants being cast out world over, the book takes on renewed significance and relevance—touching on where it hurts most: humanity.
6. Mouthful of Birds by Samanta Schweblin, translated from Spanish by Megan McDowell (Oneworld Publications)
If you too were a fan of Fever Dream – Schweblin's nightmarish novella – brace yourself for this similarly surreal score of short stories, featuring abandoned brides, couple-kidnappers, teenage girls who eat live birds, unborn babies who are spat out, and more such bizarre (and beautiful) things. Each story is told with an inimitable tension and tempo – whether through the course of three pages or twenty – and the opening and title stories are the standout stars. The overall mood and vibe, for me, was close to collections by Carmen Maria Machado and Lesley Nneka Arimah. As I said in this Scroll piece, "To read Samanta Schweblin is to expect these symptoms: a dry mouth, loss of words". If you're still unconvinced, take JM Coetzee's word for it: "The Grimm Brothers and Franz Kafka pay a visit to Argentina".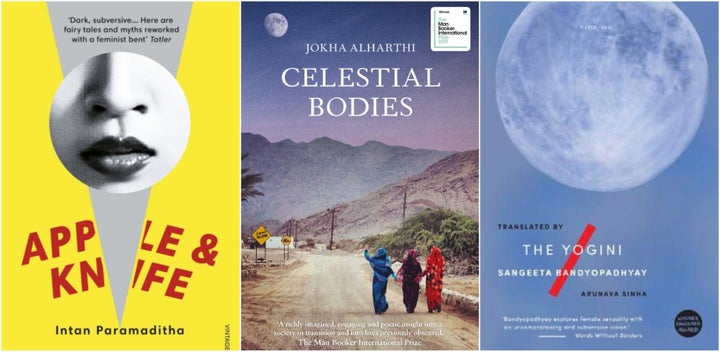 7. Apple and Knife by Intan Paramaditha, translated from Indonesian by Stephen J. Epstein (Harvill Secker)
Paramaditha has fun with fairytales, the macabre, and myths – Western and Indonesian – foregrounds fierce female characters and bodies, feminist arcs, and slips into supernatural spheres. Set in the Indonesian quotidian – from corporate offices to shanty-towns – this heady, funny, atmospheric, slim collection cuts like a knife. Readers can take delight in sharp, subversive, suspenseful, taboo-shattering stories—with horrors under the surface, and happily-ever-afters out of the door. This is one for fans of Shirley Jackson and Angela Carter, and more recently, Daisy Johnson's Fen. Read before bedtime at your own risk. Oh and, Apple and Knife is best gulped down with a gin and tonic.
8. Celestial Bodies by Jokha Alharthi, translated from Arabic by Marilyn Booth (Sandstone Press; Simon and Schuster India)
'What more can I say about the 2019 Man Booker International Prize-winning novel that hasn't already been said?' was the first thought that crossed my mind when I finished this book. Hype preceded my reading of it—and the female duo did not disappoint. Its inventive structure, subtlety, and shifting points-of-view make it a 'celestial body' in itself—full of iridescence. It shines light on women's ways of being—anchored as it is by the quotidian lives, loves, and losses of three sisters. A family saga, moving between a village and Muscat in a country undergoing rapid socio-political change, like in Yaa Gyasi's Homegoing, you'll find yourself often flipping back to the family tree at the beginning. A small country comes of age as Alharthi's – the first female novelist from Oman to be translated into English – sentences soar on the page and stay with you.
9. The Yogini by Sangeeta Bandyopadhyay, translated from Bengali by Arunava Sinha (Tilted Axis Press; Penguin India)
Following the twin successes of Panty and Abandon – first in India, and then internationally – the Bengali writer is back with an English PEN Translates Award-winning new novel. It straddles the spaces between Kolkata and the banks of the Ganga, and fantasy and reality to ask: "How do you imagine your place in the universe?" Arunava Sinha has described his experience translating this surrealist, sensual and philosophical book – about obsession, sex, and fate – as "like being in the middle of an extended hallucination". Her previous erotic and enigmatic works were also preoccupied with the city of Kolkata, with the portrait of woman-as-artist – confronting patriarchy and whole-heartedly embracing women's sexuality. The Yogini follows a familiar vein. It's a hat-trick for the duo—and a huge win for readers worldwide.
10. Drive Your Plow Over the Bones of the Dead by Olga Tokarczuk, translated from Polish by Antonia Lloyd-Jones (Fitzcarraldo Editions)
The writer of last year's Man Booker International Prize-winning Flights (translated by Jennifer Croft) – an essayistic, fragmentary novel that you only fully experience when read in shifts – returns with another work shimmering with subversive brilliance. Set in a remote Polish village, and surrounding the disappearance of reclusive, eccentric Janina Duszejko's two dogs, this is not your conventional crime story—for Tokarczuk is not your conventional writer. Through her extraordinary talent and intellect, and her "thinking novels", she ponders and tackles larger ecological and political issues. The stakes are always high; Tokarczuk repeatedly rises to the occasion and raises a call to arms.
11. The White Book by Han Kang, translated from Korean by Deborah Smith (Portobello Books, Granta Books)
I think I speak for many readers in saying that when the South Korean writer and her translator co-won the inaugural Man Booker International Prize for The Vegetarian – a disturbing, daring three-part novella drenched in desire and defiance – they added to a literary diet we didn't know we had the appetite for. This then took readers to her backlist, the haunting, moving, wrecking, Human Acts – and forward towards The White Book, which is by far my favourite. The autobiographical, experimental meditation on love lost – place-based, poetic, full of performance-photographs – captures grief like I've never read before. ("I wanted to reach the core of us, the part which cannot be harmed or destroyed," says Han Kang.) Best read alongside Maggie Nelson's Bluets.