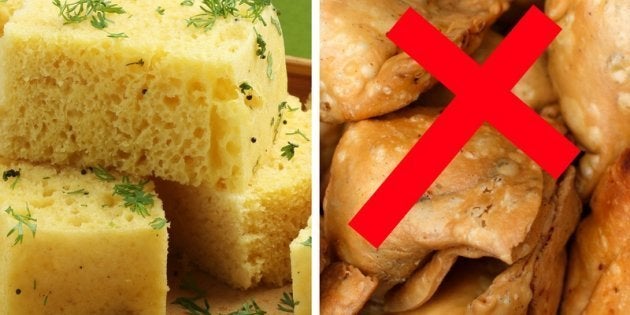 Eating healthy is often hastily associated with just weight loss. However, even if you are not overweight, it always helps to cut down on unhealthy foods. The various benefits of eating well includes better mental health, stronger immunity, an improved sex drive, and excellent digestion among other things. That said, it's not always easy to find healthy substitutes for the staples we have in our diet, particularly rice and potatoes. And to imagine replacing that evening samosa with a salad leaves most of us with a giant lump in our throats. Luckily, one doesn't have to go always take such extreme measures.
"What we eat should be whole, minimally processed, nutritious food—food that is in many cases as close to its natural form as possible. Frozen fruit yoghurt, for instance is much better than ice cream because it has lower sugar content and zero transfats along with the benefits of fresh fruit," says Lathitha Subramanyam, chief nutritionist at Growfit, a health and nutrition website.
Also, it won't cause great heartache to replace the butter naan with tandoori roti. "Then there are other not-so-obvious choices to be made like picking shrimp over red meat. Packed with protein, shrimp also has healthy fats, which help prevent heart diseases and bring down stress induced inflammation, says " Dr Shikha Sharma, founder of drshikha'snutrihealth.com
Here's a list of small (and non-heartbreaking) changes you can make to your daily diet to keep your body fit.
Eat: Dhokla...Not: Samosa (2 pieces)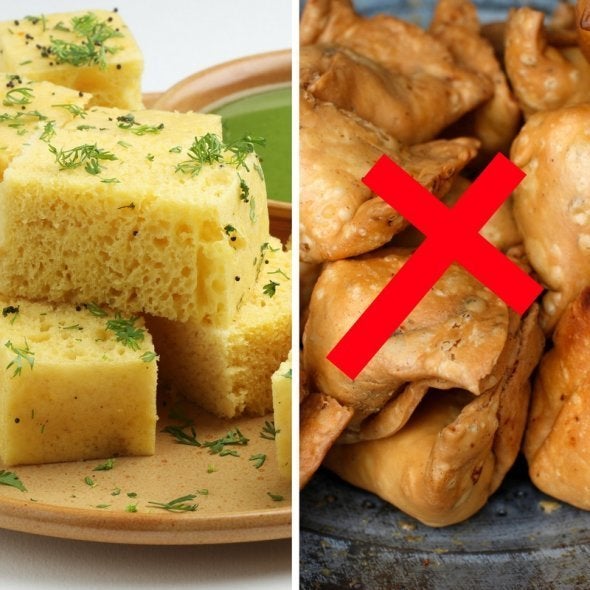 Calories: 136 Calories: 308
Protein: 9gm Protein: 5gm
"Two pieces of dhokla instead of a fatty samosa will cut your calories in half without leaving you overstuffed," says Dr Sharma. It's tasty, light and way more healthy than samosa or kachori. FYI the latter ranks pretty high on our list of unhealthy breakfast items.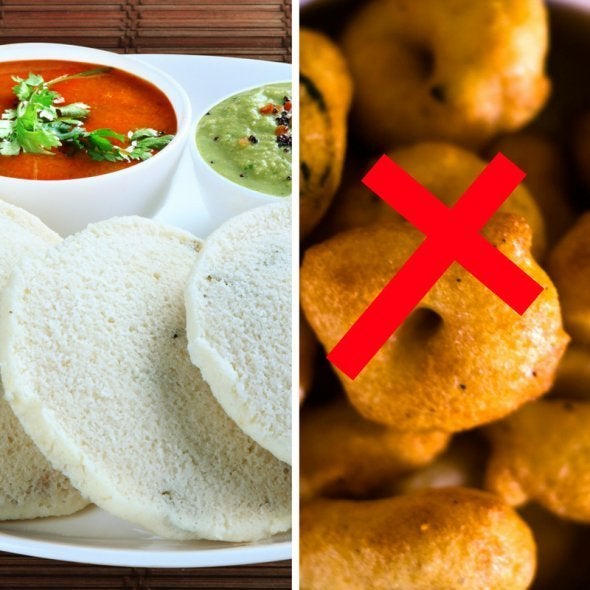 Calories:50 Calories: 350
"The vada is significantly higher in protein value," says Dr Sharma. "But it's also a lot heavier than a fluffy idli." Just because you'r opting for a lighter snack, doesn't mean you consume triple the amount you generally would.
Eat: Rasgulla... Not: Sooji Ka Halwa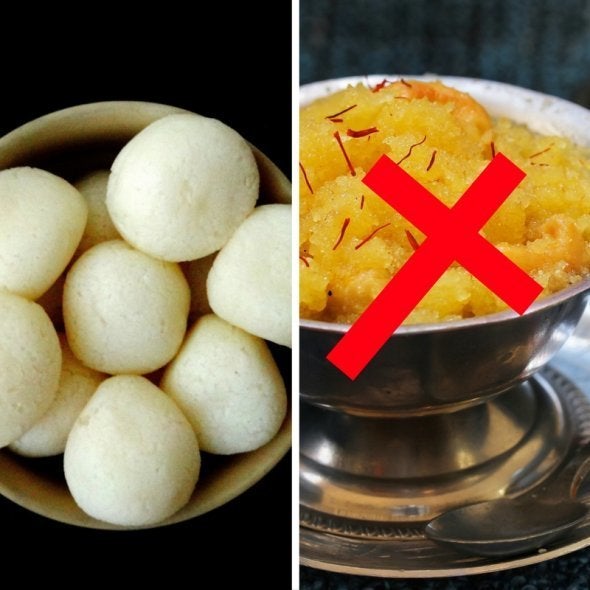 RASGULLA vs SOOJI KA HALWA
Calories: 100 Calories: 450
Kuch meetha ho jaye? The good news is you don't have to forgo it. Simply go with a sticky rasgulla (here's an easy recipe), instead of the super heavy sooji ka halwa. "It's a third of the calories and fat, but will satiate your need for sweet," says Dr Sharma.
Eat: Tandoori Chicken... Not: Butter chicken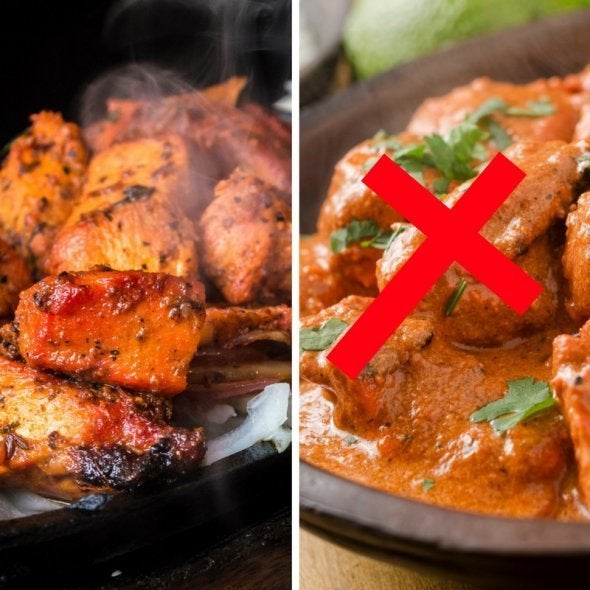 TANDOORI CHICKEN vs BUTTER CHICKEN
Calories: 230 Calories:450
"Though your protein and carb intake stays the same (30gm and 10gm respectively), you're doing away with a fair amount of fat intake," says Dr Sharma. This makes Tandoori chicken is an ideal meal for those looking to gain muscle weight.
Eat: Bhelpuri... Not: Chaat Papri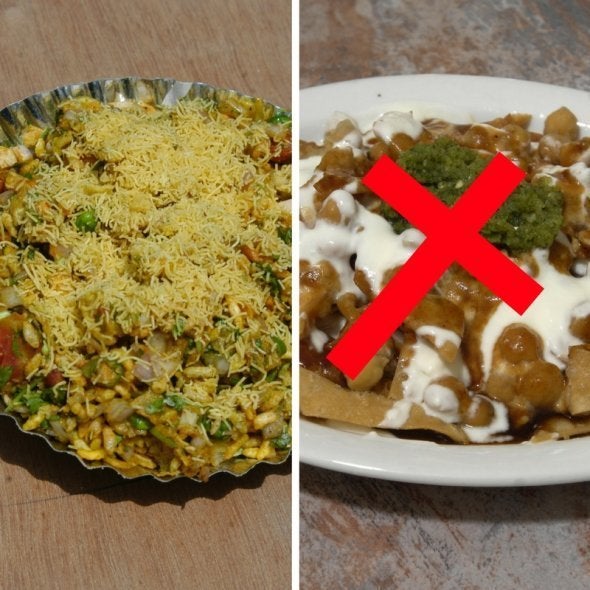 Protein: 3gm Protein: 18gm
Calories: 180 Calories: 380
If you have a hankering for some street style chaat, bhel puri's your friend. It also comes sans any helpings of old dahi which drastically reduces your chances of falling ill.
Eat: Roasted Makhana... Not:Potato Chips(100gm)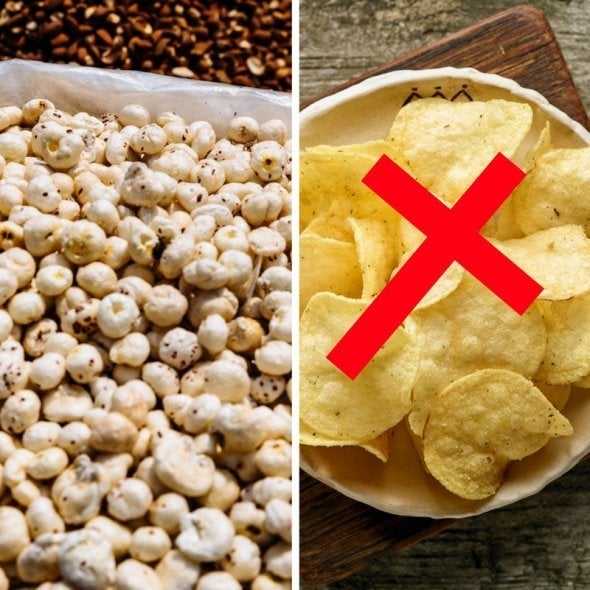 Calories: 360 Calories: 535
Sodium: 0mg Sodium: 525mg
Foxnuts, or makhana make for a healthier option when you're feel like munching on something crunchy. "They contain zero sodium, and contain a lot of fibre," says Subramanyam.
Eat: Idli Sambar... Not: Aloo Puri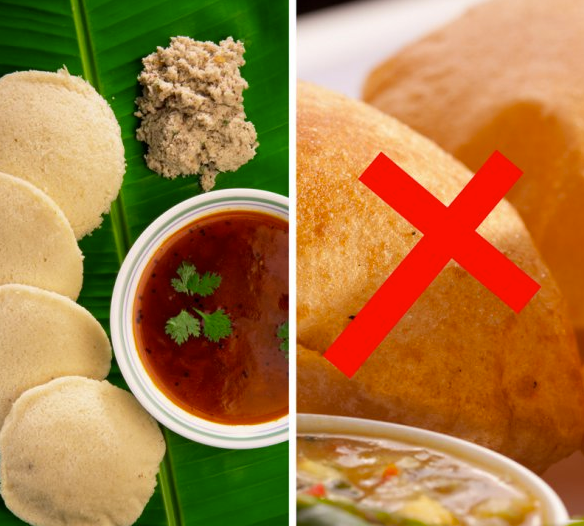 Protein: 8gm Protein: 4gm
Calories: 70 Calories: 250
These are items that are pretty popular on an office canteen menu or as a breakfast item.But there's no competition when it comes to picking the healthier choice. "The combination of idli-sambar gives a substantial amount of protein and fewer calories," says Subramanyam.
Eat: Dalia... Not: White Rice (100gm)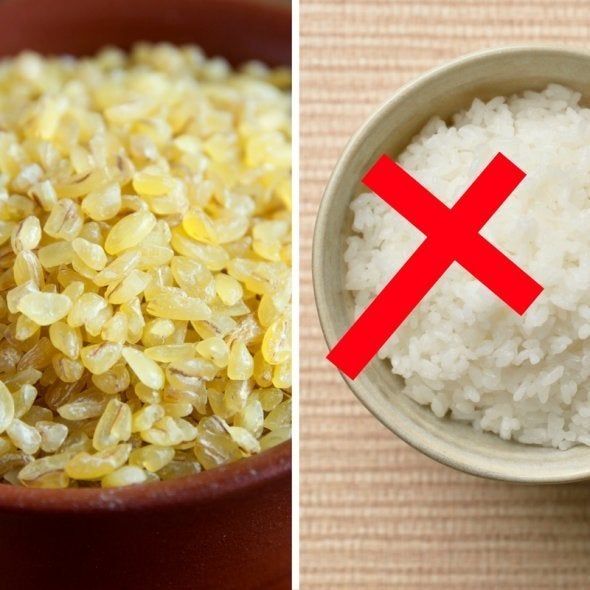 Protein: 10.4gm Protein: 6.8gm
Fibre: 12.5gm Fibre: 4.1gm
Calories: 310 Calories: 345
"Cracked wheat has good amount of fibre ,which helps brings down your blood sugars and takes care of your cholesterol levels," says Subramanyam. Alternately, one could try Kerala red rice or brown rice.
Eat: Cauli Rice Biryani... Not: White Rice Biryani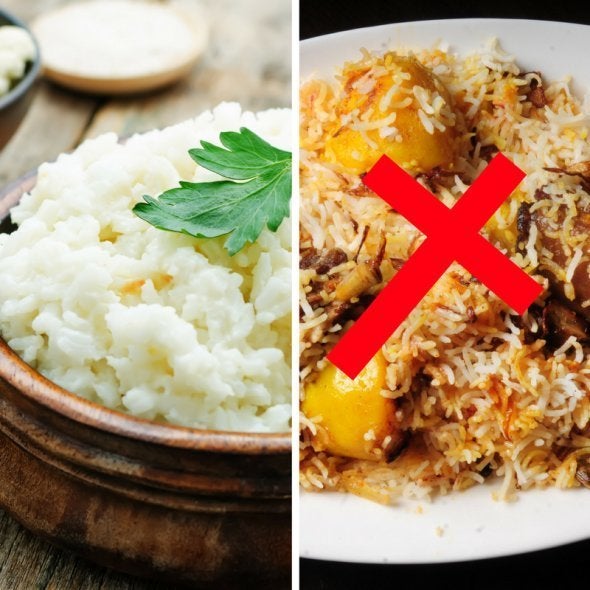 CAULI RICE BIRYANI vs WHITE RICE BIRYANI
Glycemic Index:15 Glycemic Index: 55
Calories: 100 Calories: 161
"The advantage of consuming caulirice -- here are the best ways to cook it -- is that it is low in carbs, without too much difference in the taste. The heavy difference in glycemic index is an added advantage," says Subramanyam. Foods lower in GI show lesser risk of cardiovascular diseases, and diabetes.
Eat: Vegetable Pulao... Not: Paneer Kathi Rolls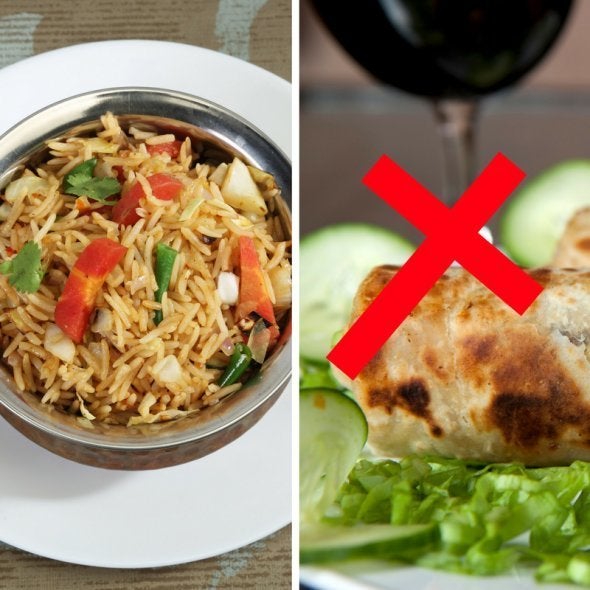 Vegetable Pulao vs Paneer Kathi Rolls
Calories: 230 Calories: 570
Ordering in from office during navratras? Give those paneer kathi rolls a miss, and opt the veg pulao instead -- it's readily available at almost every place that offers kathi rolls. (or make your own version at home) "A veg pulao contains your required number of carbohydrates, and isn't a huge change in terms of taste - it's flavoursome and aromatic. If you're really craving paneer, you can ask for it to be garnished with some," says Dr Sharma. It has better chances of being cooked than those large chunks inside a kathi roll which may not be fresh.
Eat: Tandoor Ki Roti... Not: Butter Naan (1 piece)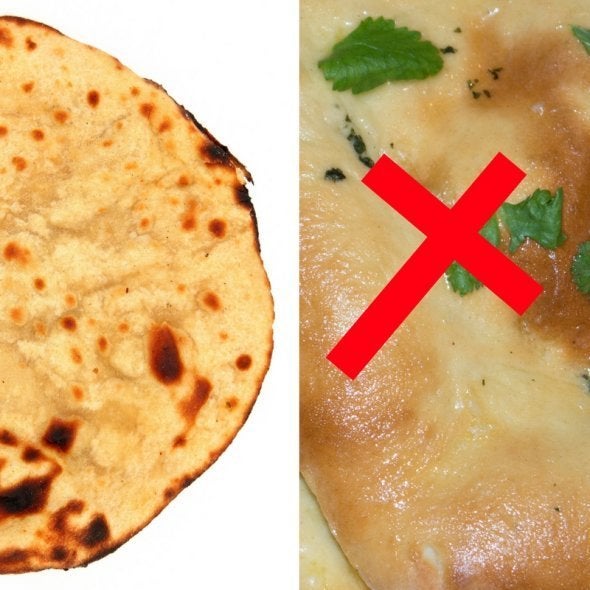 TANDOOR KI ROTI BUTTER NAAN
Calories: 100 Calories: 235
"There's no difference in your carb intake when it comes to your choice of roti. But a tandoor ki roti is made from wheat, and butter naan features more maida (flour), making for the distinct difference in calories and fats," says Dr Sharma.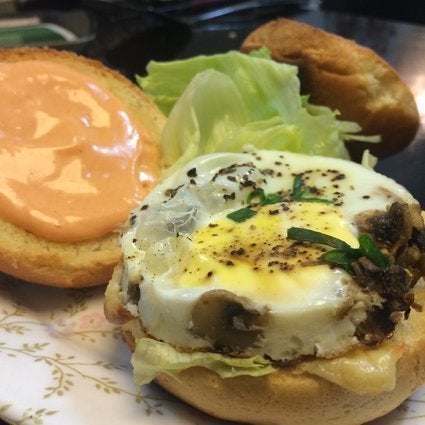 10 Cooking Tips For Indian Bachelors By Saransh Goila
Popular in the Community