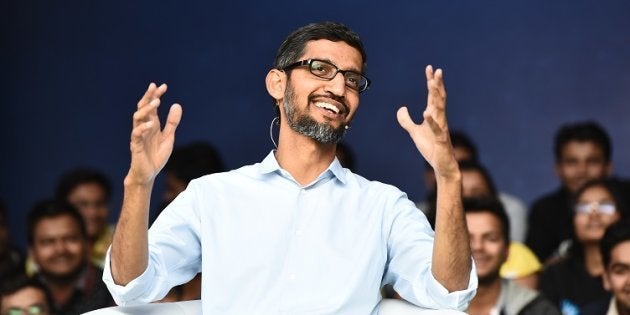 Google CEO Sundar Pichai, who is currently visiting India, addressed 3,000 students at his alma mater IIT Kharagpur today. In between discussing India's startup ecosystem and digital economy, Pichai also spoke about his student life, his leadership style, and his favourite cricketer and Bollywood actress.
This was Pichai's first visit to his college since graduating in 1993. Born in Madurai, Pichai did his schooling in Chennai and took a degree in metallurgical engineering from IIT Kharagpur. This was followed by an MS from Stanford University and an MBA from the University of Pennsylvania. Here are some highlights of Pichai's conversation with InfoEdge CEO, Hitesh Oberoi.
1) He was ragged in college.
Pichai said that the ragging was pretty mellow, but he'd had his fair share of it. As a freshman, he once came back to find everything, including clothes and furniture in his hostel room, rearranged despite the door being locked. "I was made to carry baggage across the railway platform at Kharagpur station by my seniors -- and it is a long platform." he recalled.
2) He accidentally addressed his college staff as abbey saale.
Pichai recalled a language faux pas that he made just a couple of weeks after joining college. "I came from Chennai," he said. "I had learnt Hindi in school but I never spoke it much. Listening to others speak in my first two weeks in college, I thought you address people as abbey saale. One day, I called someone in the mess, abbey saale. The next I thing know, the folks in the mess were quite upset and temporarily shut it down."
3) His leadership style focuses on empowering others.
As a leader, Pichai emphasises the importance of delegating responsibility and teamwork. "When you're running something at the scale of Google with 60,0000 people, you rely on other strong leaders. It is learning to let go and empowering people at all levels of the organisation," Pichai said. "It is less about trying to be successful and making sure you have good people and removing barriers to their being successful."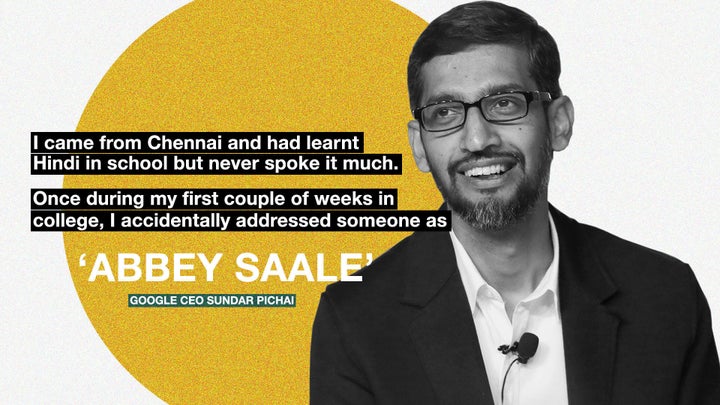 4) His Google job interview was on April Fools' Day.
Pichai revealed that his Google job interview was on 1 April or April Fools' Day. "Google had just announced Gmail and it was invite-only, and people weren't sure if it was an April Fools' joke," Pichai recalled. "During the interview, people kept asking me what I thought of Gmail and in my first three interviews I couldn't answer it well. During my fourth interview, someone showed me Gmail and then I was able to tell them what I think of it." Pichai also joked that he was selected by Google because he was one of the first not to be interviewed by Google founder, Larry Page.
5) Why he switched from metallurgical engineering to computers.
Though he studied metallurgical engineering, Pichai said that he had pursued programming on the side. "I look to do something that I like doing," he said. "I always wanted to build computing products which could reach many, many users and that's what I've been focused on."
6) He bunked classes like everyone else.
Pichai admitted that he had his share of late nights and missing morning classes. "It is the rite of passage of going through college," he said. "I worked hard but we did have our share of fun as well."
7) He saw his first computer when he came to IIT.
Pichai spoke of how he didn't have a computer and even a phone at home while growing up. He saw his first computer only when he came to IIT Kharagpur.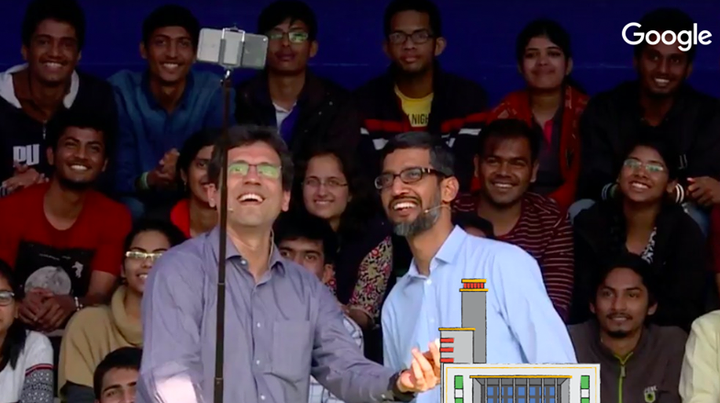 8) He boarded an aeroplane for the first time when he went to US.
The first time Pichai travelled on a plane was 20 years ago, when he flew to the US for higher studies at Stanford University. "Much has changed in India, over 100 million people fly annually now," Pichai said.
9) He watches Koffee With Karan.
At the beginning of a rapid fire interview section, Pichai said that he knew about the popular show Koffee With Karan and watched it on YouTube "now and then".
10) His favourite actress is Deepika Padukone.
Having hosted Shah Rukh Khan and Deepika Padukone at the Google headquarters once, Pichai counts the actress as his favourite. He also said that he enjoyed watching her father Prakash Padukone play badminton.
11) He still watches cricket.
Despite his busy schedule, Pichai said that he still takes out time to watch cricket, though he wasn't good at playing the game himself. While Pichai counts Gavaskar and Tendulkar as his favourite players, he's also a Kohli fan. "Watching Kohli through the last year has been incredible," Pichai said.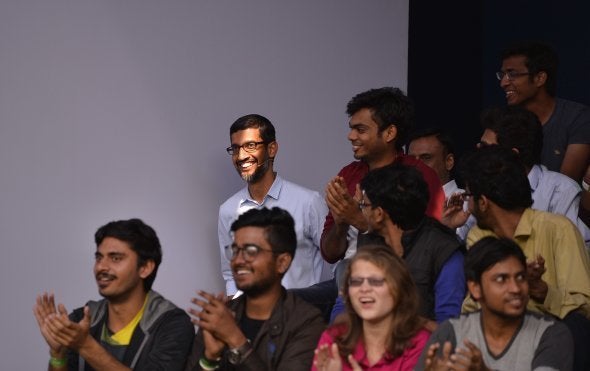 12) Narayan Murthy was one of his idols in college.
Infosys co-founder Narayan Murthy was one of Pichai's idols during college. "I admired people like that who put India on the world map," he added.
13) How he romanced his wife Anjali on campus in the pre-smartphone days
Pichai met his wife Anjali in college. She was his classmate, and Pichai recalled difficult it was to call her from Sarojini Naidu Hall, the only women's hostel in the college. "If you had to get someone from the girl's hostel, you had to request someone in the front office to call them from inside. So they would call them loudly, 'Anjali, Sundar is here to see you'. It wasn't exactly a pleasant experience."
14) He thinks students should look beyond academics.
Pichai stressed on the need for the Indian education system to move beyond books and academics. "Academics is important but not as important as it is made out to be," Pichai said. "There is pressure to follow set lanes. Yet, it is important to get real-world experiences. I would like to see people take risks, value creativity and try different things."
15) He's excited about machine learning and Artificial Intelligence.
Pichai spoke about why he is investing a lot in Artificial Intelligence and machine learning, and its application in fields such as health. "The biggest advances you're seeing is largely due to the techniques we use in deep neural networks [that] have been around for many years, but earlier on they weren't that effective. You did not have the computational power to run these algorithms," Pichai said. "Now you get dramatic breakthroughs."