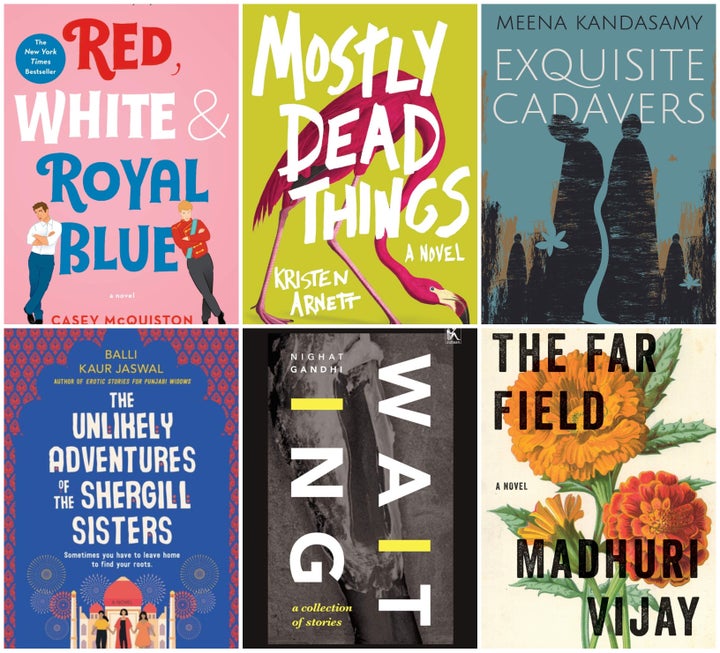 This is my favourite time of the year—making lists of favourite books, celebrating the end of a year of reading and looking forward to the next year's delights. 2019 was a sweeping tumble of summer releases, and gripping non-fiction (Catch and Kill by Ronan Farrow, if you must pick one, and here are more). We've split the best books of the year into two—there's also a fantastic list of translations to warm your bookish heart. This list, of the English novels I enjoyed most this year, includes a Bombay novel, time travel, a queer love story, experimental books and door painters.
1. Mostly Dead Things by Kristen Arnett
A Florida novel with a dead taxidermist, his wife who reimagines (and destroys) his stuffed animals into lewd, raunchy, erotic art, and a brother-sister duo in love with the same girl. I loved Mostly Dead Things for many reasons—the claustrophobic grief, the unsettling atmosphere, the lustrous sentences—but mostly because I couldn't stop reading.
With a gloriously interconnected narrative featuring the residents of a dilapidated building in a Catholic neighbourhood of South Bombay, Borge's debut is a romp through seven decades of Mumbai. Riotously funny—I broke into loud laughs at several chapters—and peppered with fascinating historical bits, this Bombay novel is for keeps.
3. Supper Club by Lara Williams
A secret club where women meet to whet their hunger, 'eat like a bear', dance, sometimes ending with topless nights, sex or drugs. Supper Club was an explosion on my senses whether it be the descriptions of food (torn doughnuts, smashed meringue), cooking tips (how to caramelize onions, sourdough starter basics), the process (mopping sauce, massaging tuna) or the horror (self-harm, rape). This carnal novel reeking of debauchery is pure pleasure. Be warned that your reading sessions might end with ravenous appetites and unsatisfied glances at your own plate.
4. The Heavens by Sandra Newman
I've been recommending The Heavens to everyone I know online and offline—it is fantastic, original and unlike anything I've read. Kate lives in New York with its beautiful summers and lavish parties but in her dreams she is a mistress in Elizabethan England—the 'Dark lady' of Shakespeare's sonnets. She believes that her actions of the past can avert disasters in the present world. Glitzy, dizzying, this is definitely my book of the year.
5. Red, White & Royal Blue by Casey McQuiston
After a public scuffle that destroys a $75,000 royal wedding cake, Alex, the son of the President of the United States, and Henry, the royal prince of Wales, are forced to sign NDAs, fake a friendship and smile for the cameras to save the political image of their families. After contract-imposed Instagram uploads, unexpected 2 am phone calls and Snapchat flirting comes love! Cutesy, funny and the most adorable couple of the year.
The characters in Gandhi's short story collection are all kinds—strong, docile, judgy, spiritual—bare of stereotypes and as real as the woman next door. They worry about shaving, take pouted selfies, think about 'what to cook' and laugh at the interdependence between house work and sex. This is my favourite women-centric short story collection in recent years.
7. The Unlikely Adventures of the Shergill Sisters by Balli Kaur Jaswal
This book was hilarious, reminding me of my own sisters—the fights, hugs and all. Three British sisters of Punjabi origin—a school principal who craves discipline, a struggling actress and the youngest who chose an arranged marriage—are thrust together on a pilgrimage through India, much to their dismay, because of their late mother's dying wish. The trio navigates sex talks, lassis marketed as exotic drinks, detectives trailing prospective brides, patriarchy and protests, and prise open old wounds and secrets.
8. Girl in White Cotton by Avni Doshi
The mother daughter duo with similar sounding names—Tara who has started to forget things and Antara who isn't at peace with their shared history—made me lose sleep. I felt the panic of seeing oneself reflected in the other, debated 'do daughters become their mothers?' and sunk into Doshi's portrayal of the agony of being loyal—to a parent, art or yourself. My copy is dog-eared and has plenty of pencil marks—I loved it.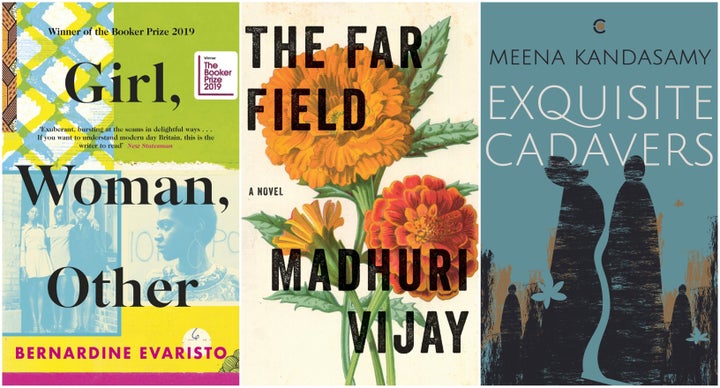 9. Exquisite Cadavers by Meena Kandasamy
Written as a reply to the reception to the brutal When I Hit you, Kandasamy plays with form in this short novella. Two parallel narratives grapple for attention—the fictional life of a couple in London and the authorial comments on the margins about the process of creating fiction—tucking into one another and teasing the reader on what to read first.
10. Girl, Woman, Other by Bernardine Evaristo
Twelve voices (young, old, non-binary; in modern-day Britain) merge into a symphony of prose, verse and scanty punctuation. Domestic (mothers, daughters), professional (playwrights, bankers) and political (socialism) ideas jostle for space in this sprawling account of human lives, gender, identity and fluidity of time. In a turn of (disgraceful) literary news, the BBC recently referred to Evaristo—who is in fact the first black woman to win the Man Booker Prize (jointly with Margaret Atwood)—as 'another author' instead of using her name. Perhaps this is what she set to prove with her pullulating, ambitious novel after all—people matter.
11. Bunny by Mona Awad
A trippy, hypnotic read that makes you go 'What just happened?'—this horror story set in a prestigious university's MFA group (with a Mean Girls cast who call each other 'bunny') is absolute bonkers. Cupcakes, decapitated heads, rituals, collective cult memory, rabbits that stare—I know I am not making sense but that's exactly the crazy package Bunny offers.
A young woman from Bangalore goes on a solo trip to the northern region of Kashmir to find a salesman who is connected to her childhood (and mother) for answers. I read this doorstopper over many months—disagreeing, questioning, feeling the warmth as a guest in an alien land, and eavesdropping on conversations trussed with politics. This isn't a book for everyone, especially those piqued by slow turn of events.
Choudhury's debut, published posthumously, astonished me with its scope—the life story of a man who has disappeared shares space with the history of Bangladesh. Often pedantic, sometimes slipping into magical realism, Babu Bangladesh! glimpses at cultural (migration, Tangail saree-making, spirituality) and political history with ample footnotes.
14. The Starless Sea by Erin Morgenstern
If you loved The Night Circus, (or even if you didn't), the second Morgenstern novel was well worth the wait of eight years. The Starless Sea is a delight with painted secret doors, clues in libraries, masquerade parties, door handles hanging from the ceiling, and huge ships. It begins with a boy finding his own story in a library book and then expands into many stories­ featuring fortune tellers, key collectors, chosen acolytes, video game enthusiasts, and pirates.
15. Crafting the Word edited by Thingnam Anjulika Samom
Zubaan's twin books of writings by women from north east India are as stunning as they look. Crafting the Word is a collection of stories, poems and a graphic story—mostly translated from Manipuri—that explore desire, abuse, and women's place. It begins with an essay on the history of Manipuri literature. Within the short stories, we meet a mother trying to write a seminar paper in between domestic disruptions, a widow who is attracted to a kwa (paan) seller, queer love that's frowned upon, and a husband trying to cook since his wife is having her periods and hence impure. The Many that I am, edited by Aningula Zoe Longkumer, an anthology of writings from Nagaland is just as enticing—I urge you to read both.