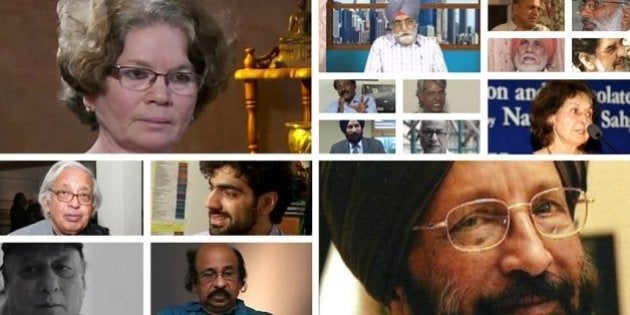 NEW DELHI -- Nine more writers returned their Sahitya Akademi awards on Sunday, citing stifling of freedom of speech under the present government. Now the tally of those who have lodged their protest at the Akademi is 15, not including Kannada author Aravind Malagatti, who resigned from the Akademi's general council yesterday. This number is expected to cross 20, with more authors gearing to return their awards.
"We clearly see a threat to our democracy, secularism and freedom. There have been attempts to curb free speech earlier also, but such trends have become more pronounced under the present government. These are visible all over," said Hindi poets Mangalesh Dabral and Rajesh Joshi to The Indian Express.
It all began when Hindi writer Uday Prakash returned his award last month over the the murder of author M M Kalburgi. "Kalburgi's murder has shaken the writer inside me," he wrote in a Facebook post where he announced he was returning the award. "Now is not the time to remain silent and hide in safety. Otherwise these threats will become bigger for us."
The writers are protesting against recent incidents that have threatened free expression in the country, including the brutal murder of a 52-year-old Muslim man in Dadri for allegedly slaughtering a cow and eating beef.
Besides Prakash, Dabral and Joshi, writers who have returned their awards include renowned Vadodara-based literary critic Ganesh Devy; Konkani writer N Shivdas; Kannada writer Kum Veerabhadrappa; and authors Gurbachan Singh Bhullar and Waryam Singh Sandhu, and playwrights Ajmer Singh Aulakh and Atamjit Singh from Punjab.
"It is with utmost regrets that I would like to convey to you that I wish to return the 1993 Sahitya Akademi Award... I do this as an expression of my solidarity with several eminent writers who have recently returned their awards to highlight their concern and anxiety over the shrinking space for free expression and growing intolerance towards difference of opinion," Devy said in his letter to the Akademi.
Writers have accused the Akademi of maintaining silence over recent incidents that have threatened freedom of expression in India. "A week after his killing, I participated in a seminar organised by the Sahitya Akademi. I was quite dismayed to see that the seminar began without a word of reference to the recent attack on a scholar honoured by the Akademi," said Devy.
Even as Sahitya Akademi chairperson Vishwanath Prasad Tiwari came out with a statement saying the apex literary body stands for freedom of expression and condemns attack on any writer or artist anywhere, he told Indian Express that he couldn't make a "statement against the government". "We also condemn the attack on writers. But before making a statement against the government I need to consult the executive board. I will take up the issue at the board meeting of the Akademi," he said.
Now, Kashmir's literary body Adabi Markaz Kamraz (AMK) has asked its awardees to stand in solidarity with these authors and question the Akademi's silence.
Earlier, writers Nayantara Sehgal, Sara Joseph, Ashok Vajpeyi, and Aman Sethi also returned their awards. Meanwhile eminent poet and writer K Satchidanandan also resigned from all committees of the Sahitya Akademi, saying the literary body had "failed" in its duty to stand with writers and uphold freedom of expression.



Popular in the Community