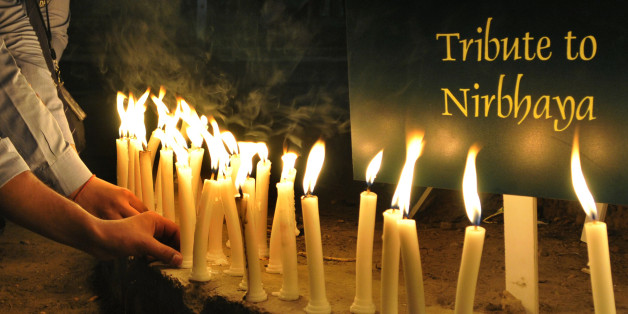 Does it get easier to cope with the heartache of losing your daughter after two years? "No," said Badrinath, father of the 23-year-old physiotherapy student who died tragically in December 2012, and has been since known as Nirbhaya - the Fearless One.
Nirbhaya died two weeks after she was brutally gang raped in a moving bus in Delhi on December 16, 2012, by five men and a minor. She and a male friend, who was also beaten, were thrown off the bus in a nearly naked state.
"People think it gets easier but not a minute goes by when she is not in my thoughts. But we continue living to honour her courage," he said on the second anniversary of the gang rape that horrified the world.
Before she succumbed to her injuries, Nirbhaya's bravery had stirred the nation out of apathy. The 23-year-old had fought the men who assaulted her with an iron rod and she gave her testimony to the police while fighting for her life in hospital.
The deadly attack, which set off massive demonstrations to demand justice for Nirbhaya and safety for women in India, led to the enactment of stringent rape laws and the setting up of fast track courts to deal with cases of sexual assault. In 2012, four adults were given the death penalty in the Delhi gang rape case, one died in prison and the juvenile received three years imprisonment in a correction facility.
The nation came to know Badrinath, 55, as the airport luggage loader who had worked extra shifts to fulfill his daughter's dreams of studying after school. He has often spoken about being more proud of his daughter than his two sons (one is studying engineering and the younger one is in school). "I had pinned our family's future on my daughter's success," he said.
Badrinath now lives with his family in a middle income flat allotted by the Delhi government in the suburb of Dwarka. They received 35 lakh rupees of compensation from the governments of Uttar Pradesh and Delhi. He now has a less physically taxing job of making security passes for entry into the airport.
His fight for justice continues. In March, the Supreme Court rejected Badrinath's petition for prosecuting the juvenile convicted in the gang rape as an adult.
Badrinath, who refiled his petition to the Supreme Court, said that he welcomed the Modi government's decision to amend the juvenile law to punish 16- to 18-year-old offenders in heinous crimes as adults (with the exception of the death penalty) - a move opposed by human rights groups.
"There was nothing child like about what that boy did," he said. "They do these things because they know the law will protect them from harm."
The families of the convicted live in quiet obscurity. The family of the convicted gym assistant, Vinay Sharma, is suffering financially. His father is still a luggage loader at the airport. The 3000 rupees, which Vinay earned every month from the gym, was mostly spent on medication for his diabetic younger sister. She had surgery this month but the family cannot afford to pay for medicines.
Champa Devi said that living would be impossible if she dwells on the death sentence hanging over her son's head. She hopes that his sentence will be reduced. "He is very quiet when I visit him in jail. He just asks about how everyone is doing at home," she said.
Vinay, a college student, lived with parents in Ravi Das camp in south Delhi, which was also home to three other accused: Ram Singh, who was found hanging in his prison cell in March, last year, his brother Mukesh and Pawan Gupta, the son of fruit sellers.
When protesters were demanding the death penalty for the accused men during the Delhi demonstrations, Champa Devi said that they had been frightened but their neighbours in Ravi Das camp never ostracised them completely. "Every morning, I pray for a few minutes that I'm waking up for a nightmare and that I will see Vinay watching cartoons with his siblings," she said.
Two years after the gang rape, Badrinath isn't sure whether his daughter's death and the unprecedented public movement have made a difference. He talks about the Uber rape case as another shocking example of how dangerous the city remains for women.
"My pain increases every time I hear of another rape. Delhi has not changed," he said.
Calling all HuffPost superfans!
Sign up for membership to become a founding member and help shape HuffPost's next chapter