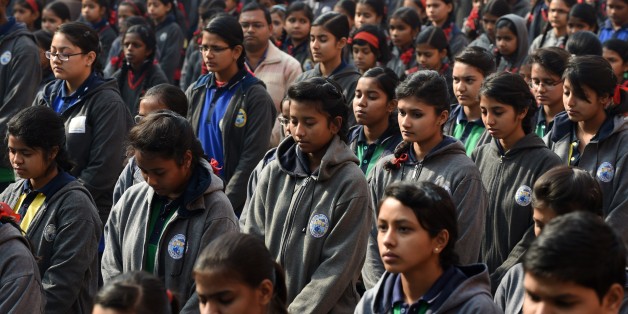 More than half of the country's youths want India under military rule. Over 65 percent people polled want a ban on boys and girls belonging to different religions meeting in public places.
These are just some of the disturbing findings of Yuva Nagarik Meter, a national survey covering 11 cities and over 10,000 students, conducted by Children's Movement for Civic Awareness (CMCA) and the Indian Market Research Bureau (IMRB).
The survey examined the youth's attitude to diversity, social justice, gender equality and environmental conservation to give an insight into their civic sense.
A majority of youths are ignorant about basic civic issues like democracy, rule of law, human rights and election. Only 35 percent of high school students consider themselves citizens of India. Nearly three fourth do not know that the legislature is responsible for enacting laws.
Fifty percent of college students are intolerant of migrant workers from other states, while 49 percent of students believe that household help do not have the right to demand minimum wages.
"We are so focused on creating economic actors through our education. Nobody is looking at the sole purpose of education i.e. to make them humane citizens."
"The findings confirm our fears about the kind of education we are providing to our youth, or the informal political socialisation processes that are influencing them," Dr. Manjunath Sadashiva, director of CMCA, told HuffPost India. "We are so focused on creating economic actors through our education. Nobody is looking at the sole purpose of education i.e. to make them humane citizens," he added.
#YuvaNagarikMeter reveals 41% youth agreed that women have no choice but to accept violence Read detailed results >http://t.co/8v6Zlybe6Z

— cmca (@indiacmca) January 22, 2015
Students scored a low 23 percent on diversity and social justice on the Yuva Nagrik Meter, and 10 percent on gender equality, a sign that stereotypes that have existed for a long time are still readily internalized and accepted by both men and women.
"Globally, gender equality and empowerment is one of the critical requirement for human development. The findings show that girls are equal participants against their own empowerment and emancipation," Sadashiva said.
The research is in line with a 2013 Hindustan Times youth survey where more than 50 percent of the youth agreed that India would be better off in a dictatorship. In a democracy, dissolution and cynicism with political leadership may lead to change of regimes, which is good. "But if this dissolution is so deep, it can lead to a very dangerous system where some political party may take a cue from this," he added.
India ranks 116th out of 142 countries on gender equality according to the Global Gender Gap Report 2014 published by the World Economic Forum. India has more than 50 percent of its population below the age of 25 and more than 65 percent are under 35 years old.
Yuva Nagrik Meter is a national study covering 10542 youth and 757 social science teachers. Field research was conducted between March and September 2014 across 330 secondary schools across 11 state capitals by social research institute IMRB.
Calling all HuffPost superfans!
Sign up for membership to become a founding member and help shape HuffPost's next chapter