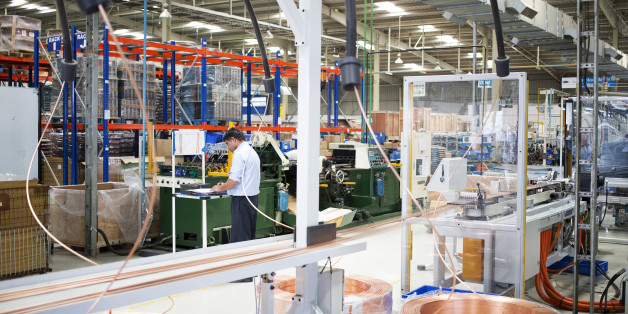 Revising growth figures is not new or out of the ordinary. The Indian government's statisticians do this exercise every five years with changed base figures and adding new sectors which did not feature before, to reflect a more realistic state of the economy. But this time, the revised figures have thrown up more questions than answers.
Figures released on January 30th show that the economy surged 6.9 percent in 2013-14, way above the previous estimate of 4.7 percent. The reason given by statisticians for this difference is that the base year has been changed to 2011-12 instead of the earlier base of 2004-05. The methodology also changed to reflect market prices, which includes indirect taxes levied on products and services, instead of factor costs, which do not include taxes. The revised formula also includes sectors such as smartphones and modern electronics that grew much faster post 2004-05.
By the same yardstick, revised estimates for 2012-13 figures now show a GDP growth of 5.1 percent, again higher than the earlier estimate of 4.5 percent. So the Manmohan Singh government seems to have delivered more than it could itself take credit for, because the work of the revision started during their rule but the results can be seen only now.
Unusually High Growth
However, there is a problem. These revised growth figures are not making sense, because the acceleration in growth in 2013-14 seems unusually high at a time when local and international conditions were not favorable. Recall that in early 2013, the U.S. Federal Reserve had hinted it would start tapering quantitative easing. The Indian currency plunged, as investors fled to safer pastures and were wary of getting stuck in emerging markets with large deficits. To prevent a downward spiral, the government moved to restrict gold imports, raise interest rates and reduce spending. Inflation was high, and domestic demand suffered. The revised figures say the economy did way better during these conditions than the year before, when the environment was more favorable.
"The GDP calculations got magnified because of changing base to market prices, which incorporates indirect taxes, and additions of new sectors and products," said P.N. Mehrotra, a professor of economics at Allahabad University. "That said the revised growth estimates for 2013-14 is surprisingly high, and I think statisticians will come out with further revisions to this figure."
A Morgan Stanley report by Chetan Ahya says that the growth acceleration in 2013-14 is inconsistent with other indicators, such as the government's revenue growth, which is normally in sync, and questions the quality of the data used to calculate revised figures.
An analysis by Breakingviews shows that the revised calculations suggest that the dip in imports during that time was also accompanied by significant growth, which is unusual because slowing imports ordinarily indicate lower economic activity. In fact, this has never happened in a large economy, according to an analysis of 189 nations over 33 years.
It remains to be seen if statisticians will revise their conclusions. If that is done, the new GDP growth figures will still remain higher than previously estimated but at a more realistic level of growth. And that would mean that the 'achhe din' of Narendra Modi's election campaign, where he promised higher growth, was already delivered by the last government.
Calling all HuffPost superfans!
Sign up for membership to become a founding member and help shape HuffPost's next chapter