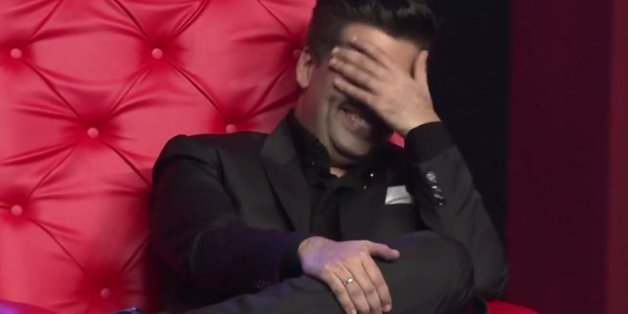 The irony is strong in this one.
Censor Board member and social activist Ashok Pandit was so upset with the 'obscene' language used during the roast of Arjun Kapoor and Ranveer Singh that he tweeted an obscene message targetting director Karan Johar who was the roastmaster of the show.
As tweets poured in, both in solidarity and in protest, days after the videos of the now-viral All India Bakchod Knockout roast for charity were released on YouTube, Pandit crashed the discussion on Twitter with a tweet insulting Johar. The newly re-constituted censor board, a censorship and classification body for films in India, is headed by Pahlaj Nihalani who has openly declared his allegiance to the ruling Bharatiya Janata Party and vowed to clean up films.
The controversy is far from over. The Maharashtra government has ordered a probe into the content of the show.
Karan Johar could have easily shown his position while performing sex to his mom at home instead of making it public.#AIB Porn Show.

— Ashoke Pandit (@ashokepandit) February 3, 2015
He had also posted several other tweets about the roast, criticizing the show and the script, while supporting the government for cracking down on comedy content he referred to as 'porn'. The All India Bakchod Knockout involved India's best comedians to take downKapoor and Singh in front of a live audience at Worli in Mumbai.
Did the police give permission to #AIB even after they knew what B stands for?#Bakchod.

— Ashoke Pandit (@ashokepandit) February 3, 2015
Was the script of #AIB which was a stage play approved by the Authorites which approve plays.?

— Ashoke Pandit (@ashokepandit) February 3, 2015
I support #MaharashtraGovts inquiry into #AIB a porn show on stage.

— Ashoke Pandit (@ashokepandit) February 3, 2015
Pandit's tweet has stirred things up on Twitter, with several people questioning the language used in the tweet of a censor board member. Meanwhile there has been no response from Karan Johar yet.
@ashokepandit Events like #AIBRoast should be banned..those morons who r intreasted in such event shoud do it privately..

— Parag Shende (@paragshende) February 3, 2015
@Jayshah18285 @rjsunilvarma Same with AIB! Debate surrounding it will make ppl think whats best. Now like a good boy condemn Ashok Pandit

— A Dhanvantri (@ADhanvantri) February 3, 2015
@rjsunilvarma Let AIB First apologize @ADhanvantri

— Jay Shah (@Jayshah18285) February 3, 2015
#AIB = Ashok (pandit) Is Bakchod. #AIBKnockout #AIBRoast

— Saduq Rizvi (@SaduqRizvi) February 3, 2015
@AmyKazmin @svaradarajan what nonsense! If AIB uses same/similar words, it's FoE but if Ashok Pandit tweets similar words lets outrage!

— Amarjeet (@AmarjeetK_) February 3, 2015
If karan johar and AIB gang has freedom of expression and can say anything , shouldn't ashok pandit have the same? #justsaying

— Chintan Shah (@Chin512) February 3, 2015
Ashoke Pandit's tweet on @karanjohar unacceptable.GoI must think if it wants such ppl who ought to b censored in Censor Board!! @thetanmay

— Shehzad Poonawalla (@Shehzad_Ind) February 3, 2015
@arunjaitley is a gentleman amazing that he was forced to appoint sick minded filth like Ashok Pandit to censor board. Calibre? @karanjohar

— swati chaturvedi (@bainjal) February 3, 2015
Ironically, the people who have been the most vocal against the language used during the roast — colourful expletives, personal insults, jokes about skin colour and weight and innuendos — have used abuses and expletives themselves to condemn the comedians.
Roasts, as a genre, is new to India and the AIB show has started a lively discussion on Twitter about creative license.
Calling all HuffPost superfans!
Sign up for membership to become a founding member and help shape HuffPost's next chapter