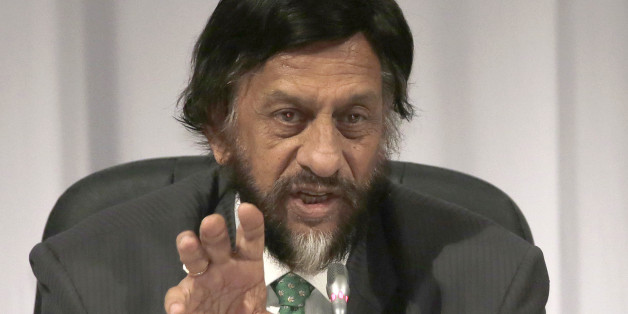 NEW DELHI: A second woman has come forward saying she was victim of sexual harassment at the hands of Rajendra Pachauri when she worked with him at The Energy and Resources Institute in 2005.
The new charges come within a week of the first such complaint against him, following which police launched an investigation against Pachauri under criminal and non-bailable charges. In the first complaint, a 29-year old subordinate has alleged that the scientist made physical advances and sent messages seeking a sexual relationship on email, whatsapp and text messages over a period of a year and a half.
Pachauri, the 75-year-old chairman of the United Nation's Intergovernmental Panel on Climate Change, has cancelled a trip to Nairobi, where he was scheduled to chair a meeting of the IPCC, which is at the heart of the global effort to reach a consensus on emission curbs next year in Paris.
The second complainant, who has not approached the police, gave a public testimony via her lawyer, Vrinda Grover. Grover read out parts of her testimony at a press conference and said there was a clear pattern of workplace sexual harassment at TERI by Pachauri and people at the organization has knowledge of it.
"This is not the only time he has committed or the only woman who he has committed sexual harassment at the workplace against [sic]," she told journalists. "I make this statement with complete responsibility... There is a pattern of sexual harassment, misconduct with women employees, women staff...," she said.
Pachauri's office did not respond to a request for comment.
According to Grover, a woman who worked in TERI in 2005, reached out to her after reading newspaper reports of the allegation against Pachauri. Grover read out part of a public testimony from this anonymous complainant, who has alleged that Pachauri's behaviour was sexually charged and inappropriate towards her and other women colleagues on multiple occasions during her tenure at TERI, and that she had unsuccessfully tried to lodge an internal complaint on the matter at the time.
Pachauri's office informed the media today that he will not be travelling to Nairobi for the IPCC meeting. Earlier, the lawyers of the first complainant had moved a request to the Delhi police asking that he be disallowed from leaving the country. Pachauri is expected to approach a district court for anticipatory bail on Monday. He has interim protection from arrest till then from the Delhi High Court.
Full Text Of Statement From RK Pachauri's Office:
The Chairman of the IPCC, Rajendra K. Pachauri, PhD, has informed the IPCC that he will be unable to chair the plenary session of the IPCC in Nairobi next week because of issues demanding his attention in India.

Dr Pachauri is committed to provide all assistance and cooperation to the authorities in their ongoing investigations.

Spokesperson for Dr R K Pachauri
Pachauri's term as chairman will end this October when the IPCC will elect a new chair at a session planned for October. Pachauri was first elected as the panel's chair in 2002, will not stand for a third term, Reuters reported.
Pachauri is a globally influential voice on climate change and received the Nobel Peace Prize on behalf of IPCC in 2007.
The first complainant has worked in Pachauri's office for the past year and a half, and registered a complaint against him last week, alleging that he had sexually harassed her since September 2013. A first information report (FIR) was registered in the Lodhi Colony police station in Delhi on Wednesday.
Calling all HuffPost superfans!
Sign up for membership to become a founding member and help shape HuffPost's next chapter