NEW DELHI — More than two years after brutally raping and murdering a 23-year-old girl in a moving bus, the driver of the vehicle, Mukesh Singh, remains defiant and unrepentant. In bizarre comments made from a prison where he is held, he has blamed the girl, immortalised to most Indians as 'Nirbhaya', for being outside home at a "late" hour, and holds her responsible for the gruesome incident.
"You can't clap with one hand--it takes two hands. A decent girl won't roam around at 9 o'clock at night. A girl is far more responsible for rape than a boy," he told BBC in an exclusive video interview. "Boy and girl are not equal. Housework and housekeeping is for girls, not roaming in discos and bars at night doing wrong things, wearing wrong clothes. About 20 per cent of girls are good."
The interview is part of a BBC documentary which will be aired on Sunday, March 8, on International Women's Day.
Mukesh's comments to BBC reveals a deeply regressive but pervasive mindset in parts of India that blames the victim for rape. Women are routinely admonished for wearing "inappropriate clothes" or "bringing it (rape) upon themselves". Mukesh goes a step further—he says Nirbhaya should have not fought back but "submitted herself quietly" to the rape.
"When being raped, she shouldn't fight back. She should just be silent and allow the rape. Then they'd have dropped her off after 'doing her', and only hit the boy," he told BBC.
Mukesh has apparently told BBC that Nirbhaya and her friend were assaulted to "teach them a lesson" since they were out together late at night.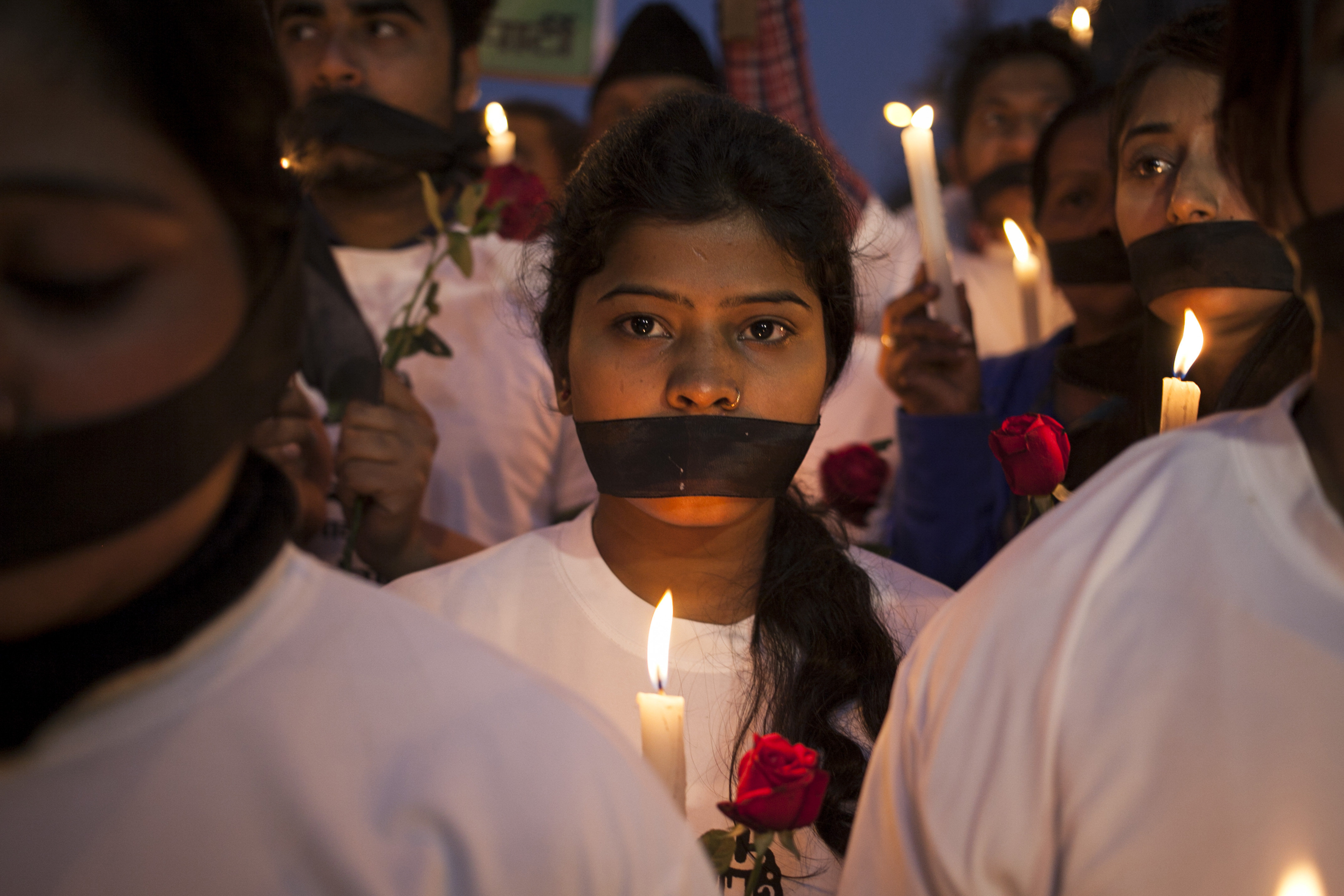 Read: 848 Indian Women Are Harassed, Raped, Killed Every Day
Two of the defence lawyers—AP Singh and ML Sharma—have also been interviewed for the documentary. Both of them have said earlier that women were to blame for such incidents. Singh has gone as far as to say that if his daughter or sister were to have pre-marital sex, he would burn them alive.
Mukesh is one of five people convicted of the brutal gang rape and murder. He and three others have appealed their death sentence in a higher court. His brother, Ram Singh, was found dead in a prison cell while on trial. The juvenile among the five men was convicted to three years in a reform facility.
The extreme brutality to which Nirbhaya was subjected to, in a moving bus on the roads of the national capital, had shaken the nation and sparked off a popular protest movement for stricter laws and gender equality. Criminal law was amended afterwards to institute stricter punishments for sexual assault and rape.
In 2013, over three lakh women were kidnapped, raped, molested—and in extreme cases, killed—by men across the country. That's almost a 27 percent increase since 2012, when Nirbhaya was attacked.
According to data from the National Crime Records Bureau—the government agency that keeps track of the country's crime rate—cases of violent abuse of women have steadily increased since 2009. By 2013, the number of such cases has increased by over 50 percent. That's over 848 women who are either harassed, raped or killed after abduction every single day. Some are sold off to traffickers.
Mukesh's views, it seems, are neither isolated nor exceptional.
A recent survey of high school and college students showed that 44 percent believed that Indian women have no option but to accept a certain degree of violence. According to the study, another 55 percent were of the opinion that women dress and behave in certain ways "to provoke violent reactions from men".
Calling all HuffPost superfans!
Sign up for membership to become a founding member and help shape HuffPost's next chapter