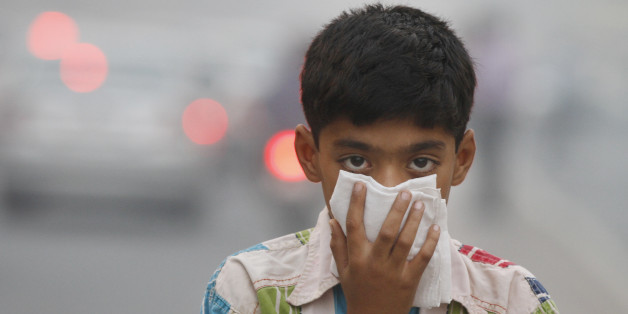 Morning Wrap is HuffPost India's selection of interesting news and opinion from the day's newspapers.
After books and documentaries, the Union government now wants to censor pollution data with Delhi's designated pollution-monitoring agency being rapped for releasing "raw" or "unedited" air quality data on its website. In a meeting last week, the Union environment ministry has now decided that data from Delhi, which is now considered among the most polluted cities in the world, will be "validated" by the Central Pollution Control Board (CPCB) and subject to"quality control" mechanisms before being made available online.
Notwithstanding the storm over the release of Hurriyat hardliner, Masarat Aslam, a key aide of chief minister Mufti Mohammad Sayeed today said the PDP-led government was determined to free more separatists.
After being the refuge for Tata's Nano, Modi, who is soon to visit Sri Lanka, may now have to again play guardian angel for the Tata group, after the conglomerate's forthcoming $400 million housing project in Srilanka, has come under "review" amidst public concerns.
The 'Uber' rich in India are set to increase significantly as Indian billionaires are expected to double to 136 by 2024 from 68 in 2014. This will catapult India to number four by 2024 from number seven globally in terms of number of billionaires with only the U.S., China and Russia ahead.
The Prime Minister's Office has refused to disclose details of correspondence between Narendra Modi as Gujarat CM and then-PM Atal Bihari Vajpayee during the 2002 Gujarat riots, saying "concerned third parties" have said the information is of "confidential nature." It isn't clear, however, who these "third parties" are.
Apple Inc. will begin selling Apple Watch, its first new product in five years, with the high-end model starting at $10,000, expected to hit stores April 24th.
Fears that the US Federal Reserve might increase lending rates sooner than expected led to a sharp decline in Indian equities on Monday, with the benchmark indices recording their sharpest fall in about two months. The BSE Sensex lost 604.17 points, or 2.05 per cent, to close at 28,844.78, its steepest fall since January.
Early indications do not look too good for the monsoon this year, with the US and Australian meteorological agencies predicting 50-50 chances this summer of an El Nino, the unusual weather pattern that often weakens rains in India.
Essential HuffPost
After a reprieve from her government, a German professor has apologised about an email she sent a male Indian student denying an internship in her lab, citing India's "rape problem."
England was knocked out of the World Cup by a spirited Bangladesh who grabbed a quarter-final spot following their narrow 15-run victory in a tight Pool A match in Adelaide on Monday.
The gracious Tendulkar shows us how he could also be wily.
A Tamil news channel, Puthiya Thalaimurai, has upset Hindu groups over an episode of talk show Urakka Sollungal that debated the relevance of the mangalsutra or the 'thaali' (as it is called in Tamil).
Off The Front Page
Solar Impulse, claimed to be the world's only solar-powered aircraft, will halt in Gujarat on Tuesday as a part of its maiden global journey. It will then head to Varanasi as part of its global circumnavigation.
A year after the mysterious disappearance of Malaysia Airlines Flight 370, a comprehensive report says that the assigned air traffic controller (ATC) on the day of the incident was asleep when a call was made some four hours after the aircraft went missing.
The CBI has asked the Trinamul Congress to answer questions on the party's earnings from paintings - a topic that touches a raw nerve in the ruling West Bengal establishment. PM Narendra Modi has frequently criticized the sale of Mamata's paintings as being a cover for dubious funding practices.
To make Delhi a WiFi city this year, the Delhi government plans to convert a fifth of the city's electricity poles into "smart poles" on which WiFi antennas may be mounted. This will minimise the use of land and government funds, officials said.
Opinion
Sanjay Hegde points out, in The Hindu, that court had only restricted the airing of the convicts' interview and not the whole of Leslee Udwin's Nirbhaya documentary.
Arvind Panagariya, in the Business Standard, forcefully pitches for the controversial Land Acquisition Bill saying that its amendments are a "win-win proposition."
Kapil Sibal criticizes the ongoing auction of coal blocks in The Indian Express as revealing " an utter lack of understanding of the rationale behind auctions and the public purpose that the use of natural resources is meant to serve..."
Devi Kar wonders in The Telegraph, if rewards may be as harmful as punishments to educating school students.
Calling all HuffPost superfans!
Sign up for membership to become a founding member and help shape HuffPost's next chapter