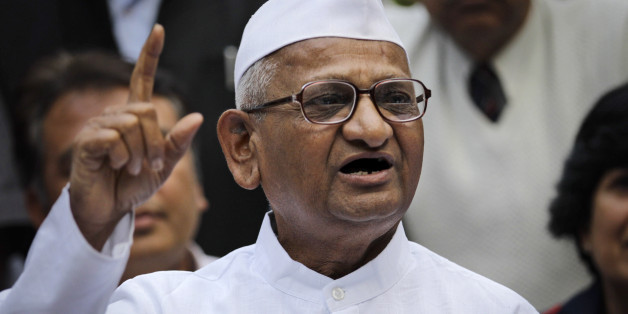 NEW DELHI — Countering Prime Minister Narendra Modi's remarks on the Land Acquisition Bill on Sunday, social activist Anna Hazare has accused him of misleading farmers.
The Anti-corruption crusader took on the Prime Minister for his remarks on the bill, saying that the latter was looking at the world through coloured glasses.
PM Modi had addressed farmers on the sixth edition of his radio programme 'Mann ki baat' on Sunday, claiming that the bill was made for people's welfare. He had hit out at Congress, which has been fiercely vocal against the NDA government's amendments to the bill, saying Congress only gave half the compensation it had promised farmers in the old bill.
Hazare made a statement soon after the radio broadcast of Modi's speech, asking the Prime Minister to conduct a survey of the country's land and categorise it. "The Union government is trying to mislead farmers and its own bill is deceptive. The government is lying to the farmers while claiming that it was safeguarding their interests," he said, according to a TOI report.
"The government is tweaking the law to benefit the corporates and bring 'achhe din' for them," he added. "If there is anything wrong in the existing law, then BJP should have opposed it when it was passed in 2013 during the UPA regime. BJP had accepted it then and now after getting complete majority, the party is hell bent on changing it to benefit the corporates."
Hazare, who has been protesting against the amended bill, asked the PM to make a legal provision that ensured only barren lands were acquired. He did not mince words against Sonia Gandhi either, who has supported him, alleging that she was "only doing politics on the issue."
Modi in his radio programme on Sunday had said that the 2013 bill, which was enacted by the then-UPA government, had some problems since it was "enacted in a hurry."
"We felt that there was a need to bring some amendments in the law, we only wish for welfare of people and villages. If states have objection to amendments in Land Acquisition Bill, they can continue with the old law," Prime Minister Modi said in 'Mann ki baat'.
"I assure all my farmer brothers that I will alert all state governments as well as all departments in the Central Government over the issues that you have raised.....I have said in Parliament, that if someone still feels some changes are required, we are willing to take up suggestions. We are emphasizing on health of mother land as well, which is why we've started soil health card scheme. I assure you that I will not break your trust," he added.
(with inputs from ANI)
Like Us On Facebook |

Follow Us On Twitter |

Contact HuffPost India
Calling all HuffPost superfans!
Sign up for membership to become a founding member and help shape HuffPost's next chapter