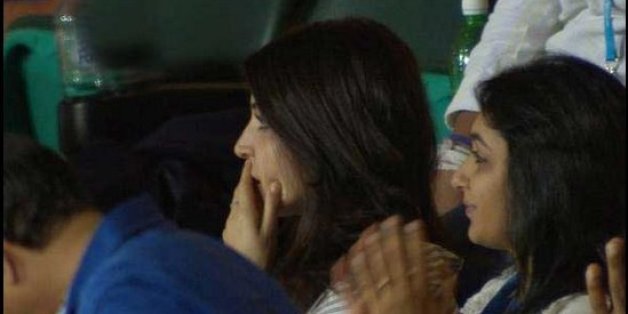 Haters will hate. And Twitter has a fair share of haters who need any excuse to unleash rants against women. They channeled their negative energy against actor Anushka Sharma after her boyfriend, Virat Kohli, scored one run in the World Cup semifinal between India and Australia today.
Sharma, who was sitting in audience in Sydney, looked shocked and distressed after Kohli was caught out by Brad Haddin off Mitchell Johnson's bowling.
Here are some of the awful things that were said on Twitter.
I request to all the people to go n throw stones at the house of Anushka Sharma who is the main reason for the defeat of India. #AUSvIND

— Kamaal R Khan-KRK (@kamaalrkhan) March 26, 2015
What's true love?

Anushka Sharma travelled all the way to Sydney to cheer VK dropping a catch and then score a run with bat! :P

— Gบяบρяαรα∂ (@GP545) March 26, 2015
I hate kohali ... who needs only anushka not India . pic.twitter.com/eY9Mnzcrp3

— vijay mhamane (@vijaymhamane) March 26, 2015
Anushka was telling Kholi that come quickly in hotel room , no need to waste time to play a long innings, we will play together :p #AUSvIND

— Asah shah (@AsahShah) March 26, 2015
@akashbanerjee @mohitraj dhoni ne kaha virat ko spend more time with sharma...he meant rohit...virat samjha anushka

— chandresh henia (@ca_henia) March 26, 2015
@GhazalaBaji @iamAhmadhaseeb Manhoos anushka Manhoos virat

— Neha DEAromaN (@neharajjput) March 26, 2015
Anushka Sharma went all the way to Sydney to see Virat Kohli hit one run. why you came to sydney idiot!

— Rajan Sharma (@rajan12rajan12) March 26, 2015
Soon all the #AdarshLiberal will up in arm against jokes on Anushka as its Indian regressive patriarchal bramhinical caste based mindset.

— Mahamritunjay (@mobilehindu) March 26, 2015
I want to know why they were showing Anushka Sharma continuously on the big screen? Would it do any good to the player?

— Bhaiyyaji (@bhaiyyajispeaks) March 26, 2015
Anushka Sharma is now searching directly for bangladesh airlines...... and Rubel Hossain is now preparing himself... http://t.co/KDjqP5Cw2O

— Shihab Ahmed Shayan (@shiath53) March 26, 2015
If India loses today,Anushka bhabhi will come and cry on the ground on behalf of our players #IndvsAus

— FlyingHigh (@arorG89) March 26, 2015
For all the losers blaming Anushka for Kohli's poor performance, he scored a memorable hundred in front of her on the same ground #IndvsAus

— Hormaz Fatakia (@aslihormaz) March 26, 2015
Never liked the ugly anushka sharma. Shes a sign of bad luck and her films should be boycotted #IndvsAus #AUSvIND

— turbanator (@Turbanator200) March 26, 2015
Sharma's nasty heckling on Twitter today is a repeat of March 19, when Kohli failed to score at the India-Bangladesh quarter final match at the Melbourne Cricket Ground. Sharma, who is dating Kohli, was blamed for "distracting" him during the all-important knockout match.
Sharma, a successful Bollywood actress, usually attends the big matches to show support to Kohli. She was present today at the stadium looking tense when Kohli returned to the dressing room. Cricket analyst Rajesh Khilare shared a picture on Twitter of her standing up in suspense during a crucial moment in the match.
But for every tweet blaming Sharma, there were those who called out others for blaming her for Kohli's lack of performance.
Yaar don't blame poor Anushka… this is silly!

— Siddhu ki mamma (@ItemMom) March 26, 2015
Don't EVEN blame this on Anushka #INDvAUS

— Window Fly (@triliana) March 26, 2015
Dear Indian Cricket fans. When Kohli does badly you blame Anushka, SO when Kohli does well why don't you give her credit?!
#AusvsInd

— Rashi Kakkar (@rashi_kakkar) December 28, 2014
Calling all HuffPost superfans!
Sign up for membership to become a founding member and help shape HuffPost's next chapter