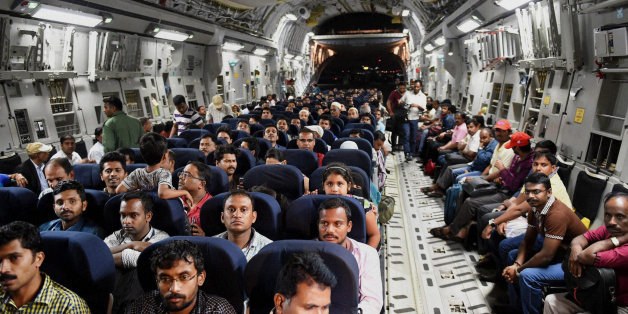 NEW DELHI — More than 800 Indians returned safely from Yemen thanks to the combined efforts of the External Affairs Ministry, Defence Ministry, Indian Navy, and others. The evacuated citizens returned in three separate flights, to reach home late Sunday night.
While dismissing any doubts on whether there was a "late reaction" on the part of the Indian government. External Affairs Minister Sushma Swaraj said that they had issued an advisory thrice — on January 21, on March 19, and then again on March 25 — advising Indian nationals to leave Yemen.
"We shall evacuate all Indian nationals from Yemen. Nobody will be left behind for want of travel documents," she assured both Indians in Yemen and their anxious relatives.
Of the 806 who headed home on Sunday night, 454 were bound for Mumbai in two separate flights, while 352 others went to Kochi, said Syed Akbaruddin, MEA spokesperson.
We never missed anybody ...they made us feel so comfortable...... every body agrees - Feedback on deck of INS Mumbai
http://t.co/rDd6jnQjPm

— Syed Akbaruddin (@MEAIndia) April 5, 2015
India also pulled out 182 of its nationals and 21 foreigners from Al Muqalla port by sea, while 488 Indians were evacuated in three Air India flights out of the Yemeni capital Sana'a.
Sushma Swaraj said all Indian nationals have been evacuated from the southern Yemeni port of Aden. "The evacuation from Aden is complete - thanks to Indian Navy."
She also tweeted: "Thanks to Air India - three planes have taken off from Sanaa for Djibouti with 488 on board."
In a series of tweets, she thanked her colleagues working with her tirelessly to evacuate all Indians.
"My colleague General V.K.Singh who is shuttling between Sanaa and Djibouti is sparing no effort in accomplishing this difficult task," she said.
Our Embassy in Yemen is working round the clock in war torn Yemen.

— Sushma Swaraj (@SushmaSwaraj) April 5, 2015
Our Officers in Djibouti are tirelessly working and coordinating this massive effort.

— Sushma Swaraj (@SushmaSwaraj) April 5, 2015
Various state governments were helping the evacuated Indians on their arrival home, she said.
The State Governments are receiving their returnees and providing them all help.

— Sushma Swaraj (@SushmaSwaraj) April 5, 2015
Kerala Government is giving Rs.2000/- to each passenger arriving in Kochi.

— Sushma Swaraj (@SushmaSwaraj) April 5, 2015
Maharashtra Government is giving Rs.3,000/- to each passenger arriving in Mumbai.

— Sushma Swaraj (@SushmaSwaraj) April 5, 2015
She also applauded Indian Railways for their hospitality and for providing free tickets to those who needed to continue their journey further home after reaching the airport.
The minister also informed that the Indian Navy had evacuated three Pakistani nationals from the Yemeni port Hodeidah and that Pakistani authorities had in turn helped evacuate 11 Indians from Makala.
"Humanitarian gesture - Indian Navy evacuated 3 Pak nationals from Hodeida by INS Sumitra. Pakistan brought 11 Indians from Makala."
Earlier in the day on Sunday, Indian naval ship INS Mumbai reached Djibouti safely with a total of 440 people, including Indians and nationals of 17 other countries, who were evacuated from the Yemeni port of Aden amid heavy shelling.
There were more than 260 Indians onboard.
(with IANS inputs)
Like Us On Facebook |

Follow Us On Twitter |

Contact HuffPost India
Calling all HuffPost superfans!
Sign up for membership to become a founding member and help shape HuffPost's next chapter